What would the Labour party look like with Andy Burnham as leader?
A run-down of the key policy positions of the current Labour leadership front-runner
Matt Dathan
Tuesday 14 July 2015 20:22 Comments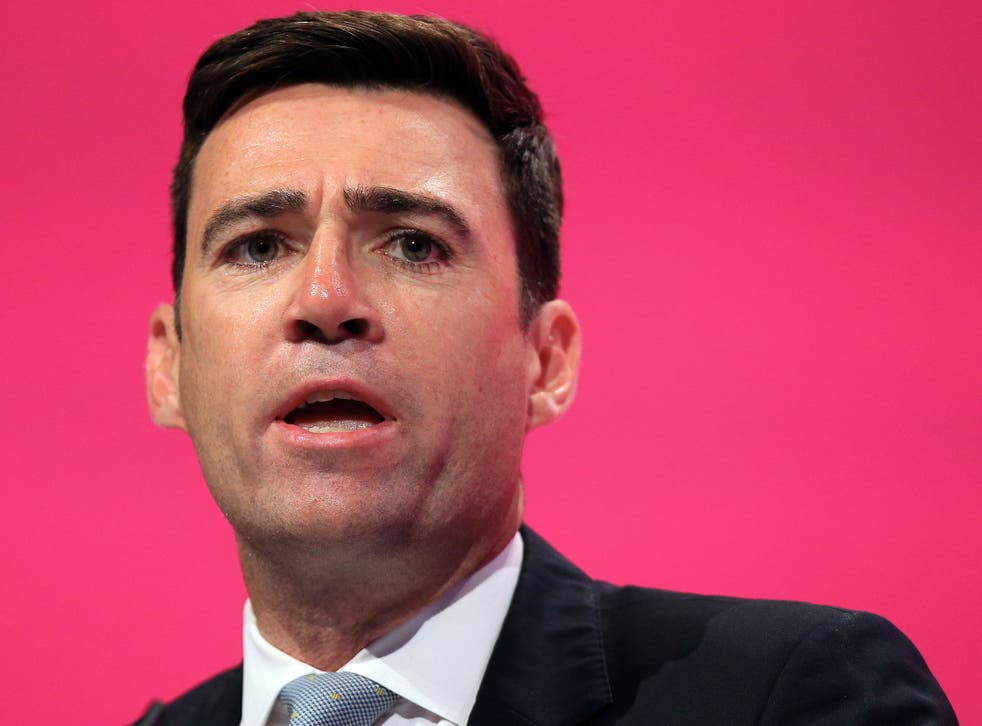 And Burnham the current front-runner in Labour's leadership race, has laid out what some of the party's main policy positions would look like under his leadership.
Addressing Westminster journalists, the shadow health secretary touched on a number of areas, including contentious issues of the parliament such as welfare reform and HS2 as well as the more light-hearted questions of whether he would appear in the traditional football grudge match against journalists at the Labour party conference in September.
Here are the key points:
Welfare reform
Labour would put up strong opposition to the government's radical welfare reform agenda under his leadership, taking a very different course to Ms Harman's decision for Labour to abstain from next week's second reading of the Welfare Reform and Work Bill next week.
Accusing George Osborne of "playing politics with the lives of the vulnerable" and labelling the current package of welfare reforms as "unsupportable", Mr Burnham made it clear where Labour would stand under his leadership when it came to voting on the government's plans to exclude under-25s from the new £7.20-an-hour National Living Wage, the abolition of child poverty targets and reductions to Employment and Support Allowance for disabled people deemed fit to work.
Mr Burnham said he had made it clear to the shadow cabinet that he wanted the party to put forward a "reasoned amendment" to some of the benefit cuts and if that failed he said the party should oppose the overall bill.
He said he would extend the new National Living Wage to those under the age of 25 to ensure it is a "living wage for all".
"The welfare reform and work bill is unsupportable because it doesn't do what it says on the tin - support work. In fact, it does the opposite," he said. "It diminishes work incentives with its changes to tax credits and the ESA."
Taking on rivals
In doing so he made it clear he would be willing to take on the big names in the party by making a pointed remark about Harriet Harman's willingness not to oppose George Osborne's decision to limit child tax credits to the first two children. In a half-joking, half-serious jibe at the interim leader, Mr Burnham said he had failed "George and Harriet's two-child test" because he had three children.
He said he would tackle the significant cost of the housing benefit bill not by cutting access to it from youngsters, as the government wants to do, but instead by allowing councils to build more affordable homes.
However throughout the session he reiterated that he was "not opposed to taking tough decisions" keen to mention he was the chief secretary of treasury when Labour had to make "tough decisions" on spending in the last Labour government.
Defending Labour's record in government
He insisted Labour under his leadership would not defend "everything we did on the economy in government" as it "isn't going to win back people's attention". But he insisted Labour must also counter the 'Tory narrative' that it left the country in a mess after losing power in 2010.
Isis
If asked to support UK military action in Syria, he said he would approach it "cautiously but responsibly" because of the "appalling situation in Iraq and Syria. He said he would "look at the evidence" before taking a decision over backing air strikes and other military action against Isis in Syria.
HS2
Mr Burnham suggested the Labour party under his leadership might not support HS2, saying the "higher priority" in Britain's railway infrastructure should be on its "east to west" links rather than its south to north lines.
He claimed Mr Osborne's Northern Powerhouse project was "a whole load of spin" and said devolution will only work "if it comes from the down up". "Let's go down deeper," he said as he criticised the Chancellor's desire to "impose" individual mayors on cities and regions, which he said invested too much power in one person's hands.
Greece and the EU
Having observed the Greek debt crisis over the past weeks, he said there was a danger that the EU was developing a "right of centre orthodoxy" but added: "Of course people have to accept changes to their pensions as others are across Europe".
Free schools and academies
Mr Burnham said he had "nothing against individual schools" but said he would not support the free school programme as money was being spent in areas that did not need it. "It's allowing excessive experimentation," he said, and said there was a danger of departing from the national curriculum.
"Kids get one shot at education and I don't think we can adopt that free for all approach to their education," he said.
He is also opposed to the "enforced academic regime" whereby "coasting" schools will be taken over by academies.
Trade unions
He insisted his refusal to accept any donations from trade unions would put him in a stronger position to oppose the "demonization" of trade unions by the Tories as they try to limit their power to call strikes.
But he defended their donations to the Labour party, saying the trade union link provides "the cleanest money in politics".
Women
He said he would appoint a woman as shadow First Secretary of State to shadow George Osborne's role, and hinted that he would also appoint a female to the position of shadow chancellor. It would be the first time a woman would be appointed to the role.
Shadow cabinet roles
Mr Burnham refused to rule out a frontbench role for Jeremy Corbyn, the left-wing, socialist candidate in the leadership race. He insisted he would not be drawn on speculation about which individuals he would or would not appoint to his shadow cabinet if elected leader. In what will dismay those on the right of the party, Mr Burnham praised Mr Corbyn for making an "important contribution" to the debate on the future of the party.
He also said he was "spoilt for choice" over who to appoint in his shadow cabinet team.
The media
Responding to criticism from The Sun over his apparent refusal to do a newspaper interview with them due to the Hillsborough controversy, Mr Burnham, an Everton fan, insisted he would "speak to all newspapers" if he was elected Labour leader but said the party must not "bend in knee" to any one newspaper – a pointed remark about Tony Blair's close relationship with Rupert Murdoch. "We must learn the lessons and do the things in the right way," he said.
He also suggested the last Labour government was reluctant to pursue an inquiry into Hillsborough because of the fear of damaging its relationship with The Sun.
Football
He pledged to play in the annual football match against political journalists at the Labour party conference in September, but bemoaned the loss of his strike partner, Ed Balls. But he warned that he had signed up Dan Jarvis, the shadow justice secretary who is widely tipped to be a future leader of the party.
But referring to "unflattering" coverage of him in The Sun, he told any of the newspapers' journalists hoping to play in the game: "don't forget your shin pads!"
Register for free to continue reading
Registration is a free and easy way to support our truly independent journalism
By registering, you will also enjoy limited access to Premium articles, exclusive newsletters, commenting, and virtual events with our leading journalists
Already have an account? sign in
Join our new commenting forum
Join thought-provoking conversations, follow other Independent readers and see their replies