Why it's harder than it looks to evict a Liberal Democrat MP
2015 Election - one year to go: Taunton Deane should be easy pickings for the Tories. But sometimes local issues come first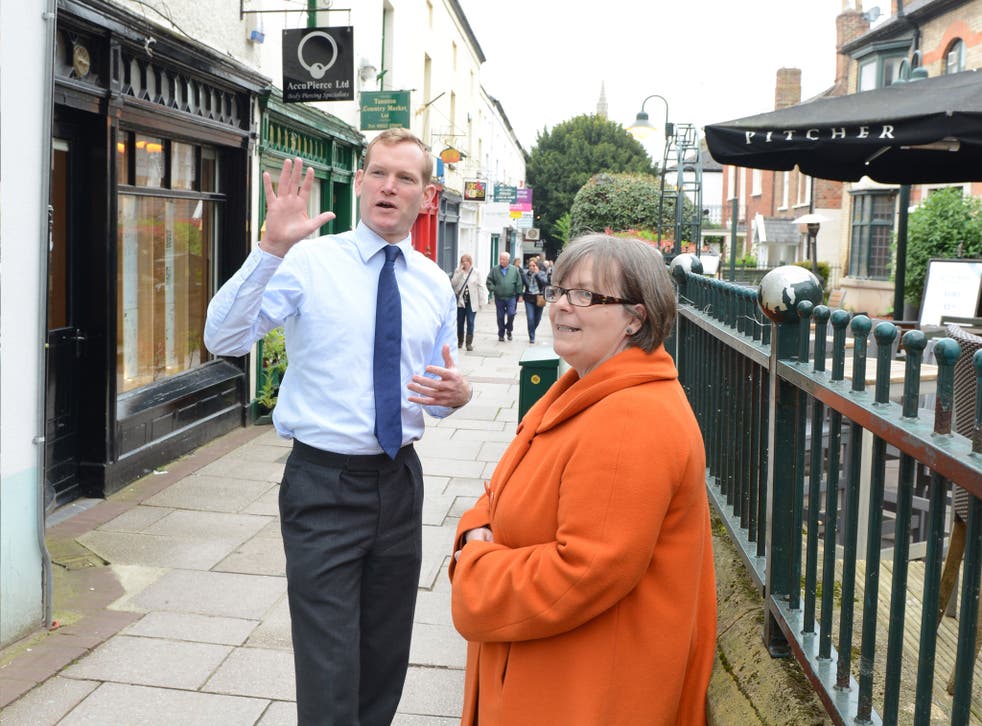 The cars had filled the car park by Neroche Parish hall and lined the sides of the narrow country lane several hundred yards in either direction.
Inside the old converted church nearly 200 people had crowded in – partially blocking the tea and cake stand – and filling every seat.
Anyone who says no-one cares about politics any more can never have been to this part of rural West Somerset.
On the agenda for the annual meeting of the parish council was a contentious plan by the Crown Estate (effectively these days the Government) to evict long-standing tenants from 28 local properties.
The estate, which owns an £8bn portfolio, claims it needs to sell the houses as part of a realignment strategy. But for the local residents – many of whom have lived in and maintained their houses for decades – the decision feels callous and unethical.
But what does any of this have to do with next year's general election? Well, round here, almost everything. Because Neroche is in Taunton Deane – a key battleground seat which could help determine which party (or parties) form the next Government.
The sitting MP is the former Liberal Democrat minister, Jeremy Browne, who has held the seat since 2005. But it is being strongly contested by the Conservatives who know they must win here if they have any chance of governing alone. By rights, if you look at national opinion polls then Mr Browne should not have a hope of holding on to his seat. But what is interesting about Taunton – and, you suspect, many other seats with similar close-knit communities – is that the local can often trump the national.
And while political pundits predict an electoral defenestration of Lib Dem MPs next May it doesn't quite feel like that on the ground. What matters to people in Taunton is having an MP with face and name recognition and a reputation for turning up at events, dealing with local issues and knowing the area inside out.
"It's pretty much guaranteed that if there was a politician who managed to pull out some kind of solution for us without having to move out of the area where we've brought up our children – they'd get our vote," said Paul Buck, who faces eviction.
In looking at the Lib Dem prospects for 2015, it has to be remembered that they won in constituencies like Taunton despite the fact that the party nationally was very unlikely to be in Government. Its strength was having good constituency MPs who were able hold seats by not merely capitalising on protest votes but by using the position to actively fight for the people they represented.
For the next election – having failed to dislodge Mr Browne with a right-wing "outsider" and lots of money from Lord Ashcroft in 2010 – the Tories are trying a different tactic. In an open primary, the party chose a mother of three who has lived in the local area for 20 years.

But Rebecca Pow, 53, is not politically naive. She is a former official for the National Union of Farmers and local television presenter who has realised that she will have to win the local battle of hearts and minds if she has any chance of winning the seat. She was at the meeting in Neroche and, as she told locals, has written to George Osborne to ask him to intervene in the Crown Estate affair.
"I am absolutely entrenched in this area," she says. "My background is agriculture, farming and rural affairs. I wouldn't be much good standing in the middle of London would I?"
She is keen to undermine her Lib Dem's opponent selling point as a good local MP. "He is Nick Clegg's man in Taunton – so if you vote for him you get Nick Clegg."
The next day, as he visits a community radio station in Wiveliscombe, Mr Browne says he doesn't think that message will wash with Taunton voters. He compares the Liberal Democrats' relationship with the South-west as being a bit like a long marriage – where voters are aware of their faults but are also less likely to desert them when things get tough.
"The Lib Dem roots go deeper into the ground in places like Somerset than they do in parts of the country where people were won over to us on more short term or superficial basis," he says. He has also taken a significant interest in the Crown Estate affair but, unlike Ms Pow, is able to do something about it – tabling a slew of parliamentary questions and putting pressure on Danny Alexander in the Treasury.
In an election like this, these kind of things may come to matter rather a lot.
Join our new commenting forum
Join thought-provoking conversations, follow other Independent readers and see their replies