Winter Olympic boycott not the answer to Russian gay rights abuse, says PM
David Cameron tells Stephen Fry the Sochi Games provide a chance to challenge Vladimir Putin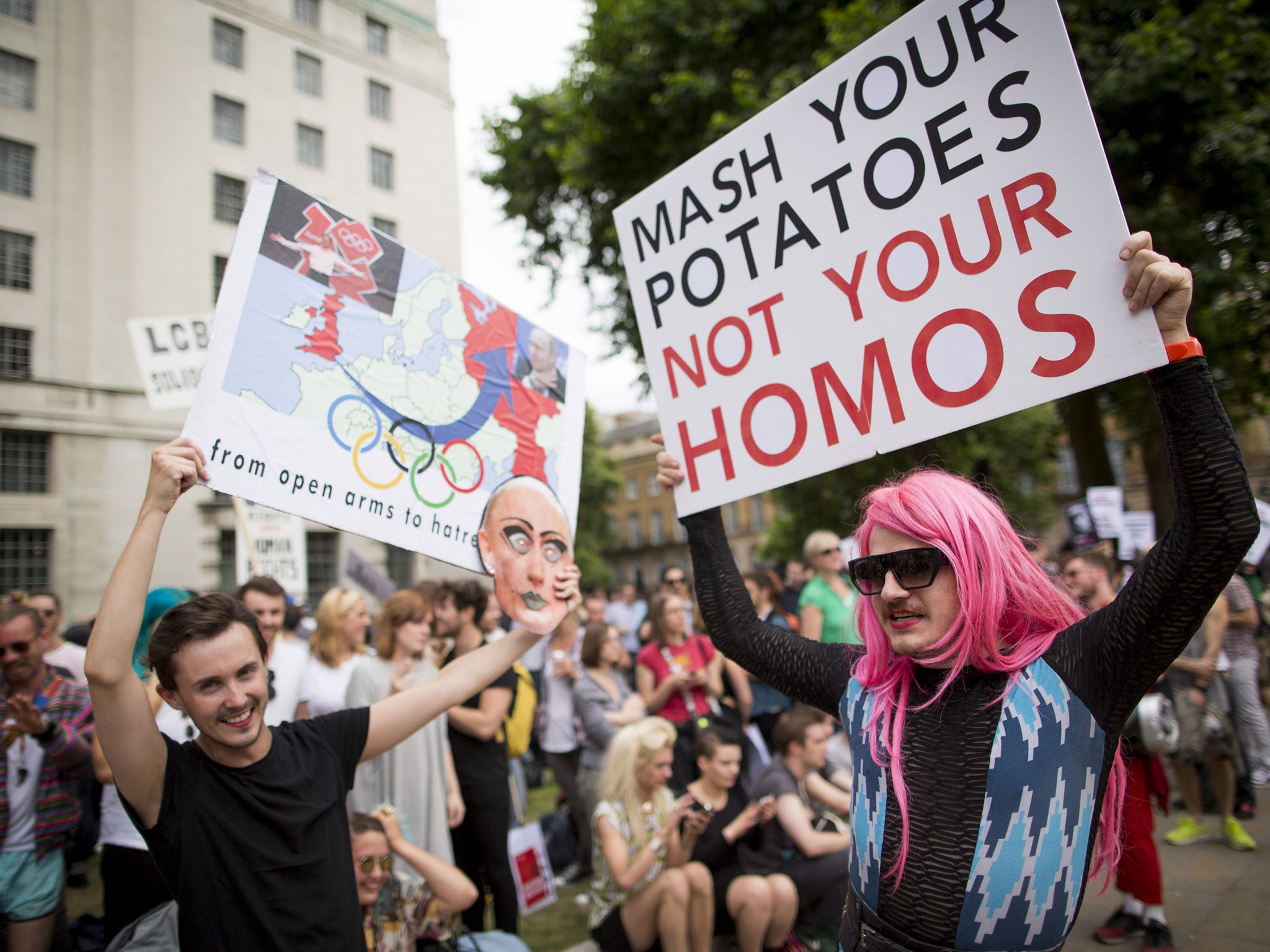 The Prime Minister has rejected a plea from the broadcaster Stephen Fry to boycott the Winter Olympics in Russia in protest over its treatment of gay people, claiming that "we can better challenge prejudice" by attending the event.
David Cameron responded to Fry's Twitter appeal for the Games to be moved from Sochi yesterday morning. The TV star had previously told him "an absolute ban" on the Games was "essential".
In a return tweet, Mr Cameron said: "I share your deep concern about the abuse of gay people in Russia. However, I believe we can better challenge prejudice as we attend, rather than boycotting the Winter Olympics."
His comments follow mounting pressure to strip Russia of its right to hold the Games, as it is feared that openly gay sportspeople, onlookers, journalists and visiting campaigners could be arrested under new legislation.
In an open letter to the Prime Minister and the International Olympic Committee earlier this week, Fry compared holding the Games in President Vladimir Putin's Russia with the decision to hold the 1936 Olympics in Nazi Germany. He criticised Mr Putin for "making scapegoats of gay people" and said he "cannot be seen to have the approval of the civilised world".
Fry responded to Mr Cameron's tweet yesterday afternoon. He wrote: "PM, you may be right. Would that have been true in 1936? But is there nothing we can DO? Putin grows and grows in confidence."
The TV star joined more than 1,000 protesters in Whitehall, central London, yesterday afternoon to demonstrate against Russia's new anti-gay laws. He told onlookers it was a "grim" time to be gay in Russia, drawing particular attention to "the number of people committing suicide" and "the corrective rape of teenage girls that goes completely unchallenged by the police".
He added: "Putin and his toxic mixture of shaven-headed neo-Nazis" and the "newly powerful Orthodox church" have decided that gay people are "uncitizens".
Campaigners, including gay Russian exiles, blasted Mr Cameron for being a "coward" and refusing to boycott the Games, saying it was "the only leverage" they had left.
Many were also sceptical about Mr Cameron's plan to lobby from within Russia. "If all GB athletes wore rainbow flags and Cameron turned up to the Kremlin with a rainbow tie, then that would be great," said Anna Grigoryeva, 24, a Cambridge student from Moscow. "But they're not going to."
The organiser of the demonstration, Eddie Jardine, 42, said the Prime Minister did not seem to understand what gay people are saying. He added: "Unless Cameron has a plan on how he will lobby on the inside, this could just give credence to other countries with poor human rights for gay people."
But the sports commentator Clare Balding, one of Britain's best-known gay figures, will present up to 100 hours of programming from Russia during the Olympics. She said she would not be boycotting because "the best way of enlightening societies that are not as open-minded as our own is not to be cowed into submission".
She added: "I intend to stand proud, do my homework and do my job as well as I possibly can – as I would for any other sporting event."
Lord Coe, the British Olympic Association's chairman, who as an athlete ignored a government request not to attend the 1980 Moscow summer Games, still disapproves of boycotts. "International sport is not an inhibitor of social change. It has strong catalytic effects. It is an issue that needs to be addressed but the issue is not one of a boycott," he said.
The head of the International Olympic Committee, Jacques Rogge, said he was awaiting further clarification from the Russian government about whether its laws – which criminalise the promotion of non-heterosexual relationships, would apply to those taking part in Sochi next year. "The Olympic charter is clear," he said. "A sport is a human right and it should be available to all, regardless of race, sex or sexual orientation."
Join our commenting forum
Join thought-provoking conversations, follow other Independent readers and see their replies