Woolwich aftermath: Home Secretary Theresa May threatens ban for online radical Islamists - even those who don't advocate violence
Coalition clashes over Home Secretary's plans to revive controversial 'snooper's charter'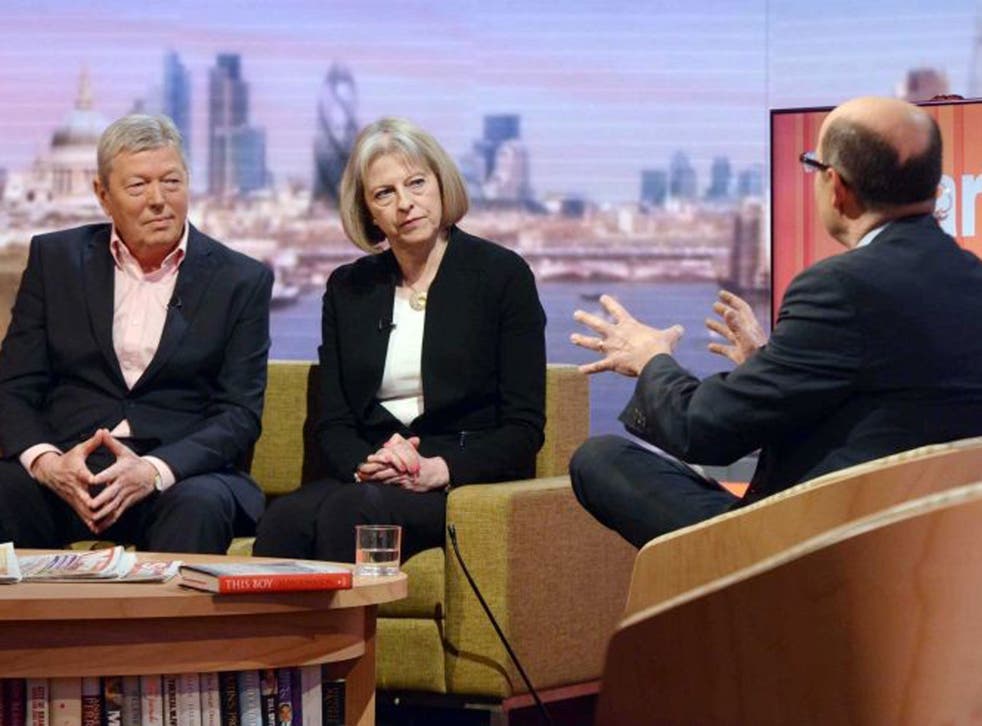 Radical Islamist groups which whip up hatred but do not advocate violence could be outlawed in the UK for the first time, under an attempt to curb the spread of hardline ideology being considered by the Government following the Woolwich murder.
Theresa May, the Home Secretary, warned that there were thousands of people judged to be at risk of being radicalised as she set out moves to deprive hardliners of platforms for their views. They include plans to ban more organisations accused of fomenting division and to tighten the rules on their access to the internet, as well as the revival of plans for a "snooper's charter".
But the moves threaten to provoke a freedom-of-speech row as organisations which stop short of advocating terrorism could be banned under the proposals, which will be considered by a Whitehall task force headed by David Cameron.
At the moment, the Home Secretary has the legal power to proscribe an organisation linked to terrorism, such as al-Muhajiroun, which was outlawed in Britain in 2010.
But she has no authority to act against organisations suspected of "inciting hatred and division" and ministers will consider introducing a lower threshold enabling her to act, Whitehall sources said.
However, ministers could run into problems producing a legally watertight definition of "hatred and division". The difficulties in this area are underlined by the controversy over the group Hizb ut-Tahrir. Mr Cameron called for its proscription six years ago, but it remains active and high profile.
Ms May also signalled fresh action to ensure messages preaching jihad are removed from the internet. She said that new police rules had led to more than 5,500 unacceptable postings being deleted, but she wanted to examine whether officers should be given further powers.
"One of the issues we need to look at is whether we have got the right processes, the right rules in place in relation to what is being beamed into people's homes," she told BBC1's The Andrew Marr Show.
The effect of the new banning threshold would be to prevent extremist clerics from visiting campuses and prisons, which are considered the most fertile recruiting grounds for radicalised men who could turn to violence.
Ms May said: "This is a part of the work the task force the Prime Minister has set up is doing. It's saying, 'What are the powers we have at the moment? What new powers might we need in the future? Let's look at this whole situation.'"
She also took a swipe at the BBC for allowing the radical cleric Anjem Choudary to appear on Newsnight last Wednesday. She said: "Anjem Choudary has disgusting views and I think it is right we look at how those views are being presented."
The Home Secretary provoked a full-blown Coalition row after she insisted her "snooper's charter" plans to monitor internet use were essential to combat terror attacks in Britain.
Ms May has championed plans to require internet service providers to collect data about website visits, emails, mobile calls and messages on social media and Skype.
Although the moves would not cover the contents of messages, they provoked anger among civil-liberties groups and were vetoed by Nick Clegg, the Liberal Democrat Deputy Prime Minister.
But Ms May insisted: "I'm clear the law-enforcement agencies, the intelligence agencies, need access to communications data and that is essential to them doing their job."
Two former Labour Home Secretaries, Lord Reid and Alan Johnson, have backed her proposals and Mr Johnson suggested she should resign if she could not get cabinet backing for the stalled Communications Data Bill.
The former Tory leader and Home Secretary Lord Howard challenged Mr Cameron and Ms May to ignore Coalition loyalty and reach out to the Opposition.
"If the Liberal Democrats maintain their opposition to it, I think there's a case for the Conservative Party passing that legislation with support from the Labour Party," he told the BBC. "The Prime Minister has got to act in the national interest to give the protection to people of this country they need and deserve from horrible attacks of this kind, and I think the Communications Data Bill could be an important element in that programme."
Mr Clegg came under fire from one of his own peers, Lord Carlile, the former independent reviewer of anti-terror laws. He said: "The reason [the Bill] was vetoed, as Nick Clegg, the leader of my party, knows very well, was purely political because of demands from inside the Liberal Democrats."
He added: "We don't know whether if that Bill had been enacted two years ago it would have prevented this incident.
"What we can certainly say is that it might have done, and what we can absolutely say for certain is that, if the Communications Data Bill, with the safeguards that were agreed in the last session of Parliament, was introduced, then it would be very likely to prevent some attacks of this kind in the future."
But a spokesman for the Deputy Prime Minister warned: "There is currently no suggestion that the proposals in the draft Communications Data Dill would have had any relevance to the sickening events."
Thousands at risk of radicalisation
Thousands of people in Britain could be at risk of being radicalised, Theresa May has warned.
The Home Secretary said around 500 police and security officers were investigating the "horrific murder" of soldier Lee Rigby. She said "all the indications" pointed to a lone wolf-style incident rather than a wider planned operation.
Asked if she believed there were thousands at risk of radicalisation in the UK, she replied: "Potentially."
Mrs May defended the "excellent" work of the security and intelligence agencies following claims that mistakes were made in the handling of the two suspects, identified as Michael Adebolajo and Michael Oluwatobi Adebowale. A friend of Adebolajo has also claimed the suspect was approached by MI5 six months ago and asked if he would work for the security service.
Mrs May said the security services worked in a "variety of ways".
Nigel Morris
Join our new commenting forum
Join thought-provoking conversations, follow other Independent readers and see their replies