Working-class people earn less in top jobs as report warns inequality 'entrenched' in Britain
Social mobility across UK has remained 'virtually stagnant' since 2014, finds report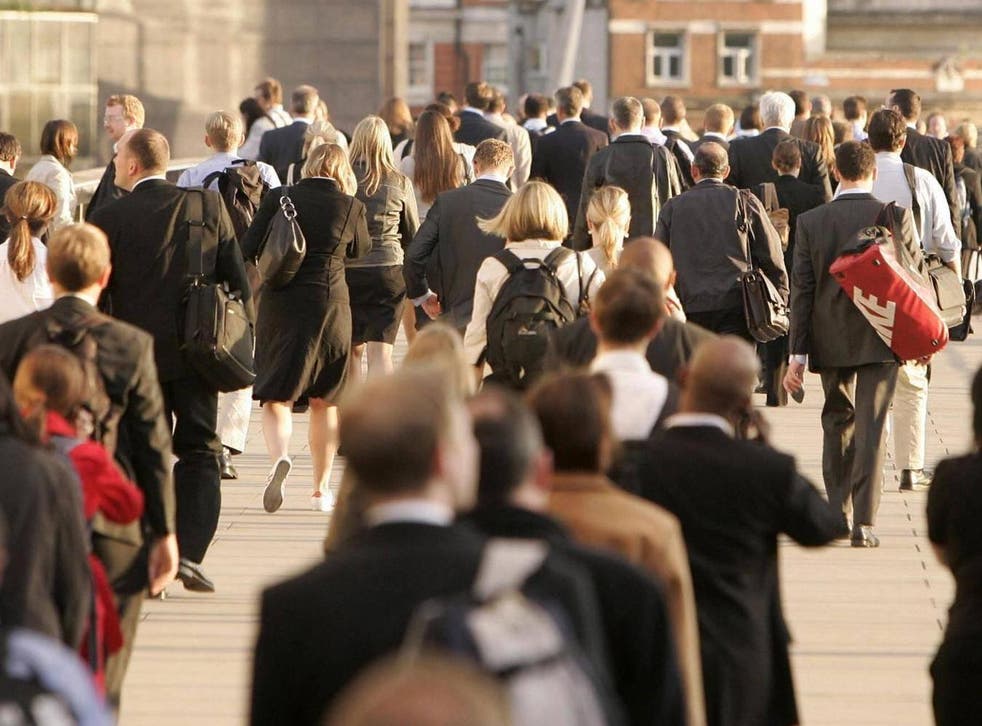 Working-class people in professional jobs earn almost a fifth less than their more privileged colleagues, according to a new report that warns inequality will remain entrenched in Britain "from birth to work" without urgent government action.
In its latest State of the Nation report, the Social Mobility Commission said those from better-off backgrounds were nearly 80 per cent more likely to end up in professional jobs than their working-class peers.
Even when people from a disadvantaged background land a professional job, they earn 17 per cent less than their privileged colleagues, the report states.
The commission said social mobility in the UK had remained "stagnant" since 2014 – despite a pledge by Theresa May to tackle the "burning injustice" of social inequality when she entered Downing Street in 2016.
It said the numbers from professional backgrounds who were in professional jobs increased from 59 per cent in 2014 to 60 per cent last year, while only 34 per cent of those from working-class backgrounds had professional jobs – slightly up from 32 per cent in 2014.
The report also found that those from more affluent backgrounds were 70 per cent more likely to move region than those from working-class backgrounds and three times more likely to move to London.
And while increasing numbers of students from disadvantaged backgrounds were entering university, they were more likely to drop out before graduating and still faced higher levels of unemployment after university, despite overall employment increasing.
Dame Martina Milburn, chair of the commission, said: "Being born privileged means you are likely to remain privileged. But being born disadvantaged means you may have to overcome a series of barriers to ensure you and your children are not stuck in the same trap.
"At a time when our country needs to be highly productive and able to carve out a new role in a shifting political and economic landscape, we must find a way to maximise the talent of all our citizens, especially those that start the furthest behind."
The report calls for the government to agree to pay the living wage to all employees and contracted workers, and for a "significant increase" in funding for all 16- to 19-year-olds in education, with a special "student premium" for the disadvantaged.
It also recommends extending the offer of 30 hours' free childcare a week to households where one parent is working eight hours a week – from 16 hours at present – which it said would benefit the most disadvantaged families.
Dame Martina told BBC Radio 4's Today programme: "I think our big concern is not stagnation, but, as time goes by, that it will actually get worse.
"There's still a big shift if you want to be socially mobile towards London. I think you're three times more likely to move to London if you're from a professional background than if you're from a working-class background."
Dr Carole Easton OBE, chief executive of the Young Women's Trust, said young people – and particularly young women – were getting "stuck on low pay" and had "little hope of finding a way out" despite many having good qualifications.
She added: "Social mobility has stalled. Young people's life chances are being decided before they are born, with those from the poorest backgrounds being locked out of jobs.
"Young people tell us they want to work hard and be financially independent. It is time for the government to recognise the jobs crisis facing so many young people and provide decent skills training and jobs, so that everyone can achieve their potential."
The education secretary, Damian Hinds, told the BBC social mobility was a "very difficult thing to move", adding: "And, actually, we have had social immobility issues in this country for decades, for generations.
"And, actually, it's quite difficult to measure movements over relatively short periods of time. You are talking usually about a generation."
UK news in pictures

Show all 50
In his official response to the report, Mr Hinds said: "We want to create opportunity for everyone. Employment has risen in every UK region under this government, wages are outstripping inflation, the gap between disadvantaged pupils and their peers has narrowed and the proportion of 16- and 17-year-olds in education or apprenticeships is at its highest ever.
"We are supporting pupils to thrive at every stage – setting a 10-year ambition to boost children's early reading and communication skills, transforming technical education and providing coaching for young jobseekers.
"But we must all work together to create change in the lives of the most disadvantaged. I welcome Dame Martina's leadership in this area, shining a light on where we can continue raising the bar."
Register for free to continue reading
Registration is a free and easy way to support our truly independent journalism
By registering, you will also enjoy limited access to Premium articles, exclusive newsletters, commenting, and virtual events with our leading journalists
Already have an account? sign in
Register for free to continue reading
Registration is a free and easy way to support our truly independent journalism
By registering, you will also enjoy limited access to Premium articles, exclusive newsletters, commenting, and virtual events with our leading journalists
Already have an account? sign in
Join our new commenting forum
Join thought-provoking conversations, follow other Independent readers and see their replies