You jeopardise future of the party, Lib Dems tell Nick Clegg
Grassroot activists vent their anger over threat to civil liberties posed by 'Big Brother' proposals
Andrew Grice
Saturday 07 April 2012 00:15 Comments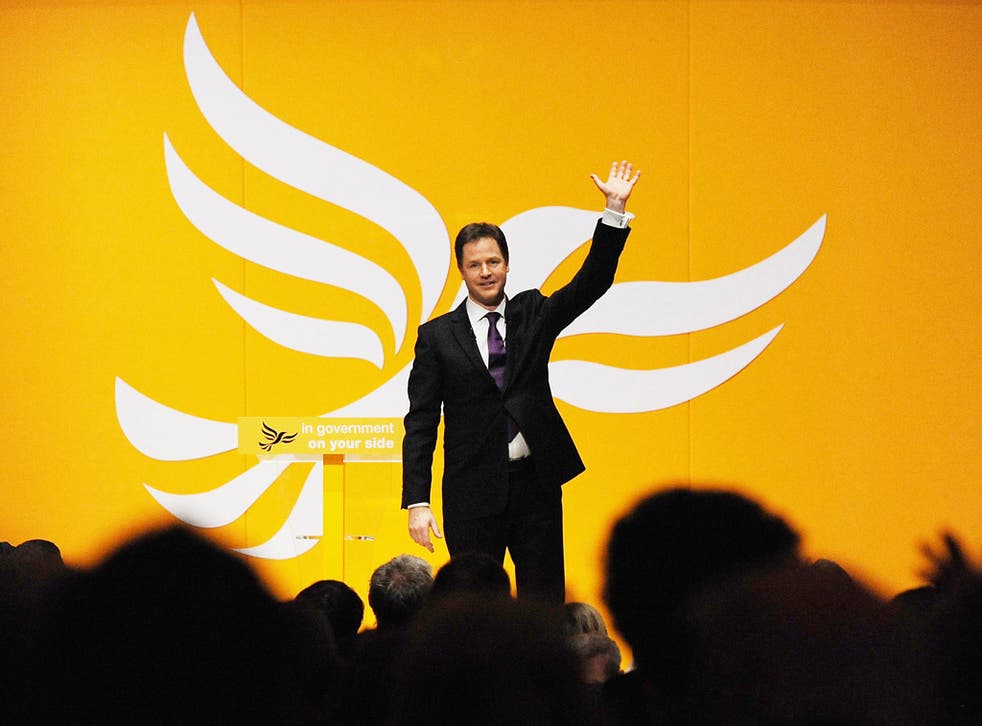 More than 150 Liberal Democrat activists have warned Nick Clegg he could destroy the party's liberal identity if he backs government plans to allow the authorities to monitor online activity.
The unprecedented grassroots protest, in which some members have threatened to tear up their party cards, will put the Deputy Prime Minister under pressure to extract more concessions from David Cameron over the controversial "Big Brother" proposals.
Mr Clegg has already ensured that legislation in next month's Queen's Speech will be subject to consultation, which could delay moves to allow the police, intelligence services, local and other public authorities obtaining details of messages sent via Skype and social networks like Facebook.
Allies said yesterday the Lib Dem leader shares his members' determination to protect civil liberties because it "is in the party's DNA".
Senior Lib Dems believe the grassroots rebellion will strengthen Mr Clegg's hand in his negotiations with Mr Cameron. It will also encourage Lib Dem MPs to vote against the measure and, with Labour calling for the Bill to be withdrawn, could force Mr Cameron to water down the proposals to avoid a humiliating Commons defeat.
In a letter sent to Tim Farron, the Lib Dem president, and seen by The Independent, 157 party members warn bluntly: "Surely an important part of our party's mission is to defend and protect the civil rights of our fellow citizens, and if we fail, our party's liberal identity will be put at grave risk. We urge our ministers to heed our call – block these illiberal proposals."
The activists criticise Theresa May, the Home Secretary, for saying that "only suspected terrorists, paedophiles or serious criminals will be investigated".
Their letter declares: "If the hacking scandal and ongoing Leveson Inquiry has taught us anything, it is that that argument is demonstrably false... We believe that extending universal, rather than targeted Internet surveillance powers to the police, exposes innocent citizens to corrupt sections of authority. The police should only be allowed to access private Internet usage when they have obtained a 'named, specific and time-limited warrant' from a judge or minister."
Lib Dem insiders say the "Big Brother" plan has sparked even more anger among party members than the party's U-turn over university tuition fees and the Government's NHS reforms.
In his reply to the letter, Mr Farron backed the activists – and made clear that, if necessary, the Lib Dems should kill off the proposal rather than change it. He declared: "We must not as Liberal Democrats fall into a position of trying to amend, unpick or apologise for a piece of authoritarian Tory policy.
"Over the last couple of years we have made some mistakes, which is OK so long as we learn from them. This is our opportunity to put those lessons into practice. Britain must be more liberal and free as a result of Liberal Democrats in power, not less. The proposals as they were first set out undoubtedly cross a red line, we've crossed enough of those already – no more."
Yellow peril: Liberals revolt
'More privacy not less'
Julian Huppert, the MP for Cambridge, is organising an online petition saying the party will oppose the Bill unless it ensures "more privacy not less". Huppert says: "What we want is more safeguards, not more powers for the state to keep data."
'We will resign in a heartbeat'
Martin Eakins, a Manchester city councillor who organised the letter, told The Independent: "If this went through, they would resign in a heartbeat. It would be a massive heart attack to the identity of our party. It's the equivalent of Labour proposing to make trade unions illegal: it's that big an issue for us.
'This is the core of being a liberal'
Mark Pack, co-editor of the Lib Dem Voice website, who signed the letter, said: "The party is remarkably united on this issue. It gets to the core of what being a liberal is about. Theresa May's plans not only go against the Coalition Agreement, they go against the Conservative manifesto [and] the Lib Dem manifesto.
Liam O'Brien
Register for free to continue reading
Registration is a free and easy way to support our truly independent journalism
By registering, you will also enjoy limited access to Premium articles, exclusive newsletters, commenting, and virtual events with our leading journalists
Already have an account? sign in
Join our new commenting forum
Join thought-provoking conversations, follow other Independent readers and see their replies