Yvette Cooper: Yes, I'm a working mum, but that's not why I should be leader
Yvette Cooper explains to Political Editor Jane Merrick why she thinks 'parentgate' was an artificial row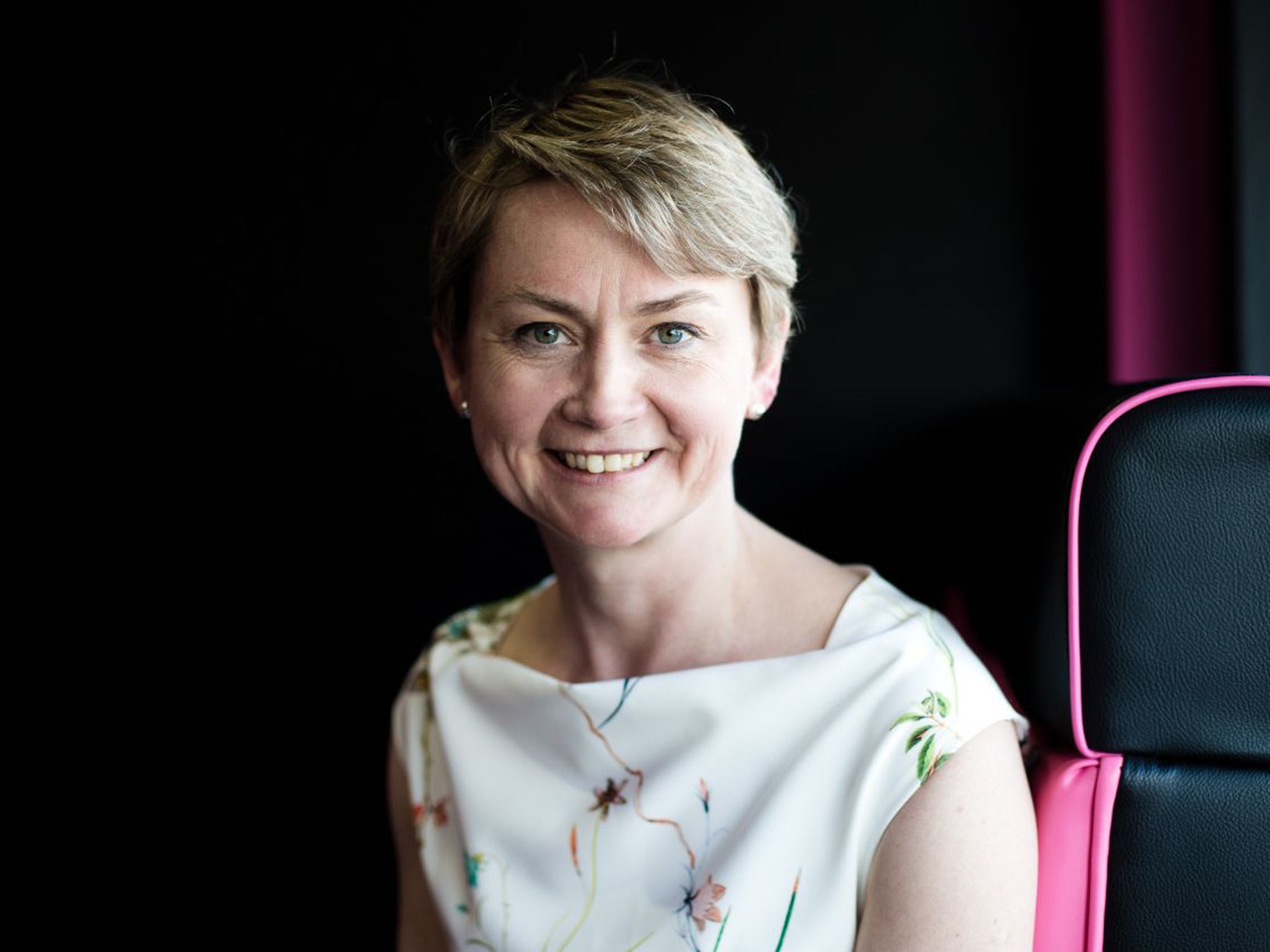 Yvette Cooper has described as "bonkers" the suggestion that an MP without children could not be prime minister, after one of her allies sparked a row by saying she was backing the shadow Home Secretary because she was a "working mum [who] understands the pressures on family life".
In an interview with The Independent on Sunday, the Labour leadership contender spoke for the first time about the so-called "parentgate" row in which her supporter Helen Goodman implied that Liz Kendall would not make a good leader because she does not have children. The intervention by Ms Goodman sparked an angry response from Ms Kendall's senior allies, the MPs John Woodcock and Toby Perkins, who accused the Cooper camp of a "paucity of intellectual argument".
In her interview, Ms Cooper made no apology for casting herself as a "working mum" because it is "actually a really important part of who I am". The shadow Home Secretary took the extraordinary step of hitting out at Mr Perkins and Mr Woodcock, accusing them of "trying to pick fights".
Ms Cooper was visiting Crawley, in West Sussex, which was a Labour seat from 1997 until 2010, as part of her pitch to grassroots members. In the Afters dessert parlour on Crawley High Street, which serves ice-creams and sundaes with names such as "Smartie Pants" and "Bubblicious", Ms Cooper defended her pitch as a "working mum", insisting that this did not mean she was a better candidate than Ms Kendall.
"Being a working mum is the reason I didn't stand last time. If you ask me about who I am and do I have any hobbies, I would say no, because the best I can get is picking up the kids, being a sort of taxi service. On Thursday nights Jo Whiley does this show on Radio 2 for parents who are going to pick up their kids from scouts or from ballet, so when I go and pick up the kids from drama I sometimes listen to it thinking 'This is my hobby, my taxi service'."
Ms Cooper accused critics of trying to turn the Goodman comments into an "artificial row" between her and Ms Kendall: "There is a real danger for women about people using anything that women say as a reason to divide [them] from other women.
"It's really important for women to be able to do different things, to make different choices and to be able to be who you are and to be confident about that. I think it's rubbish to judge if a woman could do a job on the basis of whether or not she has children. It's clearly nonsense because no one ever thinks that about a man, so it's just bonkers."
Ms Cooper added: "Toby [Perkins] and John [Woodcock] like to pick fights, that's their style, I don't think that represents Liz's style in any way and I just think they get a bit overexcited sometimes."
The MP mounted a robust defence of tax credits, which her husband Ed Balls helped to introduce at the Treasury and which were drastically cut by George Osborne in last week's budget. She said: "There is just a fundamental difference in philosophy here which is that the Tories think things like tax credits and public services more widely are a bad thing because they make you dependent. What most of us know of our lives is they can make us independent. If you can get help so that you can pay your childcare so you can go out to work, that makes you independent."
Referring to how Gordon Brown was damaged when he cut the 10p tax rate in his 2007 budget, Ms Cooper said: "George Osborne needs to be very careful about hitting tax credits so heavily they become his 10p tax." Of towns such as Crawley, Ms Cooper added: "There is a political challenge for Labour, that it was towns where we lost. We did well in the big cities that are growing and diverse and confident, but we did much worse in the areas that are feeling left behind."
Asked whether she was prepared for the sort of personal attacks that Ed Miliband sustained, Ms Cooper said: "The worst time we had was when we had photographers outside the children's school, when the primary school went into special measures, trying to take photographs of the children. That's when it does get really hard because then it's not just about you, it's about the kids. We've always worked really hard to protect the kids. I talk a lot about what it's like to be a working parent but that is different from talking about their lives. I suppose you build up a sense of determination and resilience about it."
Addressing about 40 Labour Party members at the Charis community centre in Crawley, Ms Cooper told them Labour had been "too narrow at the election", adding: "We need a leader who can be just as at home in a business boardroom, as at a pensioners' tea, as at a working men's club, as at the school gate."
Echoing Hillary Clinton, Ms Cooper said: "David Cameron has a woman problem. So why don't we give him an even bigger woman problem? Smash our own glass ceiling and elect Labour's first woman leader and first woman prime minister?"
John Hathaway, a local activist, told her: "I think we all agree with your positioning ideas, but that's not enough to capture the votes we need. We were told to keep our powder dry and we would have a revelation of what Labour's objectives were going to be in 2012, but we didn't get one; 2013 and 2014 we didn't get one, And when it was all revealed, the powder was so little that Lynton Crosby could just blow it away. So could you please, when we elect you as our new progressive Labour leader, give us some new progressive ideas of your own."
Ms Cooper told him she was pledging universal childcare, 3 per cent national investment in science and technology, a "national mission" to end child poverty and construction of 300,000 new homes a year. Mr Hathaway, who is considering voting for Ms Cooper or Andy Burnham, said her ideas were "a good start".
Join our commenting forum
Join thought-provoking conversations, follow other Independent readers and see their replies