Zac Goldsmith accuses Sadiq Khan of 'giving platform, oxygen and cover to extremists'
Conservative candidate for London mayor says his Labour rival 'hides behind Britain's Muslims' by calling people who challenge his record 'Islamophobes'
Caroline Mortimer
Thursday 14 April 2016 00:38 Comments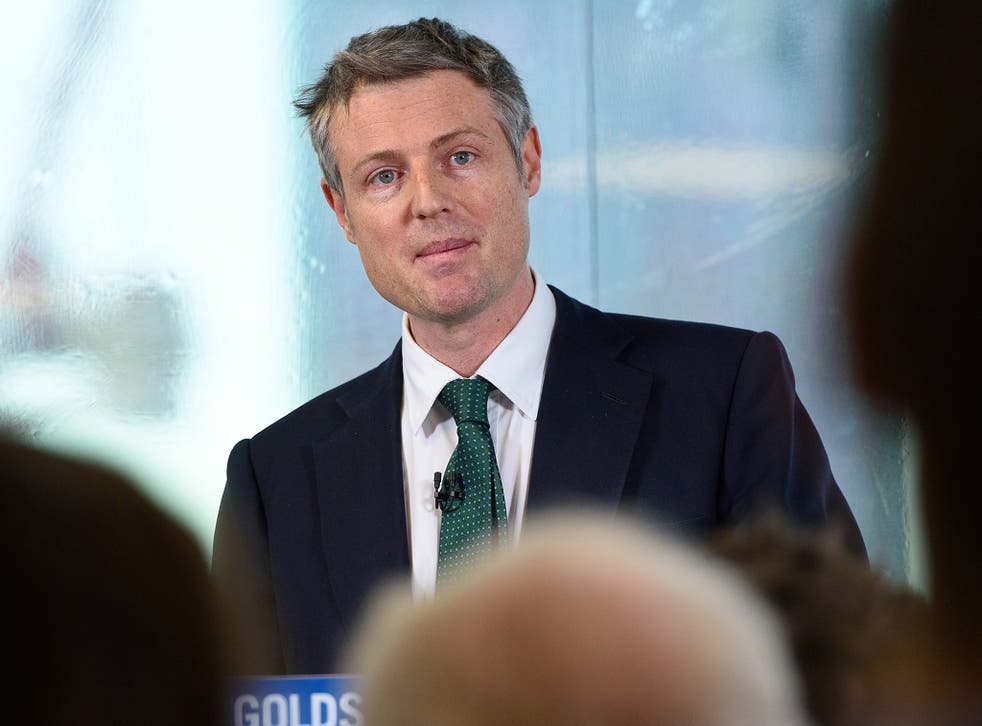 Zac Goldsmith has launched a stinging attack on his London Mayoral rival Sadiq Khan by accusing him of "giving platform, oxygen and cover to extremists".
The Tory candidate said Mr Khan had shown "appalling judgment" by speaking at events that include people with "repellent" views.
He said the Labour candidate - who is currently ahead in the polls - of "hiding behind Britain's Muslims" by calling anyone who questioned his record an "Islamophobe".
In an interview with the London Evening Standard Mr Goldsmith said: "To be clear, I have never suggested he is an extremist but without a shadow of doubt he has given platform, oxygen and cover to people who are extremists.
"I think he is playing with fire. The questions are genuine, they are serious. They are about his willingness to share platforms with people who want to 'drown every Israeli Jew in the sea'.
"It's about his having employed someone who believed the Lee Rigby murder was fabricated. It's about his career before being an MP, coaching people in how to sue the police.
"It just goes on and on and on. To pretend those are not legitimate questions, to pretend that by asking those questions newspapers, Londoners or my campaign are engaging in Islamophobia is unbelievably irresponsible".
The Richmond MP has been criticised for a "dog whistle racism" campaign against his Labour rival.
Labour MP Yvette Cooper wrote an article for the Times Red Box accusing him of running an unfair campaign against Mr Khan.
She said: "With each day, the smears and innuendos get louder. Now the Cabinet is joining in, trying different ways to link Sadiq to Islamist extremism based on no evidence at all.
"We can't let this go by - it's time to call it out for what it really is before it gets worse. What started as a subtle dog-whistle is becoming a full blown racist scream."
Mr Goldsmith told the Huffington Post that he had been running an "overwhelmingly positive" campaign.
UK news in pictures

Show all 50
He said: "It's an absurd thing to say. I don't even know how I can answer a question of that sort. I haven't seen her article but if she did say that then that is absurd."
"If she is making reference to the questions asked about Sadiq Khan's past and his links, then is she suggesting it's not legitimate to ask those questions for someone who wants to be Mayor of London?
"If that's what's being said, then I think it's absurd and I think it's irresponsible."
In response, Mr Khan said on Twitter: "Hey @ZacGoldsmith. There's no need to keep pointing at me and shouting 'he's a Muslim'. I put it on my own leaflets".
Several people on Twitter, including former Labour leader Ed Miliband and historian Tom Holland, expressed discomfort with Mr Goldsmith's latest comments.
But Mr Goldsmith's parliamentary colleagues came to his defence saying:
Mr Khan told the Standard he was "disappointed" by Mr Goldsmith's campaign, saying he was "sorry" that his campaign team have "[locked] away the real Zac Goldsmith and put forward this person that I don't recognise."
Polls conducted last week suggest that Mr Khan has a 10-point lead over Mr Goldsmith in the run-off vote between the two main party candidates in the poll which will take place on 5 May.
Register for free to continue reading
Registration is a free and easy way to support our truly independent journalism
By registering, you will also enjoy limited access to Premium articles, exclusive newsletters, commenting, and virtual events with our leading journalists
Already have an account? sign in
Join our new commenting forum
Join thought-provoking conversations, follow other Independent readers and see their replies