'Poor old Cleggers': Nick Clegg is David Cameron's condom, says Boris Johnson
The mayor described 'poor old Cleggers' as a 'lapdog-cum-prophylactic protection device' used to shield the Prime Minister
Andy McSmith
,
Max Benwell
Tuesday 07 January 2014 15:28 Comments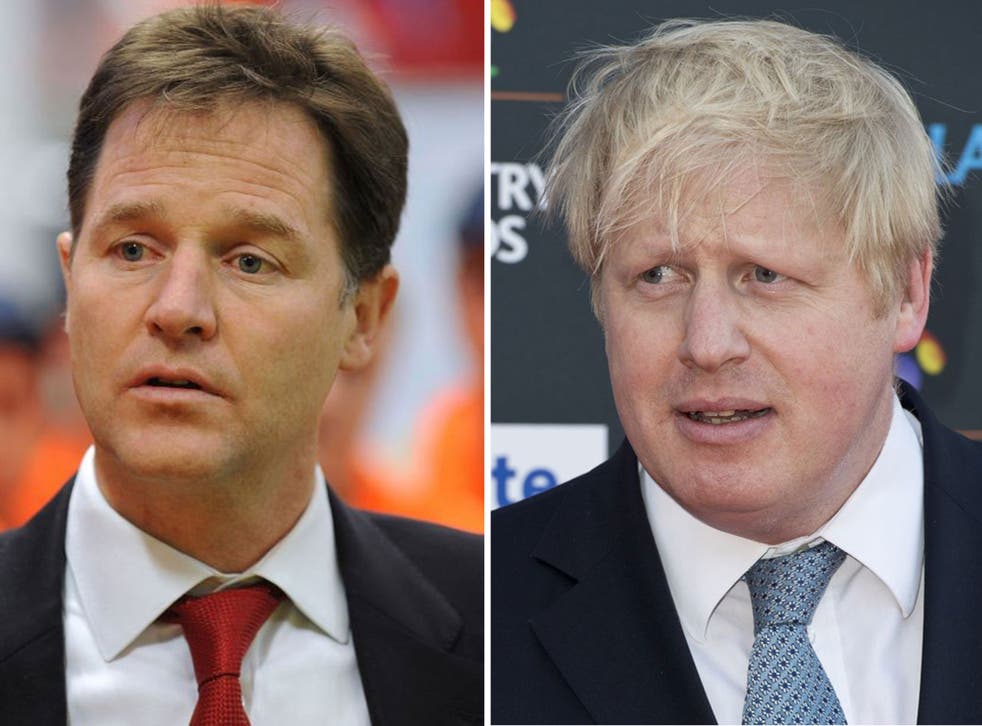 Nick Clegg is David Cameron's condom, according to the latest insult directed at the Deputy Prime Minister by London's irrepressible Mayor, Boris Johnson.
During an appearance this morning on LBC 97.3, the Mayor of London said that "poor old Cleggers" acted as a protective barrier for the Prime Minister.
Johnson made the remarks while responding to Clegg's criticism of Chancellor George Osborne's latest plans to slash the welfare budget by a further £12bn.
He said: "He's there to serve a very important ceremonial function as David Cameron's lapdog-cum-prophylactic protection device for all the difficult things that David Cameron has to do."
When asked to clarify, Johnson said that the Deputy Prime Minister was "a kind of shield", describing him as "a lapdog who's been skinned and turned into a shield to protect".
Johnson and Clegg have used their appearances on LBC 97.3 to engage in an increasingly public spat. The Mayor has also described Clegg as a "wobbling jelly of indecision and vacillation".
Last summer, the two politicians exchanged insults over which was the lazier. Nick Clegg, who has weekly phone in programme on LBC, told listeners: "I'm going to call him Slacker Johnson. He's only on once a month." Boris Johnson retorted that Nick Clegg was an "idle bum" with spare time in his "ceremonial role as Lib leader."
Mr Clegg also said that if he ever went for a drink with the mayor, he would "probably pour the drink over his blonde mop".
But the latest insult was an oblique reference to tensions inside the Conservative Party over the Prime Minister's seemingly close working relationship with the Lib Dem leader.
As the two parties start to draw battle lines for next year's general election, the Lib Dems claim to have a list of harsh measures the Conservatives would have liked to impose had the junior coalition partner allowed them to, and Cameron similarly claims to have a "black book" of genuine Conservative policies blocked by the Lib Dems.
But some Tories suspect that these are hollow claims intended to disguise how close Cameron and Clegg are to one another in their political views – hence the suggestion that Clegg is a condom protecting Cameron from the becoming the father of policies for which he he does not really want to have to take responsibility.
Register for free to continue reading
Registration is a free and easy way to support our truly independent journalism
By registering, you will also enjoy limited access to Premium articles, exclusive newsletters, commenting, and virtual events with our leading journalists
Already have an account? sign in
Join our new commenting forum
Join thought-provoking conversations, follow other Independent readers and see their replies