£18bn Hinkley Point nuclear power station plan could be 'coming to a grinding halt'
Controversial power station is a key part of the Government's plan to 'make sure the lights stay on'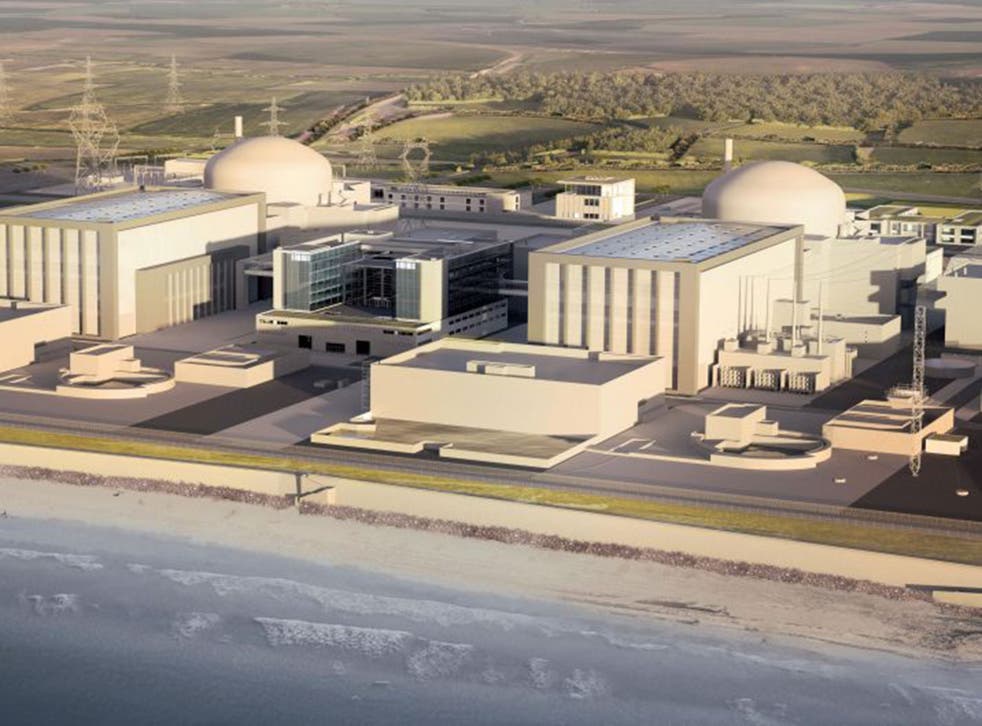 The French electricity giant EDF has thrown the British government's energy strategy into disarray by reportedly delaying – possibly until next year – a decision on whether it will build a new £18bn nuclear power station at Hinkley Point in Somerset.
Jean-Bernard Lévy, the head of EDF, has bowed to pressure from unions and senior company engineers and agreed to seek a fresh opinion from the company's union-management consultative council, the respected French newspaper Le Figaro reported.
EDF said it could not immediately confirm the report. Sources in the company told the French newspaper that the consultation process would take several months and that no decision on whether to go ahead with its involvement in Hinkley Point – expected to supply eight per cent of British slectricity by 2025 – would be made before next year.
Environmental campaign group Greenpeace claimed the delay could be "a sign that the entire project is coming to a grinding halt", adding that the UK should back renewable energy "as a more reliable alternative" to nuclear power.
The firm has been under enormous pressure from both the British and French governments to announce early next month a definite commitment to build, and largely finance, the two new generation nuclear reactors at Hinkley. The French economy minister Emmanuel Macron told the Andrew Marr Show on BBC TV that their agreement was now certain.
However senior engineers and unions at the largely state-owned French company fear the project could destroy the struggling business. They have demanded a delay of at least two years to allow uncertainties about the experimental high-pressure water reactors planned for Hinkley to be resolved.
A senior executive of EDF, Thomas Piquemal, resigned last month after the company refused to postpone the investment until technological and financing problems were sorted out.
An internal report to the EDF board warned in February that it would be impossible for technical reasons to complete the two "new generation" nuclear reactors at Hinkley within the nine-year timetable. The report also suggested that the project could be financially disastrous for EDF, despite a commitment by the UK government to pay double the market rate for Hinkley's electricity.
Although China has agreed to invest £6.2bn in Hinkley Point, EDF has failed to find other backers, leaving it responsible for two thirds of the cost. Problems with the bulding of similar high-pressure water reactors in Finland and Normandy have led EDF unions and senior executives to recommed a three-year delay – until a new generation of technology become available.
But Paris and London are reported to have applied intense pressure on EDF to go ahead immediately.
The British government would face huge embarrassment if Hinkley Point, intended as the first of three new mega power stations, was abandoned or postponed. In October last year, China agreed, amid much fanfare in London and Beijing, to invest £6.2bn in the project.
In September, the Chancellor George Osborne said Hinkley Point was a central part of the government's strategy to "make sure the lights stay on". "The current generation of nuclear power stations are coming to the end of their life. That's going to create a very big hole in our base electricity supply unless we do something about it," he told a House of Lords committee.
John Sauven, director of Greenpeace, which has campaigned against the reactor, told The Independent: "Delays to EDF making a decision about whether to invest in Hinkley are nothing new. So much so that it's been 14 months since it was first said that the decision would be coming imminently. But this latest delay from EDF is different.
"President Hollande, the French Economy Minister and EDF's chief executive have all very publicly promised the UK government a final decision before the 12 May. Backtracking on this pledge now is symbolic of the utter mess that EDF is in.
"But even if they could agree a finance package, it could be declared illegal state aid by the European Commission. This may now be the sign that the entire project is coming to a grinding halt and the UK government urgently needs to back renewable energy as a more reliable alternative."
A DECC spokesperson said: "This is a commercial issue for EDF. We hope that this can be resolved as soon as possible so that progress can be made on reaching a final investment decision".
Join our new commenting forum
Join thought-provoking conversations, follow other Independent readers and see their replies