Ramadan 2016 timetable: When is sunrise and sunset across the UK?
In order to fast during Ramadan, it is crucial to work on exact times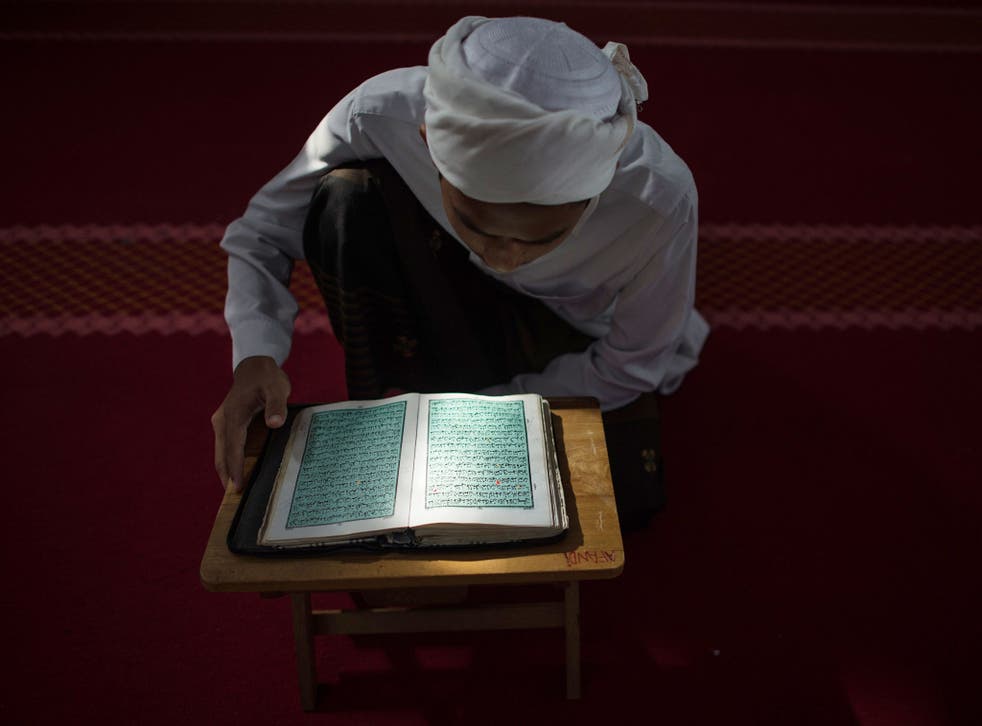 Ramadan marks the ninth month of the Muslim lunar calendar. It commemorates the month in which the Koran was first revealed to Mohammed and is the holiest month for Muslims.
Its observance is regarded as one of the Five Pillars of Islam. Currently, an estimated 22 per cent of the global population is participating in Ramadan, which started on 6 June.
During the sacred month, observers are only able to eat or drink before the sun rises and again after it sets. Once the sun has set, known as iftar, Muslims take part in post-iftar prayers.
The purpose of fasting is to remind Muslims of those enduring poverty and hardship. It is also a demonstration of self-control which brings them closer to Allah.
In order to fast during Ramadan, it is crucial that Muslims know the exact times of both sunrise and sunset. This is made even more complicated given that the sun rises and sets at different times in different places.
In pictures: The first day of Ramadan

Show all 6
Here, we have compiled a list of the times at which the sun rises and sets in cities across the UK during Ramadan.
Fast | Date Sunrise Sunset
4 | Thu, 9 June 2:43 am 9:19 pm
5 | Fri, 10 June 2:42 am 9:20 pm
6 | Sat, 11 June 2:41 am 9:20 pm
7 | Sun, 12 June 2:40 am 9:21 pm
8 | Mon, 13 June 2:39 am 9.22 pm
9 | Tue, 14 June 2:39 am 9:22 pm
10 | Wed, 15 June 2:39 am 9:23 pm
11 | Thu, 16 June 2:39 am 9:23 pm
12 | Fri, 17 June 2:39 am 9:23 pm
13 | Sat, 18 June 2:39 am 9:24 pm
14 | Sun, 19 June 2:39 am 9.24 pm
15 | Mon, 20 June 2:40 am 9:24 pm
16 | Tue, 21 June 2:40 am 9:25 pm
17 | Wed, 22 June 2:40 am 9:25 pm
18 | Thu, 23 June 2:42 am 9:25 pm
19 | Fri, 24 June 2:42 am 9:25 pm
20 | Sat, 25 June 2:43 am 9:25 pm
21 | Sun, 26 June 2:44 am 9:25 pm
22 | Mon, 27 June 2:44 am 9.25 pm
23 | Tue, 28 June 2.46 am 9:24 pm
24 | Wed, 29 June 2.47 am 9:24 pm
25 | Thu, 30 June 2.47 am 9:24 pm
26 | Fri, 1 July 2.49 am 9.24 pm
27 | Sat, 2 July 2.51 am 9:23 pm
29 | Sun, 3 July 2.51 am 9:23 pm
30 | Mon, 4 July 2.53 am 9:22 pm
*31 | Tue, 5 July 2.54 am 9.22 pm
*The beginning and end of Ramadan depend on moon sightings
The rest of the UK (compared to London)
City Sunrise Sunset
Birmingham +8 mins +6 mins
Bradford +9 mins +8 mins
Cardiff +13 mins +12 mins
Glasgow +22 mins +40 mins
Leeds +7 mins +4 Mins
Liverpool +12 mins +9 mins
Manchester +10 mins +7 mins
Middlesborough +8 mins +14 mins
Join our new commenting forum
Join thought-provoking conversations, follow other Independent readers and see their replies