Use of stop and search will be 'intelligence-led' under new Met policing plan
The Met's Operation Nightingale will use the controversial technique as part of its new plan to reduce neighbourhood crime in London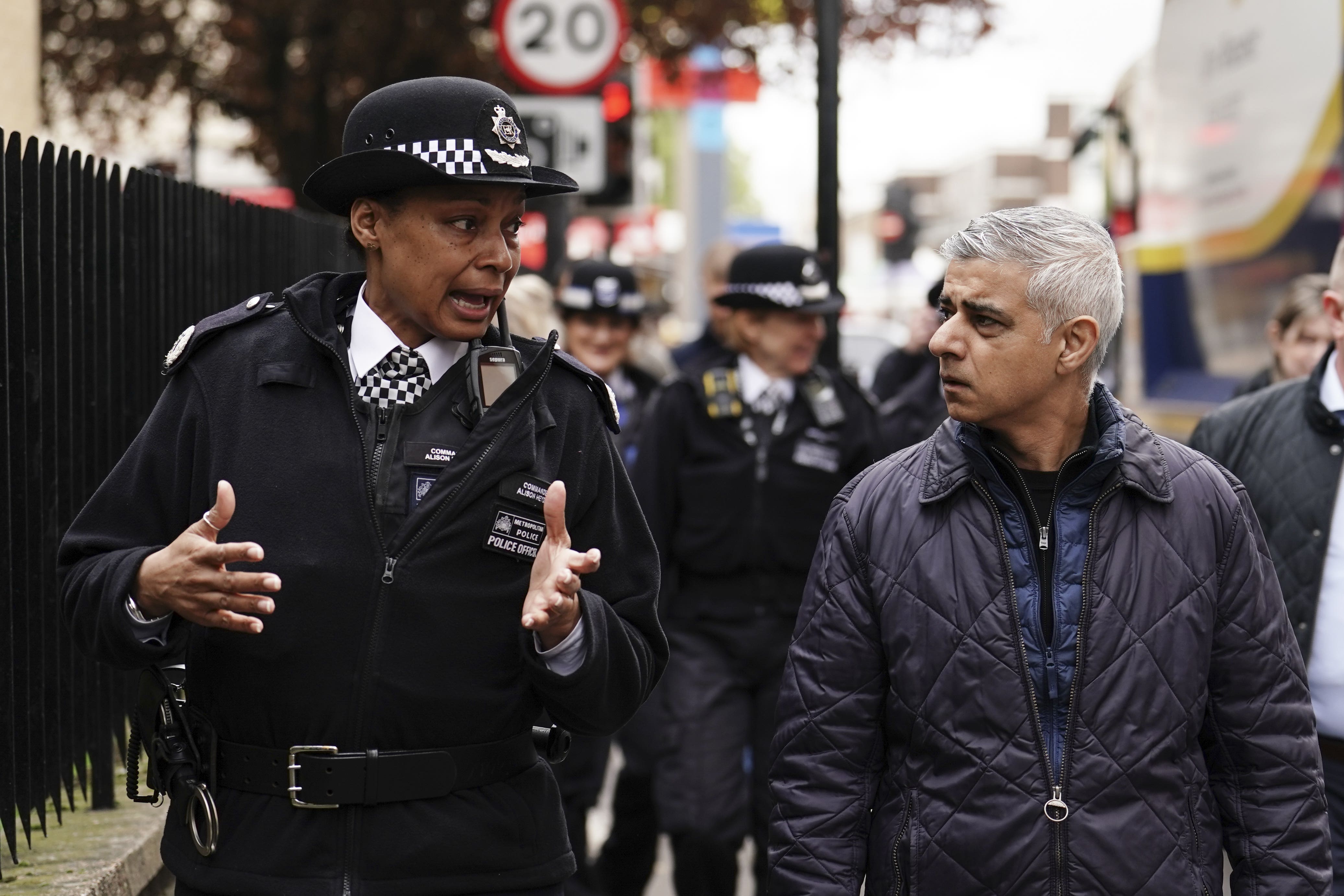 The Metropolitan Police's use of stop and search will be "intelligence-led" under new plans to tackle violent crime in London, Sadiq Khan has insisted.
The force's latest neighbourhood policing strategy, labelled "Operation Nightingale", will focus on "evidence-based" approaches such as "hotspot" policing to reduce violent crimes and anti-social behaviour.
Once an area has been designated as a hotspot, a plan will be put in place to deploy techniques such as drug dogs, community events and stop and search in a bid to reduce crime.
The Mayor of London defended the controversial use of stop and search, which critics say disproportionately targets black and ethnic minority communities, saying it is "an important part of the police's armoury".
Speaking about stop and search while visiting Church Street in Westminster on Friday, Mr Khan said: "The tackling [of this] has been both tough on crime and tough on the causes of crime… investing in young people giving them constructive things to do, but also using all the tools in the police's armoury.
"Intelligence-led stop and search is an important part of the police's armoury, it allows them to take offensive weapons off the streets, guns off the streets and knives off the streets.
"It had to be done using intelligence because what we don't want to see is increased disproportionality."
The use of stop and search has been controversial because of concerns it disproportionately affects black and minority ethnic communities.
Government statistics suggest black people are seven times more like to be stopped and searched compared to white people.
Campaign groups have previously warned that relaxing the restrictions on when police are allowed to use the tactic could compound discrimination.
An area will be identified as a "Nightingale hotspot" by officers using the Met's crime data.
Intelligence will be collected by neighbourhood officers to help police better understand crime in that area and how to protect the safety of its residents.
Mr Khan added that the operation is "needed now more than ever," and Church Street is an example of how effective it is.
"This is needed now more than ever as the impact of the cost-of-living crisis threatens to jeopardise the progress being made," he said.
"This community has been blighted by serious youth violence and social behaviour, robbery.
"This approach from the police is working with the community, neighbourhood patrol teams, and other specialist police teams like the Violent Crime Task Force targeting those serious violent hotspots, we've got 75 of these across our city.
"What we've seen over the last year is violence reduced by 36% around [Church Street] and crime down by 20%."
Mr Khan was joined in Westminster by Dr Alison Heydari, the Met's Commander for Frontline Policing.
She said: "For Operation Nightingale, one of the key components is not only bringing the communities in to work with us and understanding what matters to them, but also telling people the difference that working us made.
"There's also a really good place for us to look into antisocial behaviour because it is quite often an indicator that more serious crime is going on."