Schoolboys uncover rare 4,300-year-old gold hair ornament
The group of boys, on a dig in Northumberland, happened across the object and began "dancing with joy"
Natasha Culzac
Wednesday 06 August 2014 07:00 Comments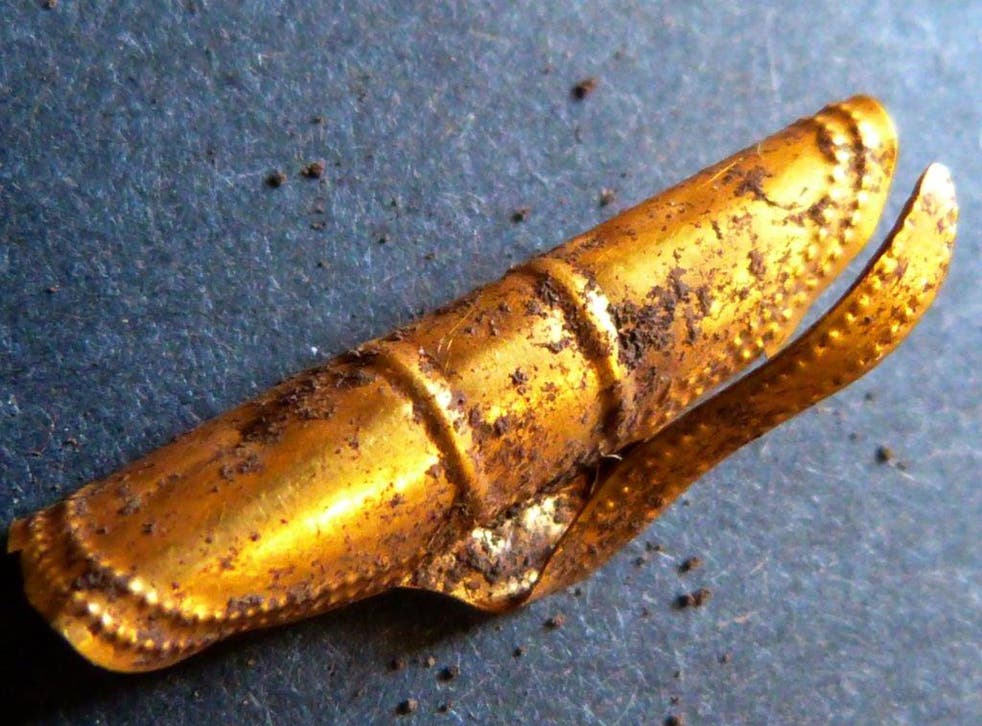 Four primary school age boys have unearthed one of the earliest metal objects ever to be found in the UK – a 4,300-year-old golden hair ornament from the Copper Age.
The object was discovered as the children, pupils at Alston Primary School in Cumbria, took part in a dig at Kirkhaugh, Northumberland.
The item dates back to around 2,300BC and has been described as an intricate hair tress, which actually came in a set of two – its matching one was found in Kirkaugh during an excavation in 1935.
One of the boys, Joseph Bell, seven, said: "We were digging carefully in the ground and I saw something shiny, it was gold. Me and Luca started dancing with joy. It was very exciting."
His friend Luca Alderson, eight, added: "When I first saw it I felt happy but I thought it was plastic. When I found out it was gold, I was very happy."
Experts believe that the item, which is 1.3in long, could have been worn by a metal worker who was in search of gold and copper.
It was found in the North Pennines Area of Outstanding Natural Beauty (AONB) and is one of only ten similar objects ever found.
It had been in the ground alongside three flint arrowheads and a jet betton.
"All archaeological sites are important in their own way, but this is exceptional," said Paul Frodsham of the AONB Partnership.
"It can be regarded as marking the very start of mineral exploitation in the North Pennines, leading in due course to Roman exploitation of lead and silver, and eventually to the vast post-medieval lead industry for which the region is internationally famous."
Register for free to continue reading
Registration is a free and easy way to support our truly independent journalism
By registering, you will also enjoy limited access to Premium articles, exclusive newsletters, commenting, and virtual events with our leading journalists
Already have an account? sign in
Join our new commenting forum
Join thought-provoking conversations, follow other Independent readers and see their replies