Commonwealth Games 2014: MoD refuses request to let Red Arrows use Scottish colours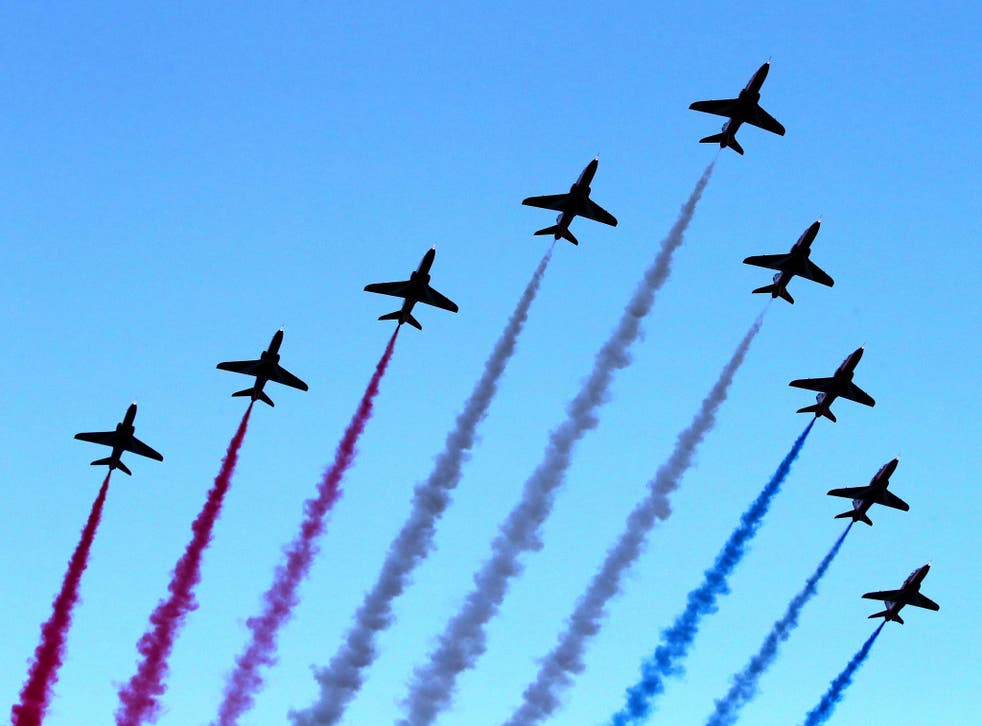 A request by the producers of the Commonwealth Games opening ceremony that the Red Arrows trail the colours of the Scottish Saltire in the Glasgow sky to mark the Queen's arrival at the event was rejected by Whitehall, it has emerged.
The Ministry of Defence insisted it would never allow that the world-famous RAF aerobatic display team to perform in anything other than its celebrated red, white and blue of the Union Flag saying it was a "UK military asset that was there to welcome the Queen".
It emerged that the show's producers had held discussions with the Red Arrows in which the question of altering the smoke trail to represent the host nation's flag was discussed.
But a Glasgow 2014 spokeswoman said no formal request had been made. MoD sources rejected reports that it had been new Secretary of State for Defence Michael Fallon that had personally intervened to rule out the change of colours. A spokesman said: "The Red Arrows are ambassadors for the UK and fly with red white and blue."
The change in plan was revealed by a note in the programme for the ceremony which said the flyby would be in Scots colours. However, this had been changed with a printed addendum handed out to journalists prior to the event at Celtic Park.
The spat over the flypast, one of the highlights of a ceremony which was watched by nearly nine million viewers in the UK, threatened to plunge the Games into its first controversy over independence.
First Minister Alex Salmond was criticised this week for breaking his promise not to discuss politics during the Games by claiming Glasgow would vote to split for the rest of the UK in September.
There has been an uneasy truce in campaigning in the immediate run up to the 11-day event. Prime Minister David Cameron was among politicians to pay a visit to the venues yesterday.
A source close to Mr Salmond said it was "absolutely, categorically, 100 per cent not the case" that anyone in the Scottish Government asked for the colours of the Saltire to be used.
The hawk jets of the aerobatic team are based at RAF Scrampton in Lincolnshire. It counts supporting British industry and showcasing the skills of the RAF among its roles.
A spokeswoman for Glasgow 2014 said: "We were delighted with the participation of the Red Arrows who deployed their standard trail of red, white and blue in last night's ceremony."
A Scottish Government spokesman said: "Glasgow 2014, as organisers of the Games, independently contract a private company to organise and stage the opening and closing ceremonies. An approach was made by them to the MOD to explore whether it would be possible to have blue and white smoke in recognition of Scotland as the host Commonwealth nation. We believe that ultimately the UK Government did not want to proceed with this suggestion."
Register for free to continue reading
Registration is a free and easy way to support our truly independent journalism
By registering, you will also enjoy limited access to Premium articles, exclusive newsletters, commenting, and virtual events with our leading journalists
Already have an account? sign in
Register for free to continue reading
Registration is a free and easy way to support our truly independent journalism
By registering, you will also enjoy limited access to Premium articles, exclusive newsletters, commenting, and virtual events with our leading journalists
Already have an account? sign in
Join our new commenting forum
Join thought-provoking conversations, follow other Independent readers and see their replies