Glasgow 'riots': 'Dishonest' social media users accused of fuelling panic with pictures from London riots
Tensions ran high after No voters celebrated independence referendum result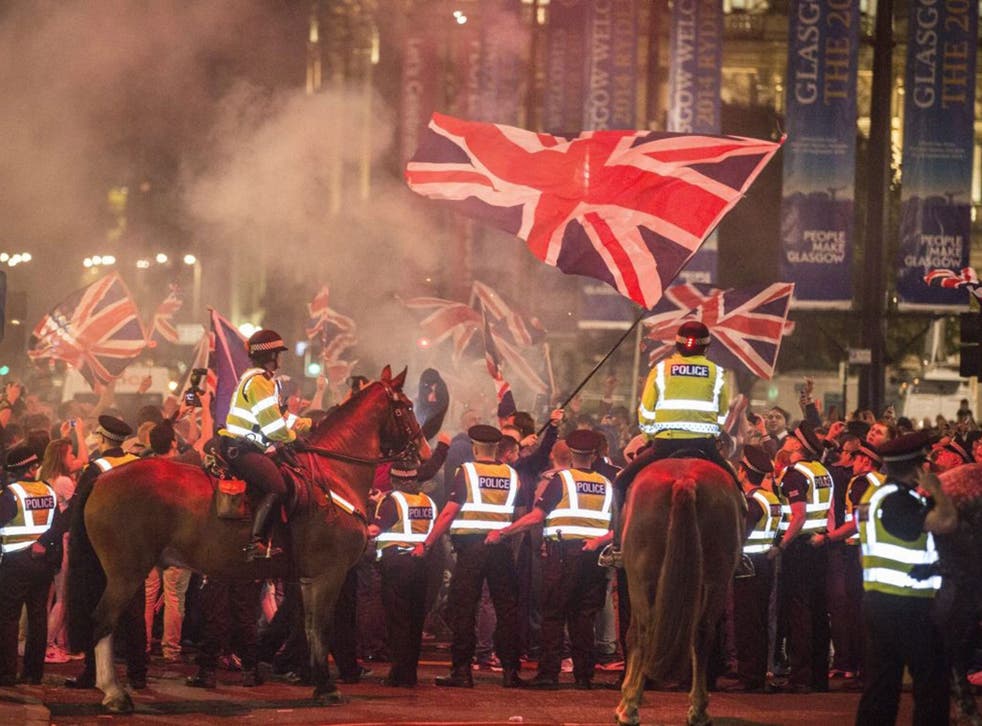 "Dishonest" social media users have been accused of claiming pictures of the 2011 London riots were of disorder in Glasgow following a post-referendum rally.
Several people were arrested after police lost control of pro-Union supporters who gathered in George Square following the independence result on Friday.
Yes and No voters were separated by police as they competed to sing Rule Britannia and Flower of Scotland.
News of tensions quickly spread on social media and were dubbed the "Glasgow riots" on Twitter but police emphasised that officers were "managing the situation".
A spokesperson for Police Scotland said six people had been arrested by Saturday morning but further arrests were possible as inquiries continue.
Despite reports on social media that trouble continued into the early hours, police said groups had dwindled to sets of two and three people by around 1am.
While some people appeared to be sharing pictures of the 2011 London riots and from conflict zones to satirise panic over the disorder, others appeared to be attempting to pass them off as images from Glasgow.
Andrew Neil, a BBC journalist, tweeted: "Some dishonest numpties using pics from Tottenham riots to claim this is Glasgow tonight. Yes and No should unite to condemn."
It was one of only four Scottish regions to vote for independence in Thursday's poll, which ended with the pro-Union vote winning by 55 per cent to 45 per cent.
No voters gathered in George Square, which had previously been used by the Yes side as a rallying point, on Friday night to celebrate the outcome.
Channel Four reporter Alex Thomson said he heard chants of Ten German Bombers, Rule Britannia and God Save The Queen, accompanied by what could be interpreted as a Nazi-style salute.
Some groups marched down St Vincent Place and police, some mounted on horses, contained people in the square.
Footage of the night showed flares being let off and police with batons splitting up running confrontations between demonstrators.
A fire behind the officers of the Herald newspaper, which supported independence, broke out but has not been definitively linked to the unrest.
Jonathan Coates, the newspaper's assistant sports editor, urged people not to jump to conclusions that it had been targeted by vandals.
Additional reporting by PA
Join our new commenting forum
Join thought-provoking conversations, follow other Independent readers and see their replies