Glasgow 'riots': Footage shows Yes and No voters in running street battles in disorder after pro-Union rally
Tensions rose as Unionists celebrated Scottish independence referendum result
Lizzie Dearden
Saturday 20 September 2014 11:43 Comments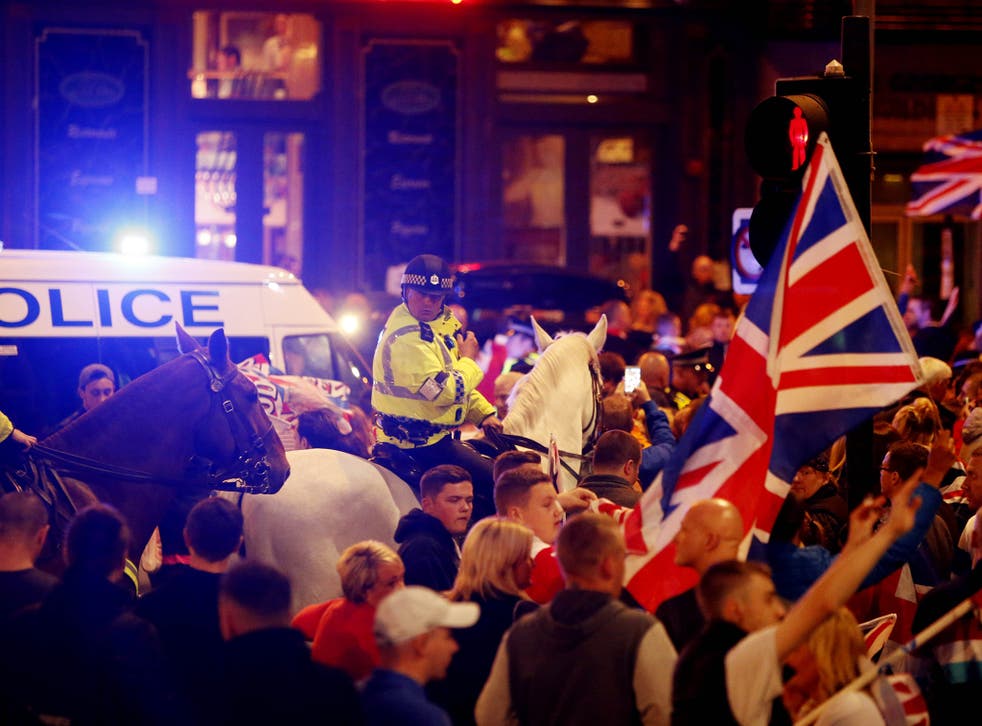 Footage has emerged of violent scenes in Glasgow as police struggled to contain a pro-Union rally that broke down into disorder in the city centre on Friday night.
Groups of Yes and No supporters were seen using chairs and missiles in running street battles as mounted police and officers with batons tried to break up fights.
In one moment captured on video, two men beating each other with Saltire and Union flags were detained outside a shop as onlookers took photos on their phones.
A man suspected to be a No voter was also filmed ripping a Saltire from a young woman's hands as she was surrounded sitting on the ground, dragging her forwards.
Pro-Union supporters had gathered in George Square, which had previously been a rallying point for Yes voters, following the Scottish independence referendum result.
While families and children draped in Union flags joined the celebration in the afternoon, large groups of men returned to the square later in the night, chanting and setting off flares.
Yes and No voters were separated by police as they competed to sing Rule Britannia and Flower of Scotland and "we will never surrender" was seen scrawled on the ground.
Channel Four reporter Alex Thomson said he heard chants of Ten German Bombers, Rule Britannia and God Save The Queen, accompanied Nazi-style salutes.
Some groups marched down St Vincent Place and police, some mounted on horses, contained people in the square.
One police officer could be heard telling a teenage pro-independence voter wrapped in a Saltire to "show some common sense".
"We are not here to be your personal bodyguards," he said. "You're not keeping yourself safe."
Glasgow was one of only four Scottish regions to vote for independence in Thursday's poll, which ended with the pro-Union vote winning by 55 per cent to 45 per cent.
A spokesperson for Police Scotland said six people had been arrested by Saturday morning but further arrests were possible as inquiries continue.
Additional reporting by PA
Register for free to continue reading
Registration is a free and easy way to support our truly independent journalism
By registering, you will also enjoy limited access to Premium articles, exclusive newsletters, commenting, and virtual events with our leading journalists
Already have an account? sign in
Join our new commenting forum
Join thought-provoking conversations, follow other Independent readers and see their replies