Gordon Brown vows to 'lock in' devolution promises as Scotland 'unites against the odds'
The former Prime Minister is credited with saving the No campaign
Lizzie Dearden
Saturday 20 September 2014 16:57 Comments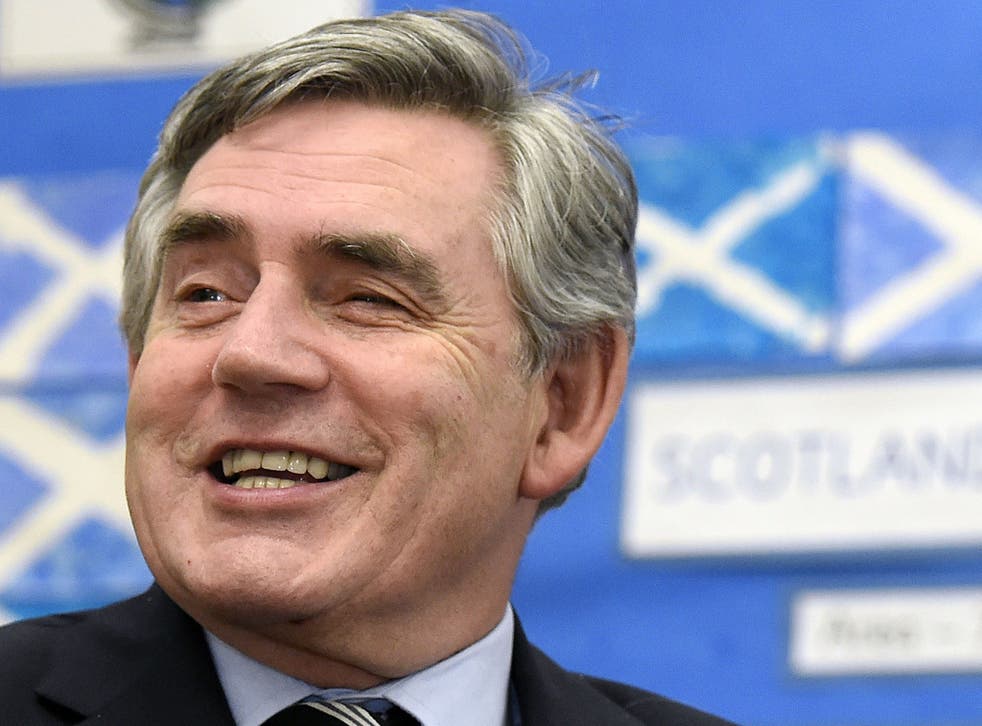 Gordon Brown has urged Scotland to unite in the wake of the independence referendum result, calling on people to dismiss the "myth" of irreconcilable differences to move forward.
The former Prime Minister gave the powerful speech on Saturday morning in Fife, a day after Scotland voted to remain part of the Union by 55 per cent to 45 per cent.
He said: "What people are trying to create is a myth - that there is such a distance between Scottish people and the English - or Scottish people and Welsh ad northern Irish people.
"That the differences are irreconcilable and can never be bridged…
"Don't let us believe there are irreconcilable differences...let us be part of one united family."
Calling the timetable for devolution "absolutely clear", Mr Brown said the main agreements between parties would be completed by St Andrew's Day in November and by Burns Night as the Scotland Act enabling new powers by the end of January.
Mr Brown's impassioned speech before Thursday's vote and behind-the-scenes intervention in the Better Together campaign is credited with securing the No vote.
Today he set out more detailed proposals for devolution in a united Scotland, promising to adhere to promises made by the three main parties for vastly increased powers for Holyrood.
He said: "There is a time to fight but there is a time to unite and this is the time for Scotland to unite and see if it can find common purpose and move from the battle ground to the common ground.
"Let us seek to find high ground in trying to find a way forward for the future."
Urging Scots of all opinions to "unify against the odds", Mr Brown said the world was watching UK leaders in the wake of the referendum.
"These are men who have been promise makers and they will not be promise breakers," he added.
"I will ensure that as a promise keeper that these promises that have been made will be upheld.
"We will lock in today the promises that have been made and why the timetable we set out will be delivered. Action has already been taken to make sure that happens."
The biggest victim of the referendum battle was Alex Salmond, who announced hours after the result that he would quit as First Minister and Scottish National Party leader.
Mr Brown praised his opponent for his years of service and said the people of Scotland owed him a debt of gratitude.
The former Prime Minister has been enjoying something of a political renaissance in recent weeks following widespread acclaim for his conduct in the referendum debate.
As our political correspondent James Cusick wrote last week: "Brown's controlled rage, the dynamism and the power that marked him out a generation ago as the intellectual young Labour firebrand who might go all the way, is now the driving force behind the No camp.
"He is responsible for the late change of tactics that were almost deployed in panic after the first poll two week ago which put the separatists ahead."
Scottish independence: Referendum results in pictures

Show all 15
Lord Mandelson, who had a long-running feud with Mr Brown in the Blair years, said he "saved David Cameron's bacon", as well as the Labour Party's.
A timetable is being set out for devolution in Scotland and the Prime Minister also said greater autonomy would be considered for England, Wales and Northern Ireland.
Draft devolution laws have been promised by January but there is already discontent among some Conservative MPs over what they say is rushed legislation based on pre-referendum promises made without consultation.
Additional reporting by PA
Register for free to continue reading
Registration is a free and easy way to support our truly independent journalism
By registering, you will also enjoy limited access to Premium articles, exclusive newsletters, commenting, and virtual events with our leading journalists
Already have an account? sign in
Join our new commenting forum
Join thought-provoking conversations, follow other Independent readers and see their replies