Groundskeeper Willie declares support for Scottish independence, volunteers to lead the new country
The Simpsons' Scotsman has backed the Yes campaign in Thursday's referendum in a new video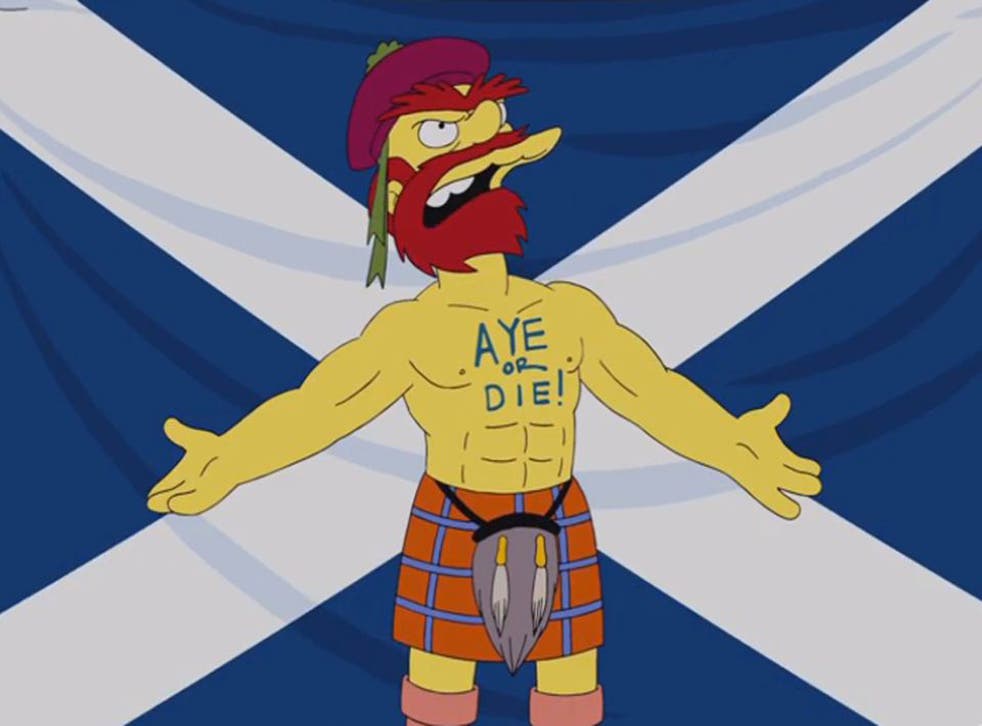 He may be yellow and have only eight fingers, but Groundskeeper Willie from The Simpsons remains one of Scotland's favourite sons – and he's thrown his weight behind Scottish independence ahead of Thursday's referendum.
In a YouTube video, Willie, Springfield's resident Scotsman, ripped off his shirt to reveal printed on his chest the words: "Aye or Die."
"That's not a tattoo, it's a birthmark," he roared.
The proud Scot, dressed head to toe in his country's traditional attire, began the video by framing the independence debate as one between "the freedom-loving heirs of the Highland tradition, and those who enjoy crawling like worms beneath British boots."
He said: "I am hesitant to throw my support to either side – be it the right one, or the obviously wrong one."
Willie, who would be unable to vote in the referendum as he lives in US, pleaded with Scotland to opt for independence, highlighting the country's vast North Sea oil reserves and flourishing whisky industry as proof of its governmental competence.
"I've lived in America most of my life, so I've seen first-hand how not to run a country," Willie added.
With that in mind, Willie offered himself as a candidate to lead a new, independent Scotland rather than the "safe choice" Alex Salmond.
He said: "For a leader who can stand in the proud tradition of William Wallace and Andy Murray, won't you consider the return of Scotland's prodigal son – Groundskeeper Willie?
"Willie won't back down to world leaders, because I haven't a clue who they are and I'm not willing to learn."
Shrek, the other famous animated Scot, backed the union earlier this summer. Mike Myers, who voiced Shrek, said: "Shrek wants what the will of the Scottish people want."
The Liverpool-born actor added: "I love Scotland; I hope they remain part of Britain."
Join our new commenting forum
Join thought-provoking conversations, follow other Independent readers and see their replies