Labour will boycott talks on English votes for English laws
Labour accuses David Cameron of a "closed-shop stitch-up"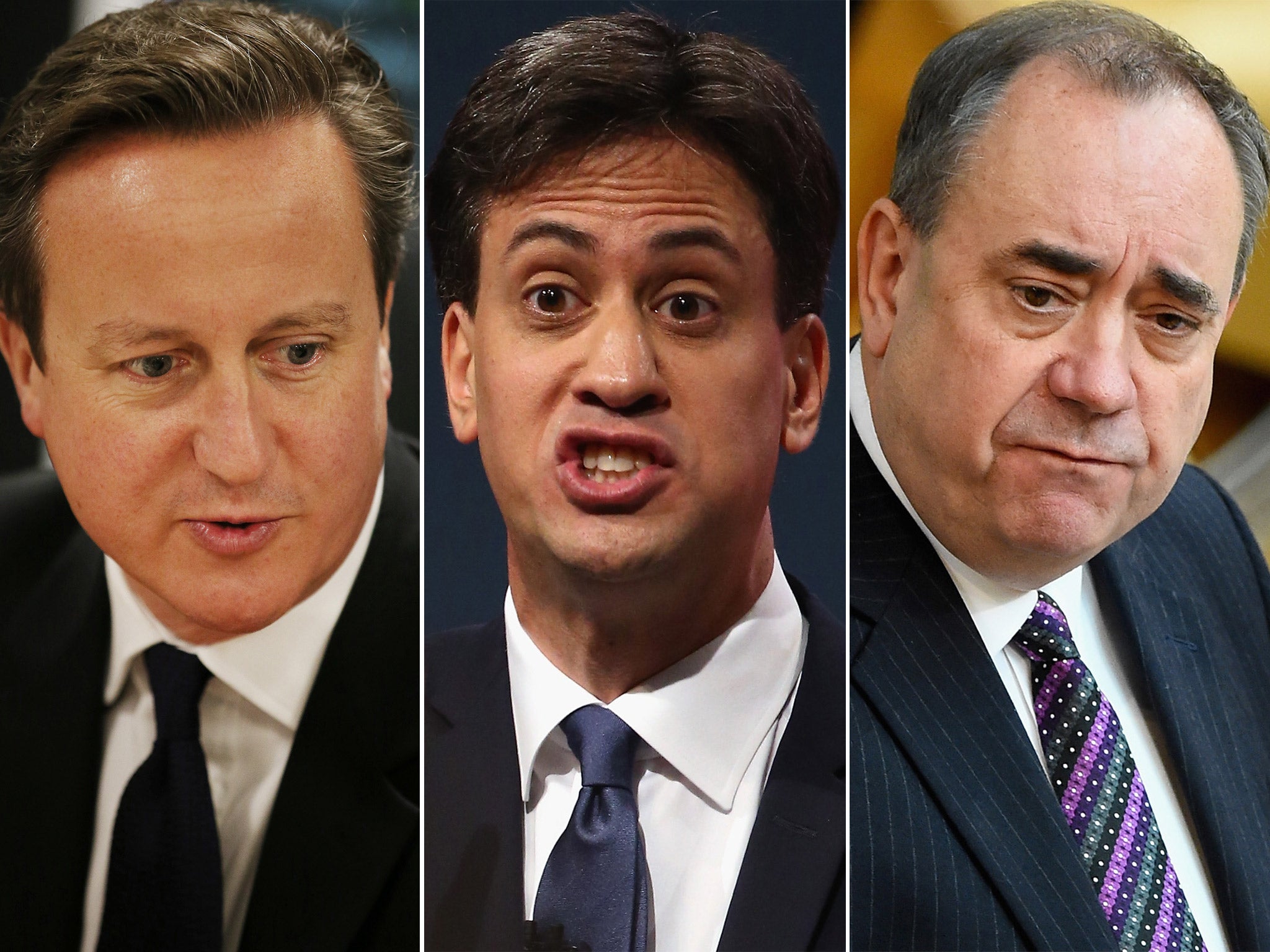 David Cameron's commitment to "English votes for English laws" is set to become a crucial election flashpoint after Labour announced it was boycotting cross-party talks on the contentious issue.
Labour accused the Prime Minister, who called for discussions on extra powers for English MPs hours after Scotland rejected independence, of attempting a "closed-shop stitch-up" designed to entrench the Tories' position south of the border.
Amid acrimonious scenes in Edinburgh and Westminster, the Scottish Nationalists also claimed Mr Cameron was preparing to renege on his promise of enhanced devolution to Scotland.
Tensions boiled over as Labour said it would refuse to cooperate with a Cabinet committee examining how to restrict votes on English-only legislation to English MPs.
Although the Liberal Democrats are participating in the talks, they also have deep reservations about Mr Cameron's plan and are highly unlikely to endorse them.
If the impasse continues, the Conservatives are planning to force a parliamentary vote on the issue by the end of the year – and to make backing for English devolution a key Tory promise in next year's election.
Labour is supporting a constitutional convention to examine how to devolve greater powers across the UK, but does not envisage that it would report back until late next year.
Mr Cameron argued Scotland needed extra devolution as part of a "settlement that is fair for the whole of the United Kingdom".
He said: "It's a matter of great regret if Labour are going to walk out of this Cabinet committee which they could join in and make their suggestions. But obviously they are not interested in fairness across the United Kingdom so we will have to work hard with other partners to make sure we deliver."
Mr Cameron joined Ed Miliband and Nick Clegg ahead of last month's Scottish referendum to promise enhanced devolution to Holyrood, including extra powers over income tax rates, in the event of a No vote.
That looks certain to be delivered before the election, although Mr Cameron's call for plans for Scottish devolution to be developed in tandem with English devolution has triggered a separate row between the parties.
Gordon Brown made a rare intervention in a parliamentary debate to register his alarm over Tory plans to give Scotland complete control over income tax along with "English votes for English laws". The former Prime Minister warned that the combination of policies was a "lethal cocktail" which could hasten the break-up of the United Kingdom.
"There is not a parliament in the world that would impose a national income tax on only some of the country, but not all of the country," he said.
Mr Brown added: "You cannot have one United Kingdom if you have two separate classes of MPs."
However, the Commons leader William Hague, who chairs the Cabinet committee, argued: "The United Kingdom is in greater danger if the legitimate arguments and expectations of English decision-making, on decisions affecting only England, are not responded to."
The Liberal Democrat minister David Laws, who sits on the committee, said Labour had "shrugged its shoulders" and walked away from the talks because of "narrow political interest".
He said: "It is because we are determined to avoid a Conservative stitch-up on this issue that the Liberal Democrats have put forward our own proposals. We want fair votes for English and Welsh laws, not Tory votes for English and Welsh laws."
Alex Salmond, the Scottish First Minster, told the BBC: "The initial judgement coming from Scotland is that people have no confidence in Tory guarantees and are absolutely fizzing about what looks like a preparation for a betrayal of a strong commitment made."
The Conservatives have set a deadline of the end of November – the point by which plans for Scottish devolution will be set out – for agreement over English MPs' voting rights.
With Labour abstaining itself from the process, the scene is set for a parliamentary vote on the issue shortly afterwards and the parties setting out their rival positions on the subject at the election.
Bernard Jenkin, the Conservative chairman of the Commons public administration select committee, said: "If it is not resolved, it will become an election issue between the parties."
Join our commenting forum
Join thought-provoking conversations, follow other Independent readers and see their replies