Salmond accused of laughing off national debt with 'what are they going to do: invade?' joke
Scottish independence leader reportedly taunted government over whether Scotland should take its share of the national debt
Heather Saul
Wednesday 10 September 2014 14:10 Comments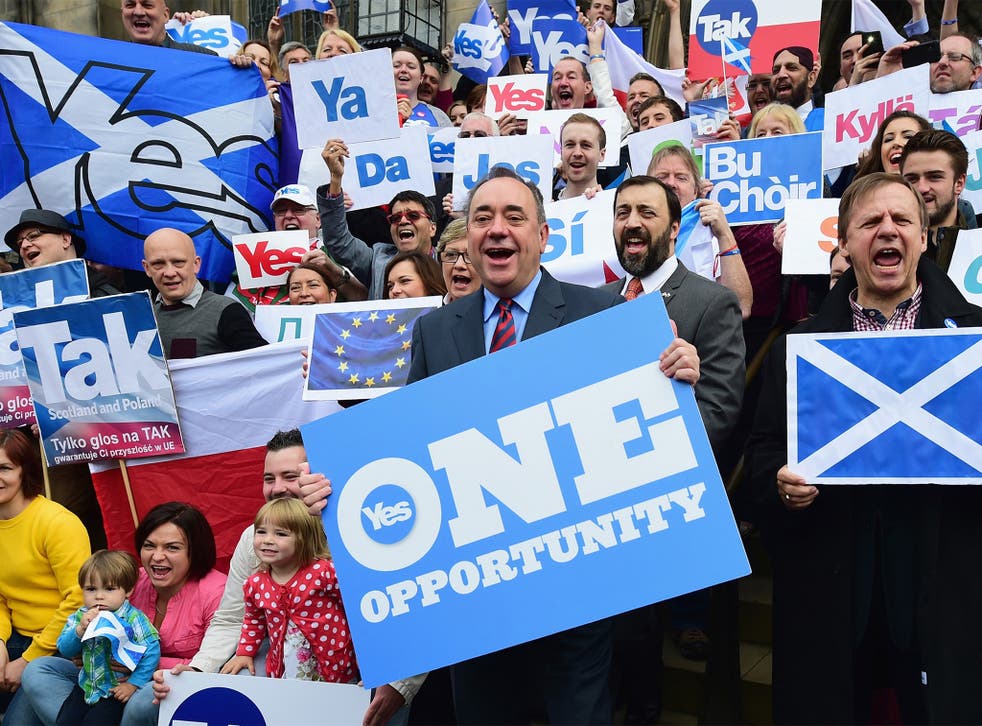 Alex Salmond has been accused of laughing off the prospect of repaying a share of national debt should Scotland become independent by allegedly joking: "What are they going to do - invade?".
The Scottish First Minister reportedly made the 'invasion' joke to colleagues over the issue of Scotland carrying its share of the national debt if it leaves the UK, according to ITV News.
Mr Salmond has insisted that the country would continue to use the pound after a Yes vote, warning that it could default on its share of the national debt if the UK Government did not agree to a currency union.
Last week, David Cameron described Mr Salmond's threat to default on Scotland's share of the UK's debt as "one of the most chilling" of the referendum debate so far.
The reported 'invasion' remark was dismissed as "total nonsense" by Mr Salmond's spokesperson.
Meanwhile, the battle between "Team Westminster vs Team Scotland" kicked off today as the Prime Minister, Nick Clegg and Ed Miliband arrived in Edinburgh in the wake of worrying poll results for the No campaign.
Mr Salmond, who is also on the campaign trail in Edinburgh, said of their arrival: "What we're seeing today on the other side is Team Westminster jetting up to Scotland for the day because they are panicking in the campaign.
Scottish Independence: For and against

Show all 24
"What is interesting today is that at this juncture of the campaign, Team Westminster - David Cameron, Ed Miliband - have jetted up to Scotland. Not part of their plans perhaps, but nonetheless they are here.
"What we are arguing is that we've got a key test about jobs in Scotland, about protecting our National Health Service. Their concern with this last-gasp effort seems to be with their own jobs.
"That's the contrast between the breadth and reach of Team Scotland and the narrow focus of Team Westminster, and that's why we're decisively winning the campaign on the ground in Scotland."
Mr Cameron launched his campaign by warning those who planned to vote for independence "just to give the effing Tories a kick" that the decision would be irreversible in the long run.
The Conservative leader said he would be "heartbroken" if the UK "was torn apart".
Register for free to continue reading
Registration is a free and easy way to support our truly independent journalism
By registering, you will also enjoy limited access to Premium articles, exclusive newsletters, commenting, and virtual events with our leading journalists
Already have an account? sign in
Join our new commenting forum
Join thought-provoking conversations, follow other Independent readers and see their replies