Scottish independence: Accusations of intimidation and violence fly in from supporters of both sides
At least three people are believed to have been injured in the attack on members of the group Hearts Supporters for Independence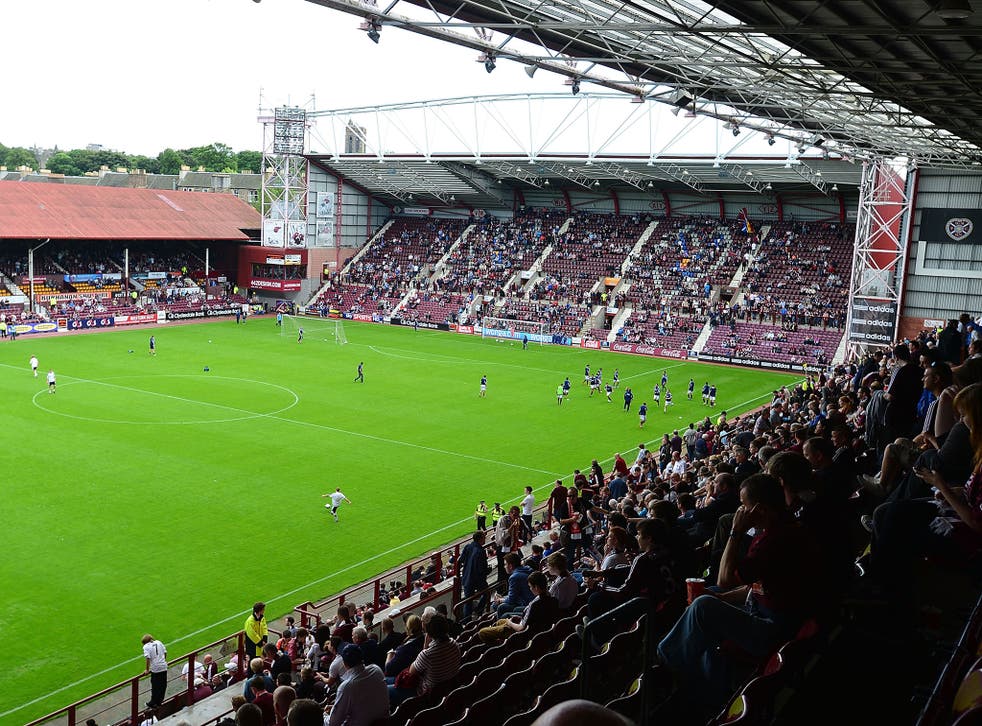 To a bystander, the scene outside Heart of Midlothian's Tynecastle Stadium on Saturday afternoon must have looked like a return to the dark days of football hooliganism: a crowd of angry men surrounding a much smaller group, shouting and throwing punches.
But in a sign of how heated the debate over Scottish independence has become, the victims of the assault outside the ground in Edinburgh were not the supporters of a rival club, but campaigners for Yes Scotland arguing for the break-up of the Union.
At least three people are believed to have been injured in the attack on members of the group Hearts Supporters for Independence, who said they had been doing nothing more provocative than handing out leaflets ahead of their team's match against Falkirk.
The campaigners told the Edinburgh Evening News that before the incident they had been verbally abused by group of men waving the Union Jack and singing "Rule, Britannia!", adding that they believed the later violence had been "coordinated". Police later confirmed they were investigating an allegation of assault.
Scottish Independence: For and against

Show all 24
After the match, a member of the Facebook group Heart of Midlothian Fans Against Scottish Independence wrote: "Well what did we say about 2 weeks ago about the yessers hassling the public outside Tynecastle?? We said it would end in trouble and it certainly did for them today…the No voters are starting to get pissed off with it."
In a separate incident in Glasgow on the same day, a "heated debate" between around 30 Yes and No supporters boiled over into violence, resulting in a 55-year-old man being charged in connection with an alleged assault.
The attacks follow several unsavoury incidents that have taken place on the referendum campaign trail in the last week. Labour MP Jim Murphy suspended his speaking tour of Scotland after having eggs thrown at him in the Fife town of Kirkcaldy, claiming that the Yes campaign was creating a "mob atmosphere", while Scottish First Minister Alex Salmond said he had been involved in a "road rage" incident in which he was chased in his car by someone waving a No sign.
As the day of the vote on 18 September nears, the flickers of violence have fuelled the increasingly bitter war of words between both sides. Today a senior source on the No campaign claimed that the nationalists' aggressive tactics would frighten voters away from polling stations. "We are worried that there is going to be absolute carnage," they told the Herald.
Alistair Darling, the leader of the Better Together campaign, has also met with Police Scotland to discuss the security arrangements for the campaign trail and on polling day, when a huge turnout is expected.
In response, Jonathon Shafi of the Radical Independence Campaign accused the anti-independence movement of employing equally underhand tactics: "The only thing they have left is to smear the entire debate," he said.
Electoral authorities have been working closely with the police to ensure that tensions outside polling stations are kept to a minimum. Mary Pitcaithly, the referendum's chief counting officer, said she expected a "high turnout" and had allocated a maximum of 800 voters to each venue to cope with demand.
"This will help to ensure everyone can cast their vote without having to queue for an unacceptable amount of time," she said. Presiding officers at each polling station have also been instructed to phone police at the first sign of trouble, she added.
Police Scotland refused to comment on how officers would be deployed around polling venues. The force's assistant chief constable Bernard Higgins said: "The referendum is a significant event which is expected to attract a higher than normal turnout. Policing arrangements for the referendum are well in hand and will be appropriate and proportionate. Police Scotland's priority is to ensure public safety and security. We will respond appropriately to any issues which arise."
Political leaders on both sides of the argument sought to calm the rising tensions. Mr Darling said there should be "zero tolerance" of voter bullying and intimidation, adding that such tactics had "no place in any democratic society".
He added: "We've had discussions with the police, I think they are very conscious that people have got to be allowed to have their say, but there is a mark over which you should not step. I don't care where it comes from, which side it's from, it has got no place in the referendum debate."
A spokesperson for Yes Scotland said: "The referendum is a celebration of Scottish democracy. We condemn all forms of abusive, dangerous and offensive behaviour. The No side must do likewise. Overwhelmingly, the independence debate has been conducted in a responsible, peaceful and enthusiastic manner with only a very small minority on both sides behaving badly."
Register for free to continue reading
Registration is a free and easy way to support our truly independent journalism
By registering, you will also enjoy limited access to Premium articles, exclusive newsletters, commenting, and virtual events with our leading journalists
Already have an account? sign in
Register for free to continue reading
Registration is a free and easy way to support our truly independent journalism
By registering, you will also enjoy limited access to Premium articles, exclusive newsletters, commenting, and virtual events with our leading journalists
Already have an account? sign in
Join our new commenting forum
Join thought-provoking conversations, follow other Independent readers and see their replies