Scottish independence: Cameron, Miliband and Clegg sign devolution 'vow' but Scots sceptical
The three leaders united to pledge new powers for Scotland after 'no' vote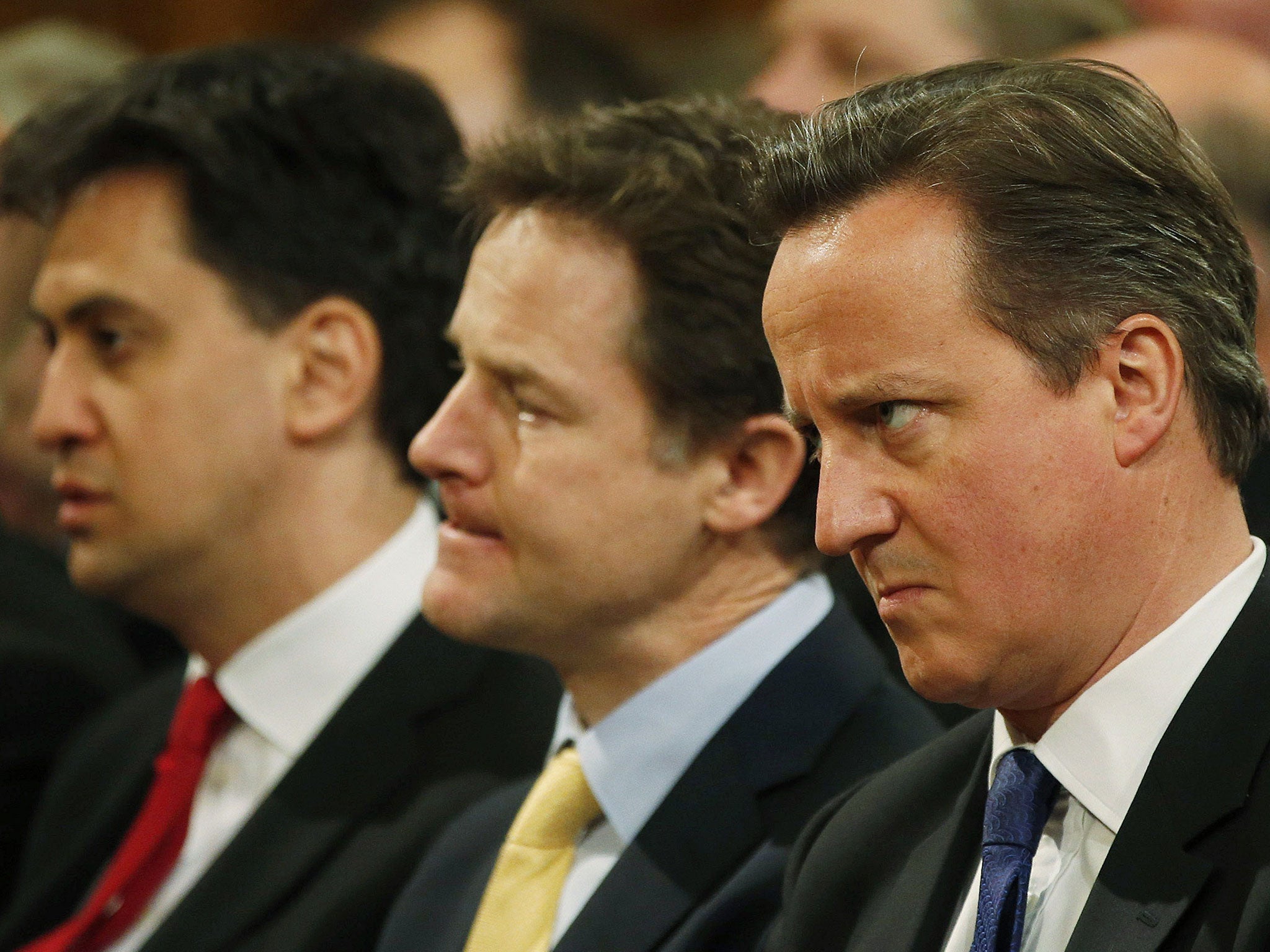 David Cameron, Ed Miliband and Nick Clegg have united in a vow to deliver "faster, safer and better change" for Scotland if it votes "no".
The leaders signed a joint pledge, published on the front of today's Daily Record newspaper, promising to give the Scottish Parliament increased powers and a fair share of resources but nationalists are still sceptical.
Alex Salmond was not the only person to point out the Government's record on delivering on pledges.
The Liberal Democrats have never recovered from Mr Clegg's binned pledge to scrap university tuition fees, while during the same election campaign, the soon-to-be Prime Minister promised no cuts to front-line services and "no more top-down reorganisations" of the NHS.
In the joint letter, the party leaders wrote that "the UK exists to ensure opportunity and security for all by sharing our resources equitably across all four nations", promising to continue the Barnett formula that adjusts public expenditure for Northern Ireland, Scotland and Wales.
The Scottish Parliament will be able to raise revenue and have "the final say on how much is spent on the NHS", the letter promises.
It continues: "We believe that the arguments that so powerfully make the case for staying together in the UK should underpin our future as a country.
"We will honour those principles and values not only before the referendum but after.
"People want to see change. A No vote will deliver faster, safer and better change than separation."
Mr Salmond, Scotland's pro-independence First Minister, dismissed the letter as a "last minute desperate offer of nothing".
He insisted the promise of extensive new powers for the Scottish Parliament would not dent the Yes campaign and raised questions about how binding the pledge is.
"I suspect it's been called a vow because the last time one of these leaders made a pledge and signed the pledge was the Deputy Prime Minister Nick Clegg when he signed a pledge that he wouldn't have tuition fees and then promptly put them up to £9,000 for English students in England," he told BBC Radio Scotland.
Scottish independence: What will happen to key British institutions?
Show all 7
"It's a classic example of how this last minute desperate offer of nothing is not going to dissuade people in Scotland from the huge opportunity of taking Scotland's future into Scotland's hands this coming Thursday."
But Scottish MP Douglas Alexander, who has been prominent in Labour's "no" campaign, said the pledge sets out a viable vision that can unite Scotland.
The shadow Foreign Secretary told BBC Breakfast: "Here in Scotland, we have been talking about these powers for many months.
"What we're saying today on the front page of the Daily Record is that we can have the best of both worlds.
"We can have a stronger Scottish Parliament but with the strength, stability and security of the United Kingdom."
Additional reporting by PA
Join our commenting forum
Join thought-provoking conversations, follow other Independent readers and see their replies