Scottish independence: David Cameron set to recall Parliament for emergency session if Scots vote Yes
Labour has also dismissed claims next week's conference could be scrapped
Andrew Grice
Wednesday 17 September 2014 17:02 Comments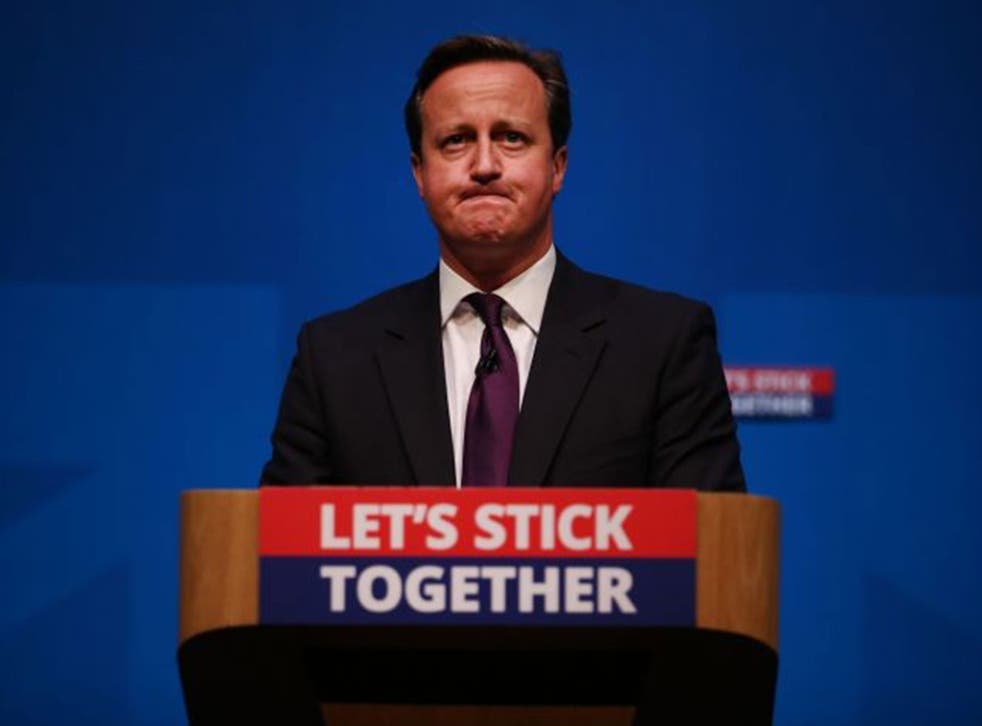 Parliament is expected to be recalled on Monday for an emergency session if Scotland votes for independence in its referendum tomorrow.
The Commons is due to be in recess until 13 October for the party conference season. But The Independent understands that MPs are likely to return to Westminster on Monday for a statement by David Cameron if Scots vote to leave the Union.
Turbulence on the financial markets is expected if a Yes vote is announced at breakfast time tomorrow. One option would be for the Commons to sit on Saturday, which would be its first Saturday session since the 1982 Falklands War. Monday is seen as a more realistic option as it would give the three main parties time to reflect on their next moves and the huge implications of an imminent Scottish breakaway.
Even though the vote is too close to call, Downing Street insists there are no contingency plans for a Yes vote. A Tory source said: "We're focused on doing everything we can to get the right result."
Scottish Independence: For and against

Show all 24
If the Scots vote for independence, Labour would have an immediate dilemma about its annual conference in Manchester, which starts on Sunday and runs until next Wednesday. Labour sources dismissed as "inaccurate speculation" the idea that the conference could be cancelled after a Yes vote. One said: "We are not planning for anything other than a victory in this referendum and a successful conference."
Ed Miliband is due to make his keynote conference speech next Tuesday but the timing of it could be changed. He would have to be in Parliament if it were recalled on Monday, when Ed Balls, the shadow Chancellor, is scheduled to address Labour delegates.
One reason why Labour would be reluctant to scrap its conference is money. All three main parties make a £1m profit from their annual gathering, which attracts exhibitors, businesses, lobbyists and pressure groups. Marketing Manchester, which promotes the area, calculates that the Labour conference will net the city £25.4m. About 11,000 people are expected to attend.
A vote for independence would eclipse Labour's plan to use its last conference before next May's general election to set out some of its policies. That process might well be delayed until nearer the election.
After Labour, Ukip will hold its annual conference in Doncaster, Mr Miliband's constituency base. That will be followed by the Conservatives in Birmingham and then by the Liberal Democrats in Glasgow. The Lib Dem event is traditionally held this week but was moved because of the Scottish referendum.
Register for free to continue reading
Registration is a free and easy way to support our truly independent journalism
By registering, you will also enjoy limited access to Premium articles, exclusive newsletters, commenting, and virtual events with our leading journalists
Already have an account? sign in
Join our new commenting forum
Join thought-provoking conversations, follow other Independent readers and see their replies