Scottish independence: Ed Miliband forced to abandon Edinburgh walkabout by angry Yes campaigners
The Labour leader was jostled and called a 'f*****g liar' and a 'traitor'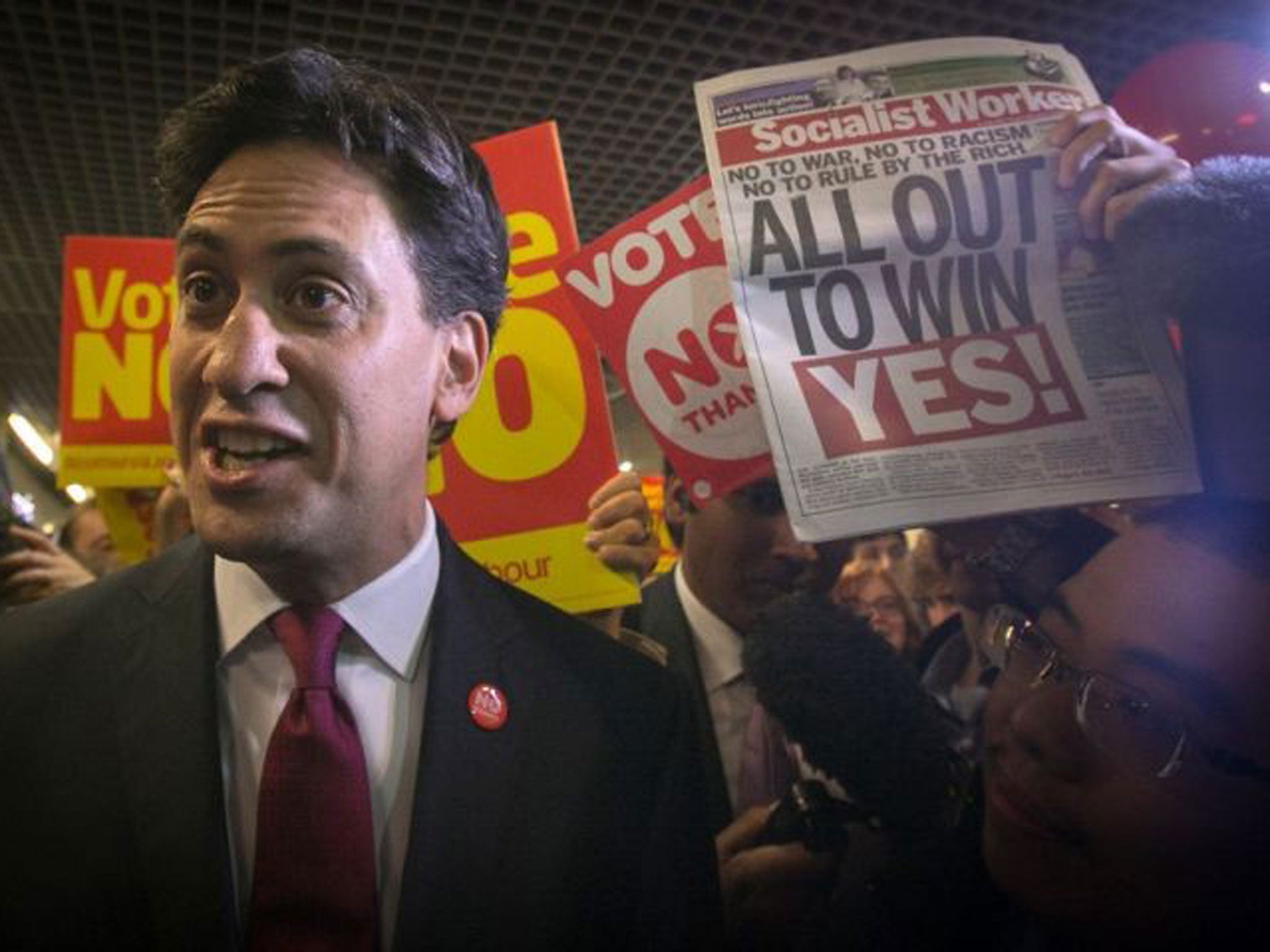 Ed Miliband was branded a "f*****g liar" and a "traitor" by angry Yes campaigners in chaotic scenes in Edinburgh yesterday.
The Labour leader had to cut his visit short after being jostled and heckled by activists at the St James Shopping Centre on Tuesday.
He struggled to speak to supporters as Yes campaigners shouted at him, with one reportedly yelling "bow down to Mr Miliband, your imperial master".
Surrounded by activists and reporters, he was forced to stop in a Thick of It-style blunder outside a hair salon called Supercuts as he was heckled about Government austerity.
Mr Miliband did manage to speak to some supporters, taking a selfie with a well-wisher before leaving, in the event aimed to tip undecided voters towards a "no" vote.
Speaking afterwards, the Labour leader said parts of the Yes campaign had taken on "an ugly side".
"I think debates should be conducted in a civilised way, I think that's very, very important, but I understand that passions run high," he told the BBC.
"What I've enjoyed about this campaign, including today when I get the chance, is meeting people who are genuinely undecided."
The incident amid continued allegations of bullying and intimidation, particularly by pro-independence campaigners, in the Scottish referendum debate.
George Galloway was allegedly told he was going to "face a bullet" while speaking in Glasgow and Danny Alexander was heckled at the same event by a Yes campaigner who was eventually dragged away shouting "we will be free".
Nick Clegg also hit out at "nasty" campaigning in his LBC radio show on Wednesday morning, saying colleagues had recounted "some pretty nasty incidents and some pretty extraordinary things said".
Speaking on his LBC radio show, he added: "It's really important everybody remembers that however passionate, however strongly they feel...just because you disagree with someone doesn't mean they don't have the right to say what they believe.
"Scotland will need to rediscover its sense of community and togetherness and solidarity where people who are divided in their opinions on this referendum need to work together, live together, live side by side together after tomorrow.
"It's very important that things are not said and done now which will make that ...community-wide need to ... live and work together harder later."
Politicians on both sides of the debate are continuing their campaign in Scotland today as polls continue to show the result of Thursday's referendum is on a knife-edge.
Additional reporting by PA
Join our commenting forum
Join thought-provoking conversations, follow other Independent readers and see their replies