Scottish independence: Nicola Sturgeon launches bid to become Scotland's new First Minister
Alex Salmond's deputy is currently unopposed
Nigel Morris
Wednesday 24 September 2014 18:01 Comments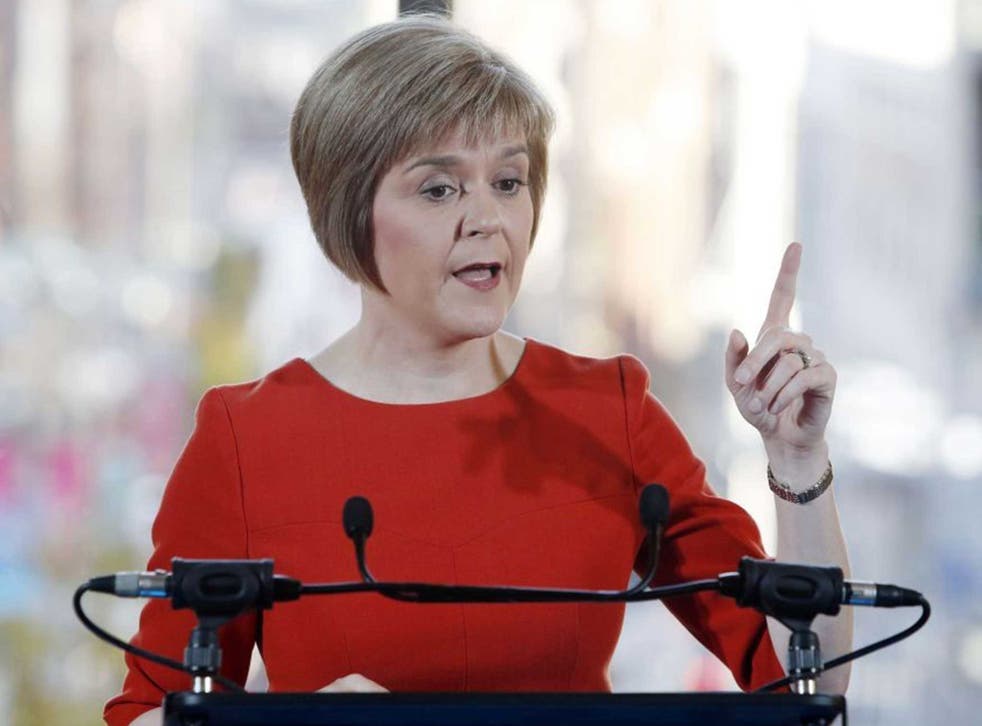 Nicola Sturgeon has launched her bid to become the first female Scottish First Minister following Alex Salmond's resignation after last week's independence referendum result.
She said: "His are big boots to fill. But if given the opportunity to lead, I will wear my own shoes and they will certainly have higher heels."
Ms Sturgeon, who was widely praised for her performances during the referendum campaign, said she hoped to send a message to women and girls that there should be no "glass ceiling" on their ambitions.
She has been the Deputy First Minister since the Nationalists came to power at Holyrood in 2007, as well as the deputy leader of the Scottish National Party for 10 years.
No other candidate has yet come forward to stand against her, and her election looks a foregone conclusion.
Her elevation would mean three Scottish parties were led by women as she would be facing Labour under Johann Lamont and the Conservatives under Ruth Davidson.
Confirming her candidacy, Ms Sturgeon said: "To be the First Minister of my country, especially at this exciting and optimistic time, would be both a great honour - without doubt, the greatest honour – and an immense responsibility.
"I am putting myself forward for two simple reasons: I want to serve my party and my country and I believe I am the best person for the job.
"I also hope my candidacy, should it succeed, will send a strong message to every girl and young woman in Scotland: no matter your background or what you want to achieve in life, in Scotland in 2014 there is no glass ceiling on ambition."
Mr Salmond announced his resignation last Friday, 12 hours after it became plain that Scottish voters had rejected independence by a margin of 55 per cent to 45 per cent.
Under SNP rules, anyone planning to stand against her has three weeks to step forward. They need to have the backing of at least 100 members from at least 20 local branches.
Voting will take place in October, with the victor announced on 13 November at the SNP conference in Perth.
Profile: Nicola Sturgeon
It was the decline of heavy industry and soaring unemployment during the Thatcher years that drove the teenage Nicola Sturgeon into politics.
Unlike many of her contemporaries with left-leaning views she turned her back on Labour, joining the Scottish National Party at the age of just 16.
Ms Sturgeon, 44, who drew up in a terraced house in Ayrshire, has explained: "I felt the sense of disempowerment that came from having a Tory Government we didn't vote for."
She studied law at Glasgow University and worked as a solicitor. But politics rapidly began to take over, and when she stood in the 1992 general election aged 22 she was the youngest parliamentary candidate in Scotland.
Seven years later she was elected to Holyrood and began her rise through the SNP ranks, shedding an initial reputation for earnestness to become one of her party's most persuasive performers.
Away from politics, her biggest recent disappointment has been the end of her favourite programme – Borgen, the Danish drama depicting the against-the-odds rise of a female politician to lead her nation.
Register for free to continue reading
Registration is a free and easy way to support our truly independent journalism
By registering, you will also enjoy limited access to Premium articles, exclusive newsletters, commenting, and virtual events with our leading journalists
Already have an account? sign in
Join our new commenting forum
Join thought-provoking conversations, follow other Independent readers and see their replies