Scottish independence: No vote collapses in latest poll with just 16 days to go
More Labour voters are switching to Yes votes ahead of the referendum in 16 days time
Rose Troup Buchanan
Wednesday 03 September 2014 17:56 Comments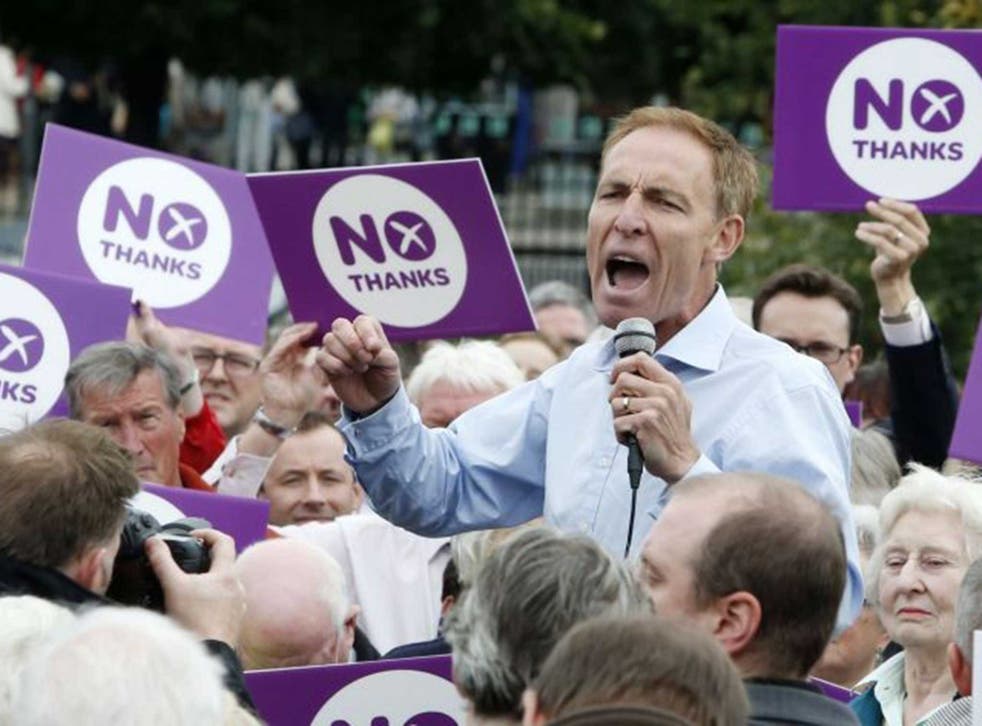 Support for the No campaign has collapsed just 16 days ahead of the Scottish independence vote, according to a new opinion poll.
The YouGov survey shows that support for independence has risen by eight points in the past four weeks, putting the Better Together campaign just six points ahead, down from 14 points in mid-August and 22 points early last month.
Alex Salmond, Scotland's First Minister, said the results were "very encouraging", saying: "I have always thought we would win."
The No campaign was leading by 14 points in mid-August and by 17 points a month prior to that in June.
The biggest change in the latest poll has come from Labour voters, with 30 per cent now backing the Yes vote compared to 18 per cent just one month ago.
Liberal Democrat voters have also shifted, with double (24 per cent) saying they will vote for independence – although their percentage of the vote is significantly smaller.
Blair Jenkins, the head of Yes Scotland, welcomed the results: "This breakthrough poll shows that Yes has the big momentum - it's an all-time high for Yes support in a YouGov survey so far".
Scottish Independence: For and against

Show all 24
He added: "While the No campaign press the panic button and blame each other for a series of blunders, Yes will get on with the job of persuading more of our fellow citizens - both No and undecided voters - that we need a Yes vote to put Scotland's future in Scotland's hands."
The YouGov poll surveyed 1,063 individuals from 28 August to 1 September.
A spokesperson for the Better Together Campaign said: "The choice facing Scots couldn't be starker. A No vote is a vote for the best of both worlds - more powers for Scotland, backed up by the strength of the larger UK economy.
"A vote for separation would be a leap into the unknown, putting our currency, jobs, pensions and NHS at risk. By saying No Thanks we can avoid the £6 billion of extra cuts to services like our schools and hospitals that the experts say would be needed with independence."
Despite Mr Salmond's uncertainty over the state of the pound, according to the data a bigger percentage of voters now think an independent Scotland would be financially better off compared to a similar poll nine weeks ago.
The gap has narrowed from 49 per cent who think the economy would improve under Salmond against 27 per cent who do not, to 43 per cent negative and 35 per cent positive.
Voters have also been swayed by fears for the NHS, with only nine per cent believing their hospitals will improve if they stay in the union. In comparison, 37 per cent think an independent Scotland would ensure the NHS improves, rather than deteriorate (27 per cent).
The vote is on 18 September.
Register for free to continue reading
Registration is a free and easy way to support our truly independent journalism
By registering, you will also enjoy limited access to Premium articles, exclusive newsletters, commenting, and virtual events with our leading journalists
Already have an account? sign in
Join our new commenting forum
Join thought-provoking conversations, follow other Independent readers and see their replies