Scottish Independence: 'The risks are colossal – and we may not gain anything from it', says Alistair Darling
Former Chancellor warns a convincing victory is needed to avoid a decade of political uncertainty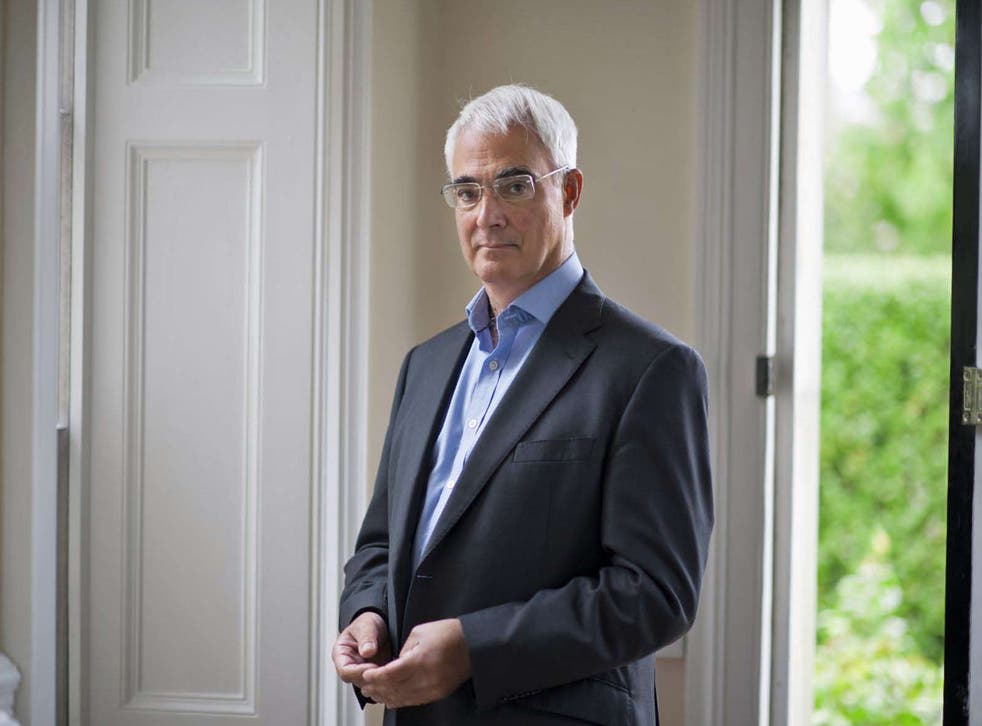 For Alistair Darling, winning the Scottish referendum on 18 September will not be enough. The Yes camp "only have to win by one vote", he warns. "We have to win this well." Without a convincing victory, the spectre of independence could continue to haunt the pro-unionists – and as the former Chancellor says: "There is a general mood that people want to put this to bed for a generation."
Although the chairman of Better Together will not talk percentages, the feeling in his No campaign is that keeping Alex Salmond below the 40 per cent mark would be a decisive victory, while a much closer winning margin would not stop the Scottish National Party (SNP) coming back for more – and another referendum – within 10 years. The latest polls average out at 43 per cent for Yes and 57 per cent for No, so Mr Darling still has work to do.
After a wobble early this year, when the Yes campaign narrowed the poll gap, the No camp's nerves have steadied. But Mr Darling takes nothing for granted. At this stage before the 2011 Scottish Parliament elections, Labour was ahead. Yet the SNP went on to win a majority, a 10,000-volt shock from which some of its MPs believe Scottish Labour has not yet recovered. "An awful lot can still happen. Something that no one has even thought of could arrive," Mr Darling tells The Independent.
Despite SNP claims of bullying as "the Westminster parties" warn about the impact of a breakaway, Mr Darling is confident his side is winning the argument – not least on the economy. "The Nationalists' refusal and inability to answer pretty fundamental questions on the currency, pensions, welfare is creating a wall of doubt. People realise they are being asked to take a leap into the unknown," he says.
"People can now see the finishing post. In 2012 and 2013, the referendum wasn't really real. It was like asking someone the day after a general election, how they would vote at the next election – it was a completely free hit.
"The sheer magnitude of the decision is looming large in people's minds. It's not like a general or Euro election, when you can vote for somebody else next time around. This is probably the biggest political decision they will ever take in their lives. More and more people are saying the risks are colossal and there is no guarantee whatsoever that there would be anything to gain from it. That's why people are saying: 'I am not buying this'."
Scottish Independence: For and against

Show all 24
We are speaking in Mr Darling's large detached house in Edinburgh, where the garden has provided his escape during periods of political turmoil. It is in Morningside, the posh part of the city. Another famous author, JK Rowling, used to live next door and wrote some of the Harry Potter books there. It proved a useful connection for Mr Darling: she recently gave £1m to Better Together.Mr Darling did not enter politics to debate the constitution.
He didn't grab the leadership of the No camp; it was thrust upon him. "He's solid, reassuring, a bit dull – and Scottish," says a Liberal Democrat colleague in the cross-party Better Together campaign. To the SNP, Mr Darling is a "Tory substitute" and "the Alistair monkey" to David Cameron's organ grinder. To armchair Tory generals in London, his campaign has been too negative and slow to react to events.
Such sniping is water off a duck's back to a man who told us Gordon Brown unleashed "the forces of hell" on him in 2010 when he said – rightly – that Britain faced the worst recession for 60 years.
"It is one of the trials of life that there are people whose knowledge of Scotland is strictly limited, who might have a distant relation who came from Scotland and think that qualifies them to become an expert on the subject," says Mr Darling. "It is slightly irritating, but perfectly natural."
Last month Better Together rebranded itself as "No Thanks" on its campaign material, and organisers believe the softer message has helped to harden up its poll lead. They deny a U-turn away from a negative approach, saying the shift to "No Thanks" was planned as long as a year ago.
Mr Darling made no apologies for "asking tough questions" about the impact of independence but rejected the SNP charge that the battle is a positive campaign against a negative one. "What could be more negative than putting a border between two countries where there has been no border in practical terms for 300 years in a campaign that systematically attacks anyone who stands up to oppose them?" he asks. "We are putting the positive case for jobs, pensions, social security. It's the positive case that comes from having the best of both worlds. A Scottish Parliament that has control over health and education, while we gain from being part of something bigger."
He hits back at Mr Salmond's claim in yesterday's Independent that Mr Cameron is playing "European roulette", in which Scotland could be dragged to the EU exit door in his 2017 referendum. Mr Darling replies: "It is Alex Salmond who is playing roulette with the EU. The average time it took countries to join the EU in the last 20 years is about eight years. The last thing Scottish firms need is that uncertainty. It would be entirely self-inflicted."
He accuses Scotland's First Minister of delaying their head-to-head TV debate, originally scheduled for next week, until after the Commonwealth Games in Glasgow end early next month, adding that Mr Salmond would be "well advised" not to try to exploit the event.
Although the three main parties at Westminster have all promised more devolution if Scotland votes No, he denies that the lack of agreement on the detail is a handicap. "It's not the burning issue," he says. "Most people know the devolution settlement is here to stay; there will be more to come."
The 60-year-old dismisses SNP claims that the narrowing poll gap between Labour and the Conservatives could boost the Yes camp as Scots fear another period of Tory rule at Westminster. Yet he is typically cautious about his own party's general election prospects next year. "I think we can win," he says. "Politics is much more fluid than at any time I can remember. The next election is too close to call." And Mr Darling, who backed David Miliband in Labour's 2010 leadership contest, denies rumours that Ed Miliband had asked him to be shadow Chancellor. "I made clear I was going to the backbenches," he insists.
Although he has been tipped for a Cabinet return if Labour regains power next year, some Westminster colleagues believe he may call time on his Commons career after the referendum on 18 September. He has not yet told his Edinburgh South West constituency party whether he wants to be their general election candidate. But Mr Darling hints that there could yet be another chapter to his political story. "I am going to make that decision in the days following the referendum. I will see how I am feeling at that stage. I will have been involved in a two-and-a-half-year campaign. But if we win… winning does wonders for the soul."
Register for free to continue reading
Registration is a free and easy way to support our truly independent journalism
By registering, you will also enjoy limited access to Premium articles, exclusive newsletters, commenting, and virtual events with our leading journalists
Already have an account? sign in
Register for free to continue reading
Registration is a free and easy way to support our truly independent journalism
By registering, you will also enjoy limited access to Premium articles, exclusive newsletters, commenting, and virtual events with our leading journalists
Already have an account? sign in
Join our new commenting forum
Join thought-provoking conversations, follow other Independent readers and see their replies