Scottish independence vote: Alex Salmond boasts of 'unstoppable momentum' ahead of referendum
Meanwhile, Cameron will tell Scots: 'This is for ever'
Jane Merrick
,
James Cusick
Sunday 14 September 2014 11:28 Comments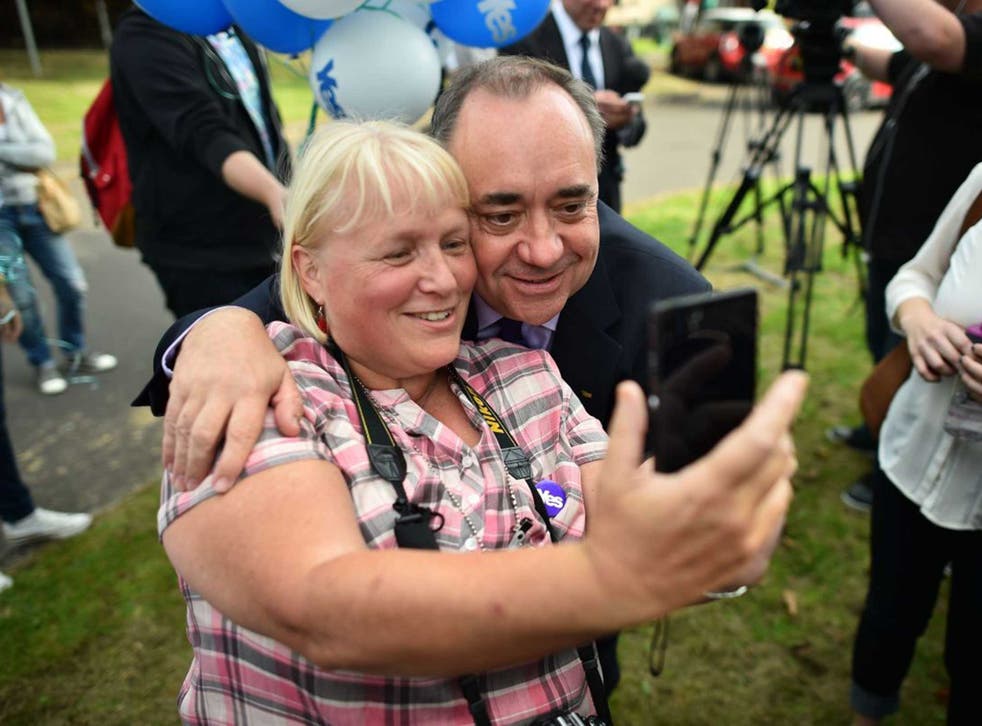 David Cameron should carry the blame if Scotland backs independence this week, for forcing an all-or-nothing vote, Alex Salmond said last night, as the SNP leader claimed there was "unstoppable" momentum behind the "Yes" campaign.
The Prime Minister is preparing to make the most important speech of his premiership tomorrow in which he will plead with voters to stay, warning: "This is for ever." There was evidence last night that, ironically, Mr Cameron will be rescued by working-class Labour voters who, after flirting with a Yes vote, are preparing to back the United Kingdom this Thursday, prompting Alistair Darling to predict victory.
Internal canvassing data by Labour seen by The Independent on Sunday shows that the party's urban vote in Glasgow, Dundee and other strongholds was broadly backing independence in mid-August but is now wary of separatism. The polling shows that Dundee could be 57 per cent No and 43 per cent Yes, while Glasgow could be as much as 64 per cent No, 36 per cent Yes.
As the latest flurry of polls showed last week's lead for the Yes campaign has been reversed after warnings over the desertion of banks from Scotland and higher food prices, First Minister Mr Salmond said that it was the Prime Minister who "fought tooth and nail" to keep a third option of "devo max" off the ballot paper. Mr Salmond claimed that last week's scrambling by Westminster leaders to pledge greater powers was undermined when Tory MP Christopher Chope said his fellow backbenchers were planning a Commons revolt against the offer.
The First Minister said: "The Yes campaign's momentum is now unstoppable – it is a truly inspiring example of grassroots activism in action and there is literally nothing Westminster can do to stop it. David Cameron fought tooth and nail to keep a more powers option off the ballot paper, and that is why no one in Scotland is buying the Westminster parties' panicked last-minute pledges – which have been fatally undermined by Tory backbenchers.
In pictures: Politicians scramble for Scotland

Show all 6
"And people right across Scotland will not be bullied by the Downing Street orchestrated efforts to whip up business fears. The No campaign has been a dismal, negative one from the start – in contrast it is the Yes campaign's message of opportunity which promises a victory of hope over fear on Thursday."
Mr Salmond's criticism of the No campaign has been echoed by some Westminster insiders, with one strategist saying the advertising and marketing – including an ad aimed at women that was derided as "patronising" – had been "all wrong". A better ad campaign should have been based around the slogan of the rest of the UK telling Scots: "We're nothing without you", the strategist said, rather than grim warnings about being worse off.
In his speech tomorrow, his 10th visit to Scotland this year, Mr Cameron will tell Scots they can enjoy the "best of both worlds" by voting No – gaining more power through further devolution but not sacrificing the security of the UK. Warning voters that "this is for ever", the Prime Minister will urge them to think through the implications of a Yes vote. The "family of nations" has a proud history and a bright future together, he will say, and he will be "heartbroken" if Scotland votes Yes.
The latest poll by Survation for Better Together suggested 54 per cent will vote No and 46 per cent Yes, excluding don't knows. Mr Salmond earlier played down comments from former SNP deputy leader Jim Sillars, who warned that a Yes vote would herald a "day of reckoning with BP and the banks" who had intervened in the debate. The First Minister said a vote for independence would be a "day of celebration", and, reaching out to No activists, said: "The day after a Yes vote there will cease to be a No campaign and Yes campaign – only Team Scotland. We will approach the success of Yes with magnanimity to all.
"Jim was simply trying to express the anger felt by so many people about the revelations that some supermarket statements were orchestrated by the Prime Minister."
Liberal Democrat Scottish Secretary Alistair Carmichael said: "People across Scotland will find it unbelievable that Alex Salmond is accusing businesses like our supermarkets and our banks of bullying simply because they have been telling the truth."
Meanwhile a former Tory donor and leading businessman revealed he was voting Yes, claiming the offer of more power for Holyrood was "too little too late". John McGlynn, who founded the Airlink Group of car parks and is on the board of Scottish Enterprise, said in the absence of the "devo max" option he wanted, he had "no choice" but to vote Yes.
Register for free to continue reading
Registration is a free and easy way to support our truly independent journalism
By registering, you will also enjoy limited access to Premium articles, exclusive newsletters, commenting, and virtual events with our leading journalists
Already have an account? sign in
Join our new commenting forum
Join thought-provoking conversations, follow other Independent readers and see their replies