Scottish independence: What happens if Scotland votes yes at the referendum?
It's looking like bad news for the rest of the UK's political establishment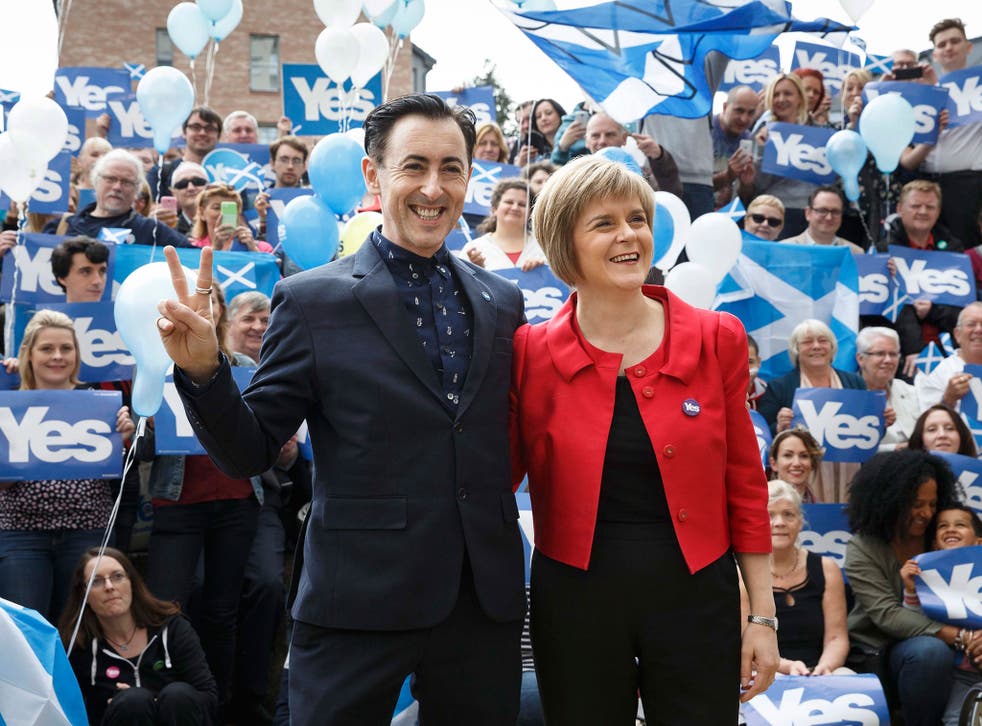 In the two-year Scottish referendum campaign, Whitehall and Westminster have been in denial about the prospect of Scotland voting Yes to independence. Suddenly, as the opinion polls show it as a very real prospect, the London-based political establishment is anxiously thinking about the implications.
"The consequences, not just for England, but Wales and Northern Ireland, are frankly unimaginable," one senior Whitehall official said today. This is not an obscure debate about more devolution: some MPs fear the peace process in Northern Ireland, or at least order on the streets, could be at risk, and that there could be new demands for a united Ireland. There would inevitably be calls for a stronger Welsh Assembly, more devolution to the English regions and even an English Parliament.
If Scots vote to walk out of the marriage, there is no guarantee of an amicable "velvet divorce". Alex Salmond could afford to be conciliatory in victory. He would invite a vanquished Alistair Darling to join all-party talks to ensure a smooth transition to "independence day" in March 2016.
Yet an angry public mood in the rest of the UK, especially in England, could push the political parties into rejecting a friendly separation. Cabinet ministers already describe the SNP's timetable as "completely unrealistic," when there are complex issues like the Trident nuclear weapons base on the table. Speaking privately, they suspect that there would be trade-offs, and that Mr Salmond might ditch his "non-nuclear Scotland" policy in return for concessions in other areas.
Scottish Independence: For and against

Show all 24
But it is now dawning on MPs that a public backlash from English voters against the Scots could force the Government to take a much harder line than ministers expect. If the Scots reject enjoying the "best of both worlds" - more devolution and the security of the UK – then why should the remaining UK do them any favours during the divorce settlement?
Such pressures could force the Conservatives to take a hardline stance on the negotiations in their manifesto at next May's general election. A Scottish breakaway would provide yet more ammunition for Ukip. If Nigel Farage demanded a tough line in the talks, the Tories might have to match it. In turn, that could put pressure on Labour to follow suit.
Who would be leading the Tories at the time? We don't know. Mr Cameron has dismissed the idea that he would have to resign after presiding over the end of the 300-year Union. But he has to say that now. If he were to hint at anything else, it would allow the SNP to shout: "Vote Yes to kick out the Tory Prime Minister."
Cameron critics on the Tory backbenches have already started to discuss amongst themselves whether a Yes vote next week could be the trigger for a coup against him as party leader. They would need the votes of 46 of the 304 Tory MPs to force a vote of confidence. Opinions are divided over whether this would be the right moment to strike. Some Tories want to wait until after next May's general election. If there were a hung parliament and Mr Cameron tried to continue in coalition with the Liberal Democrats, then Tory rebels say he would be "toast".
Would Cameron fall on his sword after a Yes vote? "I think his instinct would be to carry on and steady the ship," said a long-standing friend. "What could save him is that the general election is not far off. But if things got really awful, and there was economic turmoil, then it might be different."
There is already speculation in Tory circles over who might succeed Mr Cameron. The rumour mill suggests that George Osborne would be ruled out because his nuclear weapon in the referendum campaign – that Scotland could not keep the pound – backfired on the No camp, adding to Mr Salmond's list of threats, bullying and bluffs. With Boris Johnson unlikely to return to Parliament until next May, William Hague, the Commons Leader, who led the Tories from 1997 to 2001, is seen as the most likely caretaker.
A Yes vote next week could provoke calls for next May's general election to be delayed, on the grounds that there would be little point in electing 59 Scottish MPs for 10 months until "independence day." That would require legislation to overturn the Fixed-Term Parliaments Act. But it might prove too controversial, as it would allow Ukip to accuse the Tories and Lib Dems of clinging on to power.
In the long run, some Labour figures fear they would struggle to win another Commons majority without their solid block of Scottish MPs - 41 at present. The gossip among Blairite MPs is that their hero could still "win" England, but that a left-leaning leader could not. A Yes vote could be very bad news for Ed Miliband.
Register for free to continue reading
Registration is a free and easy way to support our truly independent journalism
By registering, you will also enjoy limited access to Premium articles, exclusive newsletters, commenting, and virtual events with our leading journalists
Already have an account? sign in
Register for free to continue reading
Registration is a free and easy way to support our truly independent journalism
By registering, you will also enjoy limited access to Premium articles, exclusive newsletters, commenting, and virtual events with our leading journalists
Already have an account? sign in
Join our new commenting forum
Join thought-provoking conversations, follow other Independent readers and see their replies