Scottish referendum result: Yes voters grieve the Scotland that could have been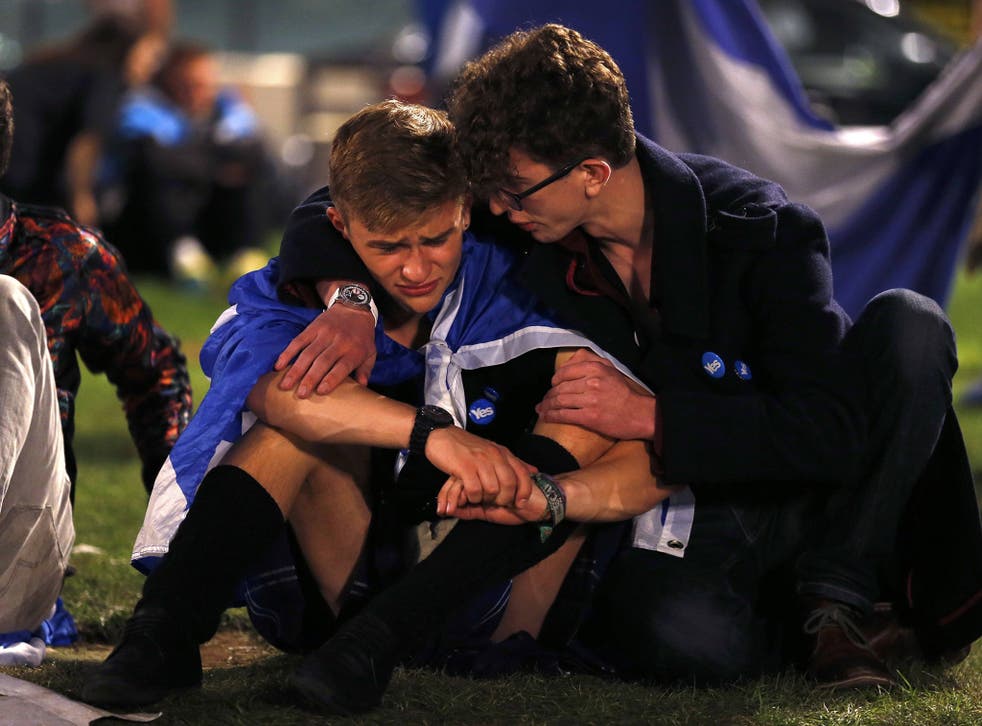 On Thursday it had been unofficially dubbed Independence Square, transformed into a jubilant festival of blue and white as thousands of Glaswegians waited expectantly for the news that Scotland had voted Yes. But 24 hours is a long time in politics.
The Yes supporters who turned out, bleary eyed, in Glasgow's George Square seemed to come there out of a sense of duty. Struggling to come to terms with what had transpired in polling stations across the country, they returned to the scene of their past happiness like mourners grieving a lost relative.
There was one bright spot. "Glasgow said Yes" read a chalk inscription on the pavement, a reminder to everyone passing that Scotland's largest city had embraced Alex Salmond's vision of forming a new, independent country outside the United Kingdom.
"I just felt like I needed to come down here and be with other people and let it out a wee bit," said Russell Jones, 45, as he fought back tears. "I was sitting on a bench over there and saw a message written in chalk on the ground saying 'Scotland, who are you?' And that set me off – I just started crying."
He added that he believed the country would be "temporarily divided" over the result but was "strong enough to get through it". "Most people are taking it fairly well – people are upset, but just looking at the faces around here today, it's acceptance. People don't seem beaten by it, and I hope they're not. Scotland's still here."
Scotland goes to the polls

Show all 20
Tellingly the name of Mr Salmond, the man who delivered the referendum but resigned in the wake of defeat, was barely raised by those gathered in the square – perhaps a sign that the movement he started has not only outlasted him, but outgrown him too.
A quick tour of the square was enough to make even a casual observer realise that the Yes campaign – which has been credited with engaging disaffected voters and young people with politics – is far from finished. In one corner a musician strummed an acoustic guitar and encouraged people to sing along; in another, two speakers holding microphones competed for the ears of the assembled crowd.
"It's time to get organised. The referendum didn't go our way but we still need to unite against austerity," said one, handing out Socialist Party leaflets to those who pass by. "You can never eliminate hope," said another, people crowding around him.
Younis Ali, who voted for the first time in his life on Thursday, said a "sadness" had descended on the whole city when the No vote was confirmed. "It feels like there's a black cloud over Glasgow, like they've ripped out our identity. Let's see what Westminster come up with – if they don't give us more powers, there'll be division again," he said.
Over in Edinburgh, undaunted by the steady September drizzle, more than 100 pro-independence supporters gathered outside the Scottish Parliament to warn that they would not let up in the struggle for separation – and warned that Westminster must now deliver on its promises.
Dancing beneath waved Saltires to the sound of bagpipes in a good-humoured show of defiance, many said they had firmly believed they were on course for victory on Thursday night following their two-and-a-half year campaign.
Janet Fenton, 68, from Edinburgh, said she was so dismayed by the result that she and her son had even talked about moving to Glasgow. "I feel deeply ashamed of my fellow citizens," she said.
She added that she had been "absolutely devastated, gutted and appalled" at the referendum result. "We have tried and we have succeeded very well despite having the mainstream media ranged against us," she said.
Ruairidh Dalglish, a 25-year-old Edinburgh University student, said he had initially been "upset, angry and bitter" at the result and had a "bit of a rant" on social media. But he added: "We now need to make this positive again. We are not going to go away."
Back in Glasgow, 77-year-old John Harvey was sitting on a bench in George Square with his wife Molly. A long-time campaigner against nuclear weapons, he was wearing a sandwich board emblazoned with the words "Trident Is Wrong". "Even with the way it's gone, we have encouraged people. I got an email from a friend in Wales today who said: 'Thanks for showing us the possibilities.'"
For Veronique Allard, Scotland's decision to vote No in the referendum was even more disappointing than most. She only flew to Glasgow last Sunday and is a native of Quebec, where she previously campaigned for independence from Canada – also unsuccessfully.
"I wanted to make a difference for Scotland," she said. "I didn't get to vote, so I can't possibly imagine what the people must be feeling. It was so beautiful on the streets – Yessers recognising each other, people hugging and smiling. I don't think Scotland will be the same after this."
Perhaps she is right. But for now, most Glaswegians – 53.5 per cent, to be precise – are in mourning for the passing of a dream.
Join our new commenting forum
Join thought-provoking conversations, follow other Independent readers and see their replies