Scottish referendum: Vote secures glorious future for GB (Gordon Brown, that is)
After his passionate appeal for a No vote, a second speech by the former PM hints at a high-profile return. Jane Merrick and Mark Leftly report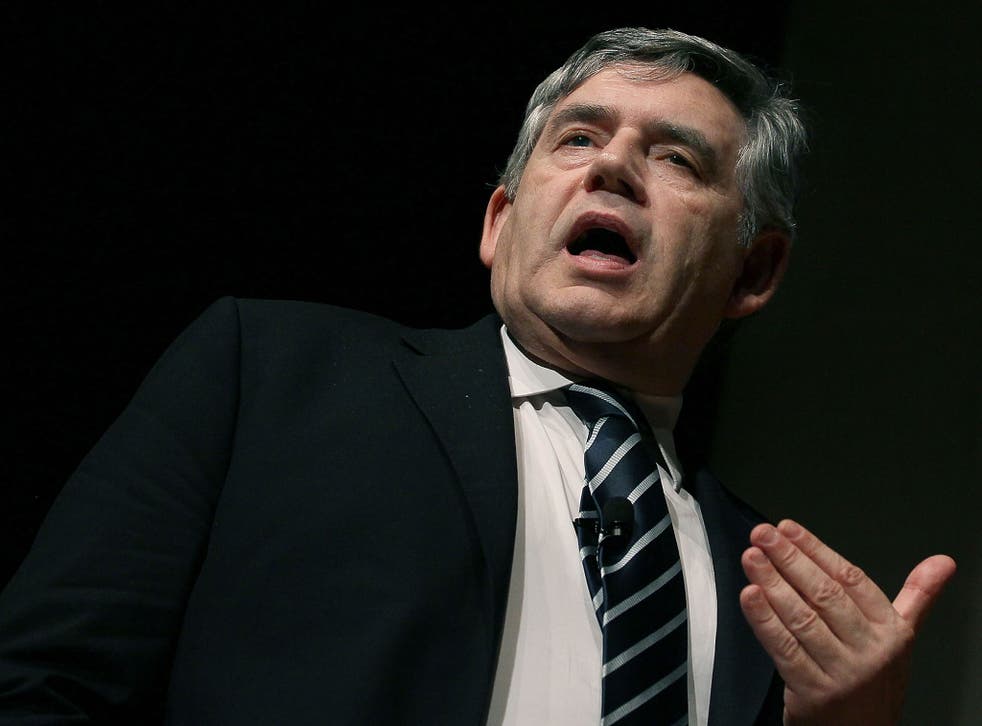 Gordon Brown yesterday urged the bitter rivals of the independence referendum to consign their Yes and No stickers to "the history books" and come together in a "confident Scotland", as he tried to use his newly respected position to reinforce the "new Union".
The former prime minister, credited with helping the No campaign to victory with a passionate, patriotic rally to reclaim the saltire last week, gave a second speech which will help transform his battered record in Westminster. At Dalgety Bay, in his constituency of Fife, Mr Brown reassured Scots that the pledge of extra powers from Westminster would be "locked" in place. This would start as early as tomorrow, with a resolution tabled in the Commons committing Westminster parties to fresh devolution and signed by David Cameron, Nick Clegg, Mr Miliband and Mr Brown.
In a speech that sounded like a leader's conference address, Mr Brown said the civil service was working on a detailed timetable for a Command Paper on devo max to be published by November. A Commons debate will take place on the 16 October, he said.
"There is a time to fight but there is a time to unite," Mr Brown said. "This is the time for Scotland to unite – and see if it can find common purpose and move from the battleground to the common ground, and let us seek to find high ground in trying to find a way forward for the future.
Scottish independence: Referendum results in pictures

Show all 15
"I don't want to go on feeling that we are going to weep for a beloved but divided country," he added. "I don't want a United Kingdom united in name only. Let's build a better Scotland together."
Mr Brown said that he has seen a "thirst to participate", a "hunger for change" and a "deep desire" to be involved. "It's not simply about a desire to vote and participate, it is about a deep-seated desire for social change in this country ... the independence we want is from the deprivation of millions of people and the inequalities they face.
"Yes and No posters: let's throw them away. The Yes and No stickers, let's cast them into the history books. Let us give our Yes and No stickers an honoured place in history, but today we move forward together as Scots united, a nation again."
Referring to the constitutional battles on both Scottish devolution and English votes that lies ahead, Mr Brown said: "What benefit would it be to us and to the world if the nation that has pioneered the idea of partnership, has built up experience of three centuries of cooperation, has become a model to the world for solidarity and sharing, decided that it would give up on sharing, partnership and solidarity in a day.
"I cannot bear the thought of a United Kingdom united in name only, of a Union that continues to remain in a fragile state and still under threat, not least if there is a European referendum to come.
"But we don't need the word 'great' in Great Britain to look out of place because we cannot respond to the needs and aspirations of the 45 per cent of Scots who want to abandon it. I believe that Yes and No voters can come together, bind their wounds and shape a common purpose for the years ahead."
He added: "The UK constitution is changing and we can take some credit that this movement for change has started here, in Scotland, as a result of what you have done."
Mr Brown also revealed he had spoken to Bill Clinton and Kofi Annan following Friday's result in what was seen as a clear message that he wants a bigger role on the world stage, in addition to his UN role as girls' education envoy.
He said he was not returning to frontline politics but that he was "too young to be an elder statesman".
Speculation is growing among senior members of the Scottish Labour Party that Mr Brown could become the face of Labour's general election campaign north of the border.
"Who's going to be the message carrier?" said one MP.
"Clearly Gordon is the key figure for Labour in Scotland during further devolution. If he continues to be the dominant figure for the next few months he will, de facto, be the message carrier [in Scotland] into the election."
Join our new commenting forum
Join thought-provoking conversations, follow other Independent readers and see their replies