British teenager to make 'complete recovery' after shooting himself in the head with speargun
Devon White was left fearing for his life after a 30cm metal bolt penetrated his left eye socket and entered his brain while on holiday in Italy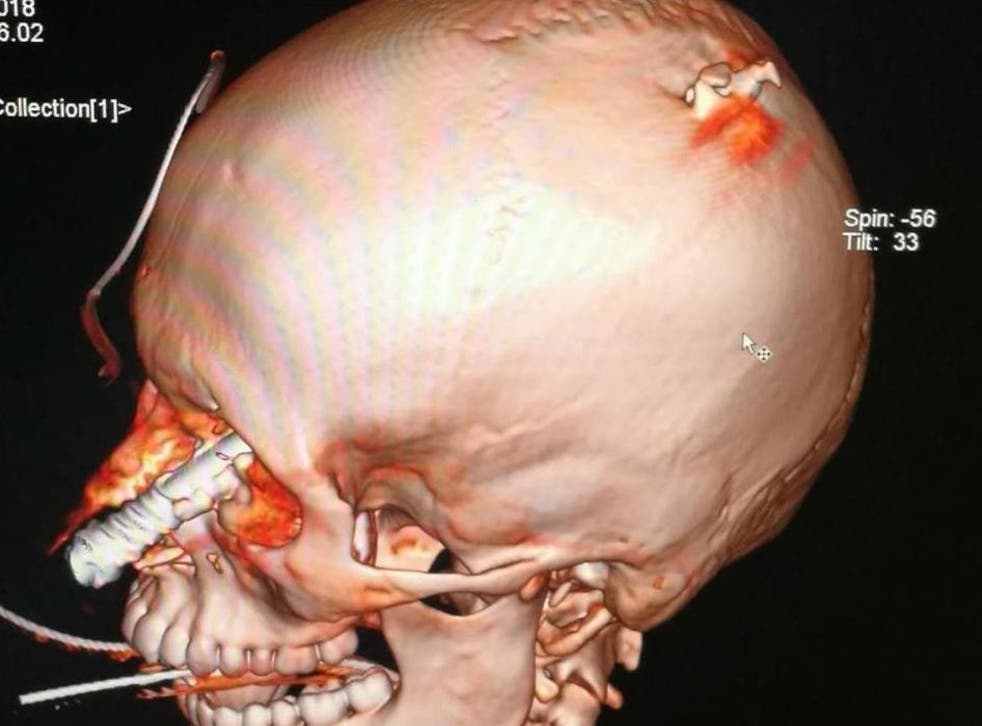 A British teenager is expected to make a "complete recovery" after shooting himself through the eye and brain with a speargun while on holiday in Italy.
Devon White, who at the time had been in a dinghy with his elder brother and uncle off the resort of Sperlonga, was left fearing for his life after a 30cm metal bolt penetrated his left eye socket and entered his brain on 13 July.
The 14-year-old was subsequently rescued by the coast guard and helicoptered to Rome's San Camillo hospital.
Professor Alberto Delitala led the emergency surgery and, at the time, said he had never encountered a head injury of this kind.
"I've been a surgeon for 38 years and dealt with numerous head injuries but never anything like this," he said. "I've dealt with stabbings, shootings, car accidents but never with a 14-year-old boy who has a 30cm steel bolt embedded in his head."
Two weeks on from the surgery, Devon is now on course for a full recovery. "He has a weakness in his left hand, which is gradually improving," Prof Delitala told The Times. "It's extraordinary how a foreign body could pass through the brain and cause such modest damage.
"He is in our neurological ward now. On Thursday he got out of bed, walked and ate a plate of pasta."
Prof Delitala also confirmed that the youngster, who is from Chelmsford, Essex, had already recovered the sight in his eye but was experiencing difficulty in opening it. "He can see with his left eye, though he still has difficulty with its movement and the eyelid is only 60 per cent open."
UK news in pictures

Show all 50
The metal bolt passed through Devon's brain without severing major blood vessels or areas responsible for controlling vital functions within the body.
The trajectory of the bolt mirrored the same route often used by brain surgeons to perform a biopsy, because it causes such little damage.
"It was almost an intelligent shot," said Prof Delitala on Friday. "The area is involved in back-up functions, so the injury causes few symptoms. The plasticity of a young person's brain is very great. We expect him to make a complete recovery."
Devon is now on antibiotics in a bid to protect him against the risk of infection.
Prof Delitala said the teenager remained calm throughout the ordeal, having been conscious until his arrival in hospital. The procedure to remove the bolt itself saw the fire brigade called to cut part of it with a special saw before freezing water was applied to ensure it didn't heat up during the CT scan.
"It was a very rare and unusual operation," he said. "Two people held the bolt while it was being cut and an assistant poured freezing water on to it, so it wouldn't heat up and damage the brain tissue.
"He has coped better than his mother, who is very stressed. He is calm, but he realises that for a while he was very close to death."
Register for free to continue reading
Registration is a free and easy way to support our truly independent journalism
By registering, you will also enjoy limited access to Premium articles, exclusive newsletters, commenting, and virtual events with our leading journalists
Already have an account? sign in
Register for free to continue reading
Registration is a free and easy way to support our truly independent journalism
By registering, you will also enjoy limited access to Premium articles, exclusive newsletters, commenting, and virtual events with our leading journalists
Already have an account? sign in
Join our new commenting forum
Join thought-provoking conversations, follow other Independent readers and see their replies