Pink Floyd star's son Charlie Gilmour joins refugee protesters at King's Cross St Pancras
Charlie Gilmour, adopted son of Pink Floyd singer and guitarist David Gilmour, spotted at No Borders protest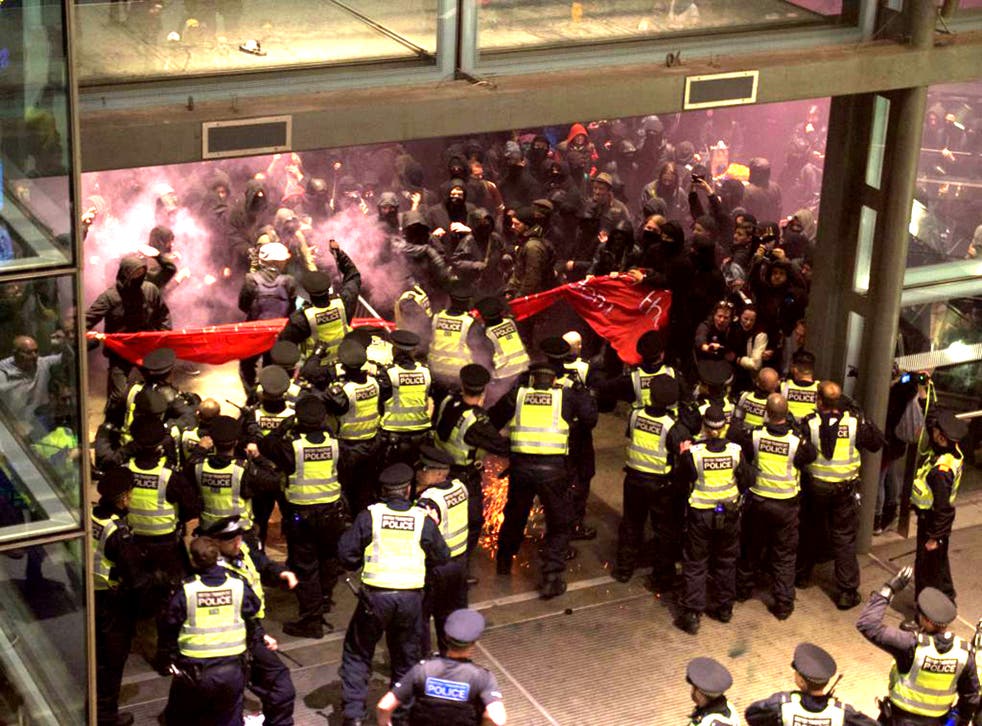 The adopted son of Pink Floyd frontman David Gilmour attended a protest calling for refugees to be allowed into Britain.
Charlie Gilmour, 25, who was infamously jailed after being photographed swinging from the Cenotaph during a march against student tuition fees in 2010, was seen among 150 activists at the No Borders protest at Kings Cross St Pancras station on Saturday evening.
Gilmour, who tweeted pictures of the 'beautiful scenes' and praised 'anarchists' for stealing police officer's hats, was pictured behind a banner reading: 'the people want to bring down the borders'.
But the freelance journalist insisted he was only there as an observer – not an activist.
He told the Mail on Sunday: "I was at the King's Cross protest as a freelance journalist and observer.
"I was researching a piece about refugee solidarity in Britain."
Activists held a peaceful demonstration outside the station, where Eurostar trains come into London, holding up banners calling for the closure of the notorious Yarls Wood refugee detention centre.
But the protest turned ugly, with masked activists hurling smoke bombs and paint at police, after officers tried to stop them entering St Pancras.
Dozens of protesters - many clad in black and with hoods up and their faces obscured with scarves - breached police barriers and stormed the station at around 6pm.
Charlie tweeted: "Beautiful scenes at the St Pancras protest today. Anarchists attacked by police responded by nicking their hats and vanishing into the mist."
Scotland Yard said they tried to enter the Eurostar platforms at the station but were stopped by officers.
Scotland Yard said: "Some protesters began to throw items at police, including smoke bombs.
"These protesters were ejected from the station and later dispersed from the area."
No arrests were made.
Joel Benjamin wrote on Twitter: "Utter carnage at Kings Cross station for migrants demo. Flares, Cops going in batons drawn."
British Transport Police said demonstrators arrived at the station at around 6pm and began a peaceful protest, adding: "Around this time a number of other individuals arrived at the station causing disorder and missiles, including smoke bombs, were thrown at police officers.
"This group were dispersed by police and officers remain at the station."
Join our new commenting forum
Join thought-provoking conversations, follow other Independent readers and see their replies