Squatting protesters take over former RBS office
A group of activists squatting in a disused office near Trafalgar Square plan to open it to homeless people on Christmas Day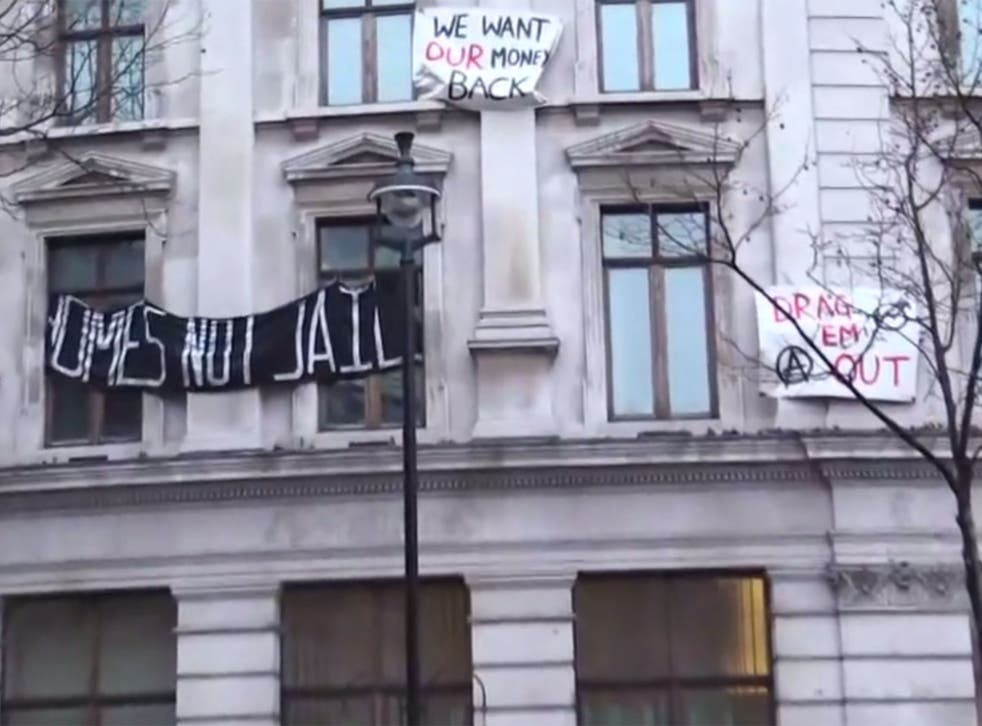 A group called the "Love Activists" have taken over an empty office leased by the Royal Bank of Scotland and plan to open it up on Christmas Day to homeless people in London.
The building, located near Trafalgar Square, is Grade II-listed and has sat empty for 18 months, its last resident being a branch of NatWest.
RBS was bailed out after the financial crash in 2008 and the squatters believe that their occupation of the building is a form of public repossession.
Banners outside the office read, "We want our money back", and the occupiers are encouraging locals to use the building as a community centre open to all groups to hold meetings and workshops. Furthermore, on Christmas Day, the office will be open to homeless people and will offer festive lunches.
Police and bailiffs arrived on Wednesday to evict the squatters and while most left the building, two did not leave and remained on a balcony of the building.
People at the scene said on Twitter that around 15 protesters tried to force their way back into squat as they chanted "Homes not banks".
Occupy London report that police have not produced any paperwork for the eviction:
The group say the protest is part of a wider protest against the housing crisis in the capital.
According to recent data from Rightmove, the average price of a residential London property is now above £600,000 for the first time. The latest data from the Office of National Statistics showed that average house prices in London rose by 18.8 per cent in the last year to September 2014.
Register for free to continue reading
Registration is a free and easy way to support our truly independent journalism
By registering, you will also enjoy limited access to Premium articles, exclusive newsletters, commenting, and virtual events with our leading journalists
Already have an account? sign in
Register for free to continue reading
Registration is a free and easy way to support our truly independent journalism
By registering, you will also enjoy limited access to Premium articles, exclusive newsletters, commenting, and virtual events with our leading journalists
Already have an account? sign in
Join our new commenting forum
Join thought-provoking conversations, follow other Independent readers and see their replies