Bibby Stockholm barge is safe amid legal challenge possibility, Braverman says
The Home Secretary also declined to rule out reports that the Home Office is considering fitting asylum seekers with electronic tags.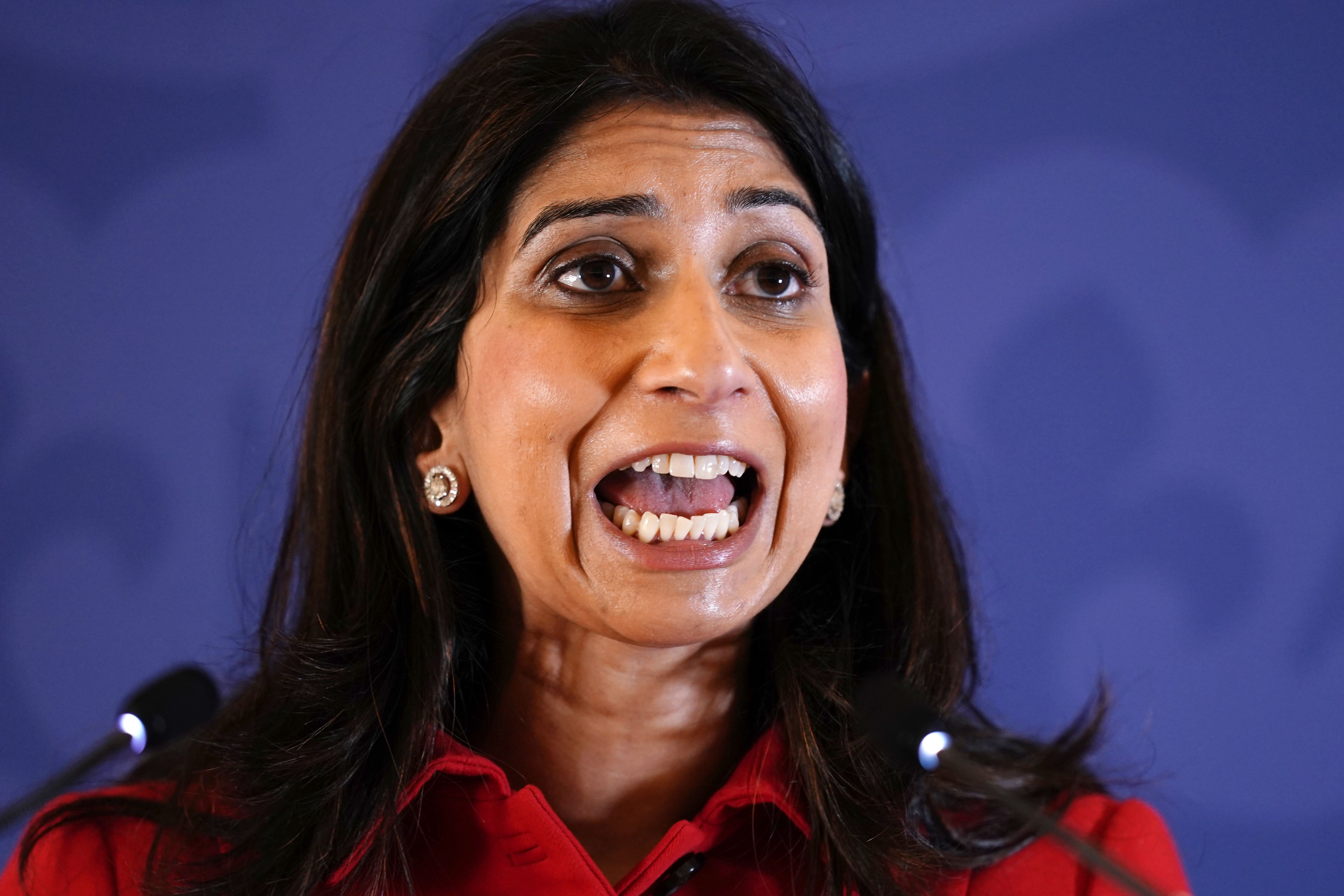 Suella Braverman has insisted that the Bibby Stockholm barge is safe after firefighters raised the possibility of legal action over concerns about the safety of those on board.
It comes as the Home Secretary declined to rule out reports the Home Office is considering fitting asylum seekers arriving in the UK via unauthorised means with electronic tags.
The Fire Brigades Union (FBU) has sent a "pre-action protocol letter" to Ms Braverman outlining its concerns over safety aboard the vessel moored in Dorset's Portland Port.
The union previously branded the giant barge, initially designed for about 200 people but modified to house 500 migrants, a "potential death trap".
The first asylum seekers placed on board Bibby Stockholm earlier this month were removed days later after tests revealed Legionella – the bacteria which can cause the potentially fatal Legionnaires' disease.
The FBU is demanding a response to its legal letter by Thursday.
"Let me be clear that I'm confident barges are safe," Ms Braverman told BBC Breakfast.
"This barge has accommodated people in the past – asylum seekers, oil rig workers and barges of this kind have been used to accommodate asylum seekers, for example in Scotland, so I'm very confident that this barge is safe for human habitation.
"We followed all of the advice and protocols in anticipation of embarkation."
She accused the trade union of launching a "political attack" on the Government but was unable to say when asylum seekers would be returning to the barge.
FBU general secretary Matt Wrack said: "We are sounding the alarm over the Bibby Stockholm because it is our duty to do so. Suella Braverman's comments are a cheap and nasty attempt to undermine this.
"The Fire Brigades Union will always stand up for public safety. If ministers find that fact uncomfortable, so be it."
The Home Secretary also said ministers were considering all options after The Times said officials are mulling electronic tagging as a way to prevent migrants who cannot be housed in limited detention sites from absconding.
The Illegal Migration Act places a legal duty on the Government to detain and remove those arriving in the UK illegally, either to Rwanda or another "safe" third country.
However, as spaces in Home Office accommodation are in short supply, officials have been tasked with a "deep dive" into alternatives, according to the newspaper.
While the preferred solution is to increase the number of detention places, electronic tagging has been mooted, as has cutting off financial allowances to someone who fails to report regularly to the Home Office.
Ms Braverman told Sky News: "We've just enacted a landmark piece of legislation in the form of our Illegal Migration Act. That empowers us to detain those who arrive here illegally and thereafter to swiftly remove them to a safe country like Rwanda."
The Times said officials are considering it as a way to prevent migrants who cannot be housed in limited detention sites from absconding.
She said: "We need to exercise a level of control of people if we're to remove them from the United Kingdom.
"We are considering a range of options. We have a couple of thousand detention places in our existing removal capacity.
"We will be working intensively to increase that but it's clear we're exploring a range of options, all options, to ensure that we have that level of control over people so that they can flow through our systems swiftly to enable us to thereafter remove them from the United Kingdom."
Refugee Council chief executive Enver Solomon criticised any plan that would involve electronic tagging.
"It's treating people as mere objects rather than vulnerable men, women and children in search of safety who should always be treated with compassion and humanity in the same way we welcomed Ukrainian refugees.
"This is not who we are as a country nor the Britain we aspire to be."
Home Office data this week showed Channel crossings topped 19,000 for the year so far, despite Prime Minister Rishi Sunak's pledge that he will "stop the boats".
The asylum backlog has soared to a record high, with more than 175,000 people waiting for an initial decision on an asylum application at the end of June, with the bill for the taxpayer almost doubling in a year to nearly £4 billion.
Some senior Tories have pushed for the Government to commit to leaving the European Court of Human Rights (ECHR) if the Rwanda scheme continues to be blocked.
Ms Braverman stopped short of saying the UK should leave the international court on Monday, telling BBC Radio 4's Today programme: "My personal views are clear. It's a politicised court. It's interventionist.
"It's treading on the territory of national sovereignty. But no-one's talking about leaving the ECHR right now.
"We're working to deliver our plan. We've enacted landmark legislation. We are confident in the lawfulness of our agreement with Rwanda."
Labour hit out at the Government after the latest data on Channel crossings, as the party pointed to 12 consecutive days of small boats arrivals.
Shadow immigration minister Stephen Kinnock said: "Rishi Sunak said he would stop the boats. You can't believe a word he says. The time for gimmicks is over.
"The Tories need to stop chasing headlines and implement Labour's plan to tackle the dangerous small boat crossings, by going after the criminal gangs, negotiating a deal with the EU based on returns and family reunion, and clearing the asylum backlog which is costing £6 million a day in emergency hotel bills."