The caxirola 2.0: A new football-fan friendly version for the World Cup
Brazilian authorities have produced an upgraded version of the  "shakestick" rattle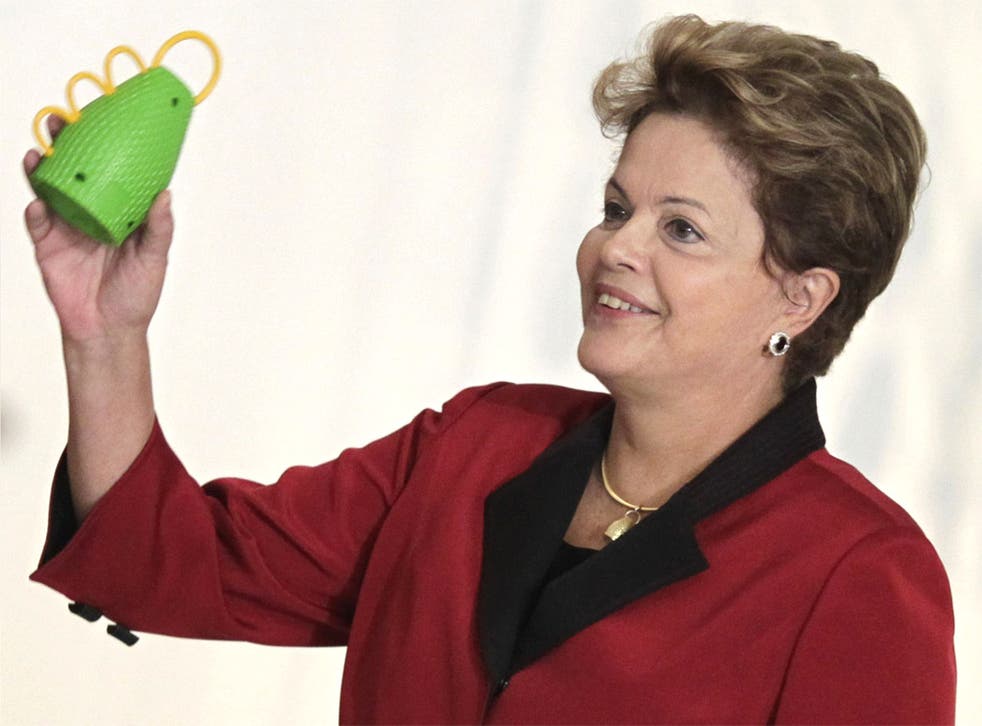 Hopes that this summer's World Cup would be enjoyed mercifully free from the drone of Fifa-sanctioned official noisemakers could be about to be crushed after it was reported that the Brazilian authorities have produced an upgraded football-fan friendly version of the caxirola.
The ill-fated "shakestick" rattle designed by musician Carlinhos Brown had been banned from tournaments after it was used as a missile by supporters during a bad tempered clash between Bahia and Vitoria last year.
It was feared the hard plastic shell – the successor to South Africa's hated vuvuzela - posed an 80 per cent risk of injury when thrown from the stands thus posing a risk of pyhsical as well as sonic hooliganism to players, officials and fans.
But according to Brazilian newspaper Zero Hora, the rattle has been given a health and safety makeover by experts and is set to be re-launched as a new version, the caxirola 2.0.
Taller and wider than its previous incarnation, the 20cm hand held device still appears to resemble a brightly coloured toyshop grenade although no official photographs of it have been released.
The recycled plastic outer has been replaced with an inflatable body that can be blown up by the fan via a nozzle like a child's armband. There is also a padded base – presumably to stop it being used as a bludgeon.
"The finger loops are now soft plastic and cannot be used like brass knuckles," the newspaper said.
The prototype is said to be still under review by the federal police in Brazil, although it is claimed that safety experts are still unconvinced by the changes.
The metal ball bearings which make the distinctive "hushing" sound could still be accessible – and thus throwable – to the most determined of fans.
Meanwhile, there is also nothing to stop those determined to subvert the spirit of the event from filling it with a liquid – thus rendering it a much more threatening missile. The newspaper said the rattle, which sells for $13.99, is considerably less dangerous than its predecessor.
Hundreds of the bright green instruments rained down on the pitch when the first caxirolas were handed out to 50,000 fans in April 2013 – just a month after they had been unveiled as the official noise maker for Brazil 2014 by President of Brazil Dilma Rousseff.
They were later banned from being brought into stadiums during last summer's Confederations Cup by the country's justice minister on grounds of public safety. It is understood that the latest modifications have not affected the sound of the caxirola which was specially designed to be less grating and intrusive than the atonal two foot plastic vuvuzela trumpet.
It left players unable to communicate on the field prompting complaints by Portugal and Real Madrid star Cristiano Ronaldo whilst audiences were deafened and irritated. The instruments were subsequently banned.
Researchers from the Federal University of Santa Maria in Brazil recently found that it would take 2,000 caxirolas to make the sound of a single vuvuzela. The noise from a single shaker is no louder than a human voice in quiet conversation.
Fifa has said that noisemakers would "add to the fan experience" at the tournaments and help "create a unique Brazilian atmosphere in the stadiums".
Join our new commenting forum
Join thought-provoking conversations, follow other Independent readers and see their replies