Fatal journey: The story of a cycling tragedy
For 12 members of Rhyl Cycling Club, it should have been a leisurely Sunday ride along a favourite route. But when an oncoming car hit black ice, the day turned instantly to disaster - three men and a 14-year-old boy were killed in Britain's worst ever bike accident. Ian Herbert hears their stories told by those who survived, and asks why we're still failing to protect our most vulnerable road users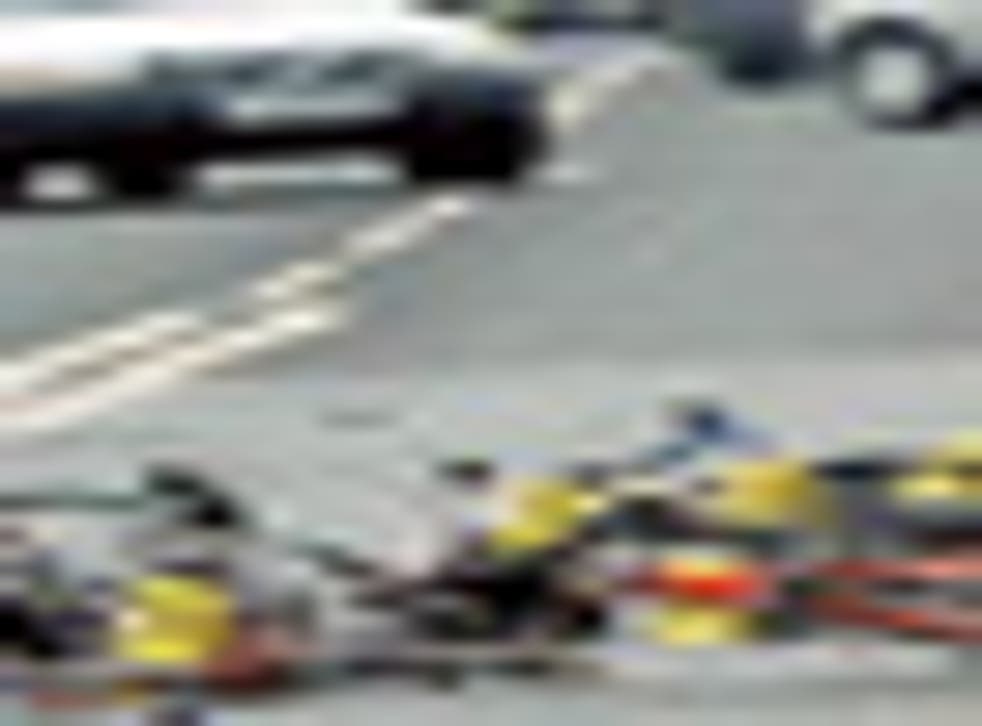 On a sunny Sunday morning in August, it is easy to see why the former toll road that crosses the Rhuddlan marshes in North Wales has always been held in such affection by the local cycling fraternity. Leave Rhuddlan's 13th-century castle behind, cross the river Clwyd and the road stretches out, long and flat. A sea breeze drifts across from the nearby coast and the horizon is dotted with splendours: Bodelwyddan's majestic marble church, to the south, and the multi-turreted Gwrych Castle to the west.
But after a gentle left-hander just beyond the Conwy county boundary marker comes the spot that will give the road a historical significance for many a dark day. It was here in the watery sunshine of a crisp Sunday morning in January that a dozen members of the local Rhyl Cycling Club who were on a gentle pre-season ride up the coast saw a blue Toyota Corolla heading in their direction. The vehicle hit black ice and veered across the road, crashing straight into them. Four cyclists died, making it the worst accident in British cycling history.
The club was robbed that morning of Thomas Harland, a 14-year-old who had developed under his father's influence into one of its great prospects; Maurice Broadbent, 61, its chairman and all-round life and soul who had cycled for Britain in the 1967 World Cyclo-Cross Championships; Dave Horrocks, 55, perhaps its most enthusiastic recruit, who had caught the cycling bug after he and his wife were given bikes by their son; and Wayne Wilkes, 42, one of its finest individual athletes who was cycling with his own son on the day of the crash.
The cycling world's sense of loss ran deeper. Thousands familiar with life "on the wheel" of a Sunday morning flooded the Rhyl club and the sport's governing body, British Cycling (BC), with messages. "It could have been any of us," one cyclist told BC. "How vulnerable each cyclist is," added another. "I lost my son in similar circumstances," wrote a third. Here, amid the twisted wreck of bike frames and wheels was a reminder of how, despite the Government's £40m annual investment in cycling, those who take up the sport in Britain are far more vulnerable than those in Continental Europe. As every seasoned cyclist knows, their risk of death or injury per mile travelled is five times higher in Britain than in Holland.
The underlying reasons for this discrepancy are to be found in the late 1950s when two of Rhyl Cycling Club's elder statesmen (whose health and work commitments forced them to sit out January's fateful ride) first began messing about with bike parts. Bill Twigg assembled bikes from bits he found at a local junk yard, Paul Loftus from pieces his father had put his way. But their heroes - including Frenchman Louison Bobet, the first man to win the Tour de France three times in succession (1953-55), and Italian Fausto Coppi, Il Campionissimo - the "champion of the champions" - were unknown in Britain, where the national track championships might, at best, have made a brief appearance before the full-time scores on Grandstand.
As they started out in the sport, Twigg and Loftus were to find that riders were just as as marginalised when it came to competitive cycling. With the exception of the annual Milk Race, road racing was all but banned because of its inconvenience to motor vehicles. Even the alternative time-trialling events, in which a procession of cyclists riding against the clock set off at one-minute intervals, were staged surreptitiously. For years, time-triallists would wear black outfits and no numbers to avoid hostile attention. Each had to shout out his number as he crossed the finish line. The race locations were a secret, identified only by a number that was discreetly communicated between clubs. "In those days, the first riders would be out at dawn and the last by 7am, to keep us away from the motorists," recalls Twigg, whose first race was the Tour of Kinder, in the Peak District, in 1957. Even the National Cycling Union would not allow mass-start cycle races on the roads in the 1950s, which were only staged by a small breakaway group of riders who formed the British League of Racing Cyclists
But North Wales was undeterred by the motorists' supremacy. The coast road and the majestic Clwydian mountain range provided a great backdrop and some unlikely cycling strongholds were gradually established - first, Rhos-on-Sea, then Wrexham, Deeside and finally Rhyl, which had no club of its own until four young men who had gathered to watch the Milk Race in the late 1970s resolved to create one. They established the Rhyl Road Club but needed junior members, so in October 1979 they merged with Bill Twigg's nearby Gryphon Road club, which had more than its share of youngsters. The result bore a name would become respected across Wales and northern England: the Rhyl Cycling Club.
It is a source of understandable anguish to the club's members that those families affected by January's crash were those who lived and breathed the club in those early days. One of the four men who met at the Milk Race and helped mould the club into the force it is today was Maurice Broadbent, an engineer and native Lancastrian who, as well as his World Cyclo-Cross Championships appearance in Zurich, had raced in the Tour of Ireland and won the North West Cyclo-Cross Championship in the late 1970s.
Paul Loftus' calm account of Broadbent's role at the club belies a personal distress that is never far from the surface, even eight months on from the tragedy. Loftus remembers Broadbent "in the nicest possible way" as the club's "prime decision-maker". Loftus explains how Broadbent's engineering background gave him an appreciation of fine machinery that helped make him a master of technique, a man who was renowned as much for his ability to "turn a pedal" as for his physical power.
"'Not like that,' he'd say to a young cyclist," Loftus remembers. "But he was always the first senior to drop off the back of a group of riders, wait for the junior stragglers and bring them back into the bunch. Whatever went on down the years he was always at the centre of it, always driving us on, always wanting to bring the youngsters on. When Maurice retired (from nearby Quinton Hazell Automotive, in 1999) it meant he could give the club even more. He led. We followed. He was that kind of man."
Wayne Wilkes, then aged 17, was another founder member of the Rhyl club. Later to become an electronics engineer at RAF Sealand, he became one of its best time-triallists and formidable in the Clwydian and Snowdonian mountains. In turn, his own teenage sons, Jo and Ray, continued with the family tradition.
And alongside Wilkes and Broadbent from the start was Jon Harland - the club's treasurer in the early years and, like Broadbent, a mentor to the youngsters. It was perhaps inevitable that his own son, Thomas, another victim of the crash, should have developed into a cyclist in his father's image. "Thomas was always wanting to learn and I did have great encounters with him," says Loftus. "But I knew it was his dad he had learned from. I always told him: 'Just you listen to your dad.'" This reminiscence is more than Loftus can bear. As he provides it, he breaks down and sobs.
The club had every reason to consider Thomas a prospect for the future. Before the crash, he had just become the first Rhyl cyclist for years to earn a place in the British National Championships. He had been riding from the age of five, competed in the Welsh championships and was making a nine-mile time-trial inside 26 minutes - probably enough to have earned a national second or first category ranking at senior level - a significant achievement.
"This is going to be my year," Thomas told his father over the New Year and it is easy to imagine his excitement as he donned his beloved orange, white and green Rhyl Cycling Club shirt on 8 January for the first Sunday morning ride of the year - a "pipe cleaner", as the cyclists call it - from Rhuddlan to Llanwrst on the fringes of Snowdonia.
Twelve riders assembled that morning at Maurice Broadbent's house in Rhuddlan to follow a route which, like many of the club's "social" rides, was laid out in Wayne Wilkes' immaculately planned training schedule. Like most keen competitors, Wilkes always liked to have at least 1,000 miles under his belt before the season started in early April.
Alongside Wayne, Jo Wilkes and Maurice Broadbent were Harland Snr and Jnr, plus Mel Royles, a building control officer at the local council, and Dave Horrocks, a local TV and washing machine repair man reknowned in his village of Moelfre, Anglesey, for his willingness to fix his neighbours' appliances. Horrocks, who rode the mountain bike his son had bought for him, was a fan rather than a pure athlete. "He just got the bug and was always there, the eternal enthusiast," says Loftus.
At 10am that Sunday, as the sun took the sting out of the biting cold, they set off. Broadbent, Wilkes and Horrocks probably intended to make it to Llanrwst, while Royles and Jon Harland would possibly peel off halfway to accompany the juniors on a shorter circular route around Llandudno's Great Orme.
After five minutes the cyclists were in a tight, "tidy" group and in the mid range of their 30 gears as they crossed the county boundary. They cycled cautiously. One of their new members had experienced a wobble - "a twitch" in cycling parlance - on a tight roundabout where a narrow road out towards the sea meets the main road, and had fallen away. Mel Royles had dropped back to help him. The rest of the pack was approaching the former Bodoryn chapel when motorist Robert Harris, 47, a security guard at the local B&Q store, approached through the right-hand bend they were about to negotiate. His Corolla, in which a minute or so earlier he had overtaken 88-year-old Welsh vicar the Rev Huw Rowlands as he drove out to church, was travelling at a little over 50mph when it hit the ice. The four cyclists died instantly when it struck them.
The Rev Rowlands was first on the scene, and soon encountered Jon Harland. "Someone was lying in the road, obviously dead, and I said a short prayer," he recalls. "Then I saw someone lying on a verge and a man, in shock, saying 'That's my boy.'" When Mel Royles caught up he found a scene of carnage. "Jon [Harland, who suffered a broken leg] went over to his son. He was saying 'He's gone, he's gone,'" Royles recalls. "Then I vaulted over the [5ft] wall [which lines the road]. I saw Dave Horrocks first. It was evident there was no life."
The funerals told the club's surviving members much about the individuals they had known only as cyclists. Thomas' coffin was decked in the colours of his beloved Leeds United and a sense of his great sense of humour was provided when it was brought in to the sound of the song "Amarillo". "One thing I know about Thomas was that he had such a wicked sense of humour," said the vicar. "I didn't know whether we should have walked into church like they did on the video for that song."
It was eight months before the case came before Llandudno magistrates, where it emerged that Mr Harris' two front and rear nearside tyres had had no tread. The magistrates were told that this did not contribute to the collision because tread only gives grip in rain, not on black ice. Two weeks ago, Mr Harris was fined £180 and given six penalty points for his defective tyres.
At least one member of the club has said he feels the events of that morning were simply an accident. Dave Horrocks' son-in-law has also said that the family do not blame the driver. But both BC and the national cyclists' organisation the Cyclists' Touring Club (CTC) have protested about the outcome - a consequence, they say, of prosecutors' failure in the first place to charge the motorist with the crime of careless driving, which can bring a sentence of up to 18 months' imprisonment. In law, the offence includes using a vehicle that is in a dangerous state. Since he was only prosecuted over the defective tyres, the magistrates were also never asked to consider whether Mr Harris' 50mph speed was appropriate for such a frosty morning. The CTC also points out that the maximum fine was £7,500 - £2,500 for each tyre.
The Rhyl families' pursuit of compensation may also be difficult. In Holland, Denmark, Belgium, France and Germany, any motorist who injures a cyclist must pay compensation, unless the driver can show that the injured person clearly did something illegal or irresponsible. But in Britain, the cyclist must show the motorist was negligent. Consequently, the Rhyl tragedy may raise the same difficulties presented a year ago by the case of cyclist John Morris, who died in the New Forest after a motorist drove into him. Though the motorist fled the scene, he was sentenced to just 15 months for failing to stop, rather than careless driving, because police could find no witnesses.
The crash provides a reminder that the Government's push to get more people cycling, for public health and environmental reasons, does not seem to be matched by provisions to protect them from death and serious injury. Recent figures from the Department for Transport showed that 440 bicycle riders were killed or seriously injured between January and March of this year, a 20 per cent increase on the same period last year. CTC says the true number of injuries to cyclists may be far greater, since many incidents are unreported.
But there is another dimension to the Rhyl tragedy that asks profound questions about Britain's attitude towards the legions of new cyclists the Government wants to see. It was first encountered by David Banks, a columnist on North Wales' Daily Post, who wrote at length on the Rhuddlan crash and was surprised to find some of his readers telling him the cyclists had no right to be on the road that morning. "I was being told that with frost around they should not have gone out," he says. "So that means a man on a bike has no right to use it when it's a bit nippy? I was astonished."
Worse was to follow. In March, two months after the crash, Channel 4 and S4C, the Welsh channel, screened an episode of comedy programme The IT Crowd including a scene in which a company boss tells colleagues: "I turned around and there were four dead cyclists... and it was all my fault." Complaints were lodged from both sides of Welsh border and a letter on the behalf of the Rhyl club was sent to Culture and Media Secretary Tessa Jowell, asking her to intervene and secure a "meaningful apology".
For Bill Twigg, the reaction to the tragedy - part of the same malaise about bikes that led Nigel Havers to issue his diatribe about how "cyclists who jump red lights and ride on pavements are all bastards" - has simply confirmed his conviction that motorists cannot accept that the roads are not their exclusive domain. "The assumption that these roads were provided for cars is factually incorrect," he says. "The majority of British roads were built for non-motorised traffic before the car was invented. Their use for cars is a retrofit conversion and it isn't working well." He brandishes old maps of the Rhuddlan marshes road - the A547 as it is today - which demonstrates that cyclists were on it first. The road certainly existed in 1840, at least a generation before the car.
"The 1888 Local Government Act laid down the right to ride bicycles on the highway and gave the bicycle the status of a carriage," adds the club's Paul Loftus. "You have got health professionals, enlightened professionals promoting the values of the sport and yet at the same time the idea is being sold to motorists that cyclists are a bloody nuisance who hold up the traffic. That's why we get the fingers and the car horns on a Sunday morning."
Slowly but surely, Rhyl Cycling Club is returning to life. Bill Twigg summoned members to a meeting at Denbigh Rugby Club soon after the tragedy and put a blunt question to them. "Do you want to continue?" he asked. The response was unanimous. The next task was to find a successor to its irreplaceable chairman, fixtures secretary, coach and general inspiration, Maurice Broadbent. Broadbent's son, Alan, stepped in and, with Twigg to support him, is overseeing a renewal. The club is supporting a proposal for a closed circuit nearby to enable young cyclists to train safely - a cause Jon Harland has championed. Its jersey is also soon to be redesigned, with four flecks of black to represent those individuals it has lost.
There is also some evidence that the crash has, in North Wales at least, finally awakened some motorists to the presence of cyclists, according to Paul Loftus. "We have found they will approach us with a bit more caution and hand out less abuse," he says. "The crash has raised some major issues about road safety for cyclists. They can't have died for nothing."
But none of that will ease the private agonies of the bereaved in this case. Jon Harland's work encouraging junior cyclists was recently rewarded with a full-time job for Welsh Cycling, the sport's governing body in Wales - but it is a job he must take up without the companionship of his son, Thomas, who some say might have ridden for Wales in the 2010 Commonwealth Games.
At the spot near the old chapel where Thomas and the others died, two cycling jerseys still lie beside a small model of a bike and messages from the schoolboy's many friends, part of a huge floral tribute laid there after the accident. These supplement a flood of cards that have again reminded Thomas' family how his sense of fun seems to have been valued above all else. "Dear Thomas," states one. "I owe you a pound for those chips you bought me."
Register for free to continue reading
Registration is a free and easy way to support our truly independent journalism
By registering, you will also enjoy limited access to Premium articles, exclusive newsletters, commenting, and virtual events with our leading journalists
Already have an account? sign in
Register for free to continue reading
Registration is a free and easy way to support our truly independent journalism
By registering, you will also enjoy limited access to Premium articles, exclusive newsletters, commenting, and virtual events with our leading journalists
Already have an account? sign in
Join our new commenting forum
Join thought-provoking conversations, follow other Independent readers and see their replies