Scottish town where green is beyond the pale
Sectarianism is so strong in Larkhall that shops have had to repaint their fronts.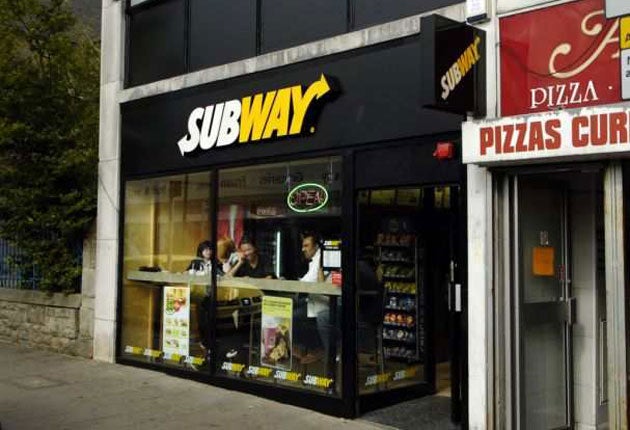 Companies setting up shop are forced to change their livery. Traffic lights are smashed in defiance. It seems astonishing that a town could detest something so much, but Larkhall does.
For it is green that provokes so much ire in this Lanarkshire town just outside Glasgow. Yes, the colour.
So far, the contempt with which the emerald tint is held in the town has prompted the sandwich chain Subway to change its traditional signage to black and the local pharmacies to switch their frontage to blue.
The reason is simple, if slightly strange, and stems from sectarianism and football rivalry. In Larkhall, green is immediately associated with Catholicism, Irish republicanism and the football team Glasgow Celtic. And in Larkhall, the vast majority of people proclaim themselves to be Protestant, unionist, and supporters of another Glasgow football team, Rangers.
Well aware of the strength of feeling, many shops have relented accordingly. But this week the supermarket chain Asda defiantly said it would not be changing its traditional green logo, should it open a new store in Larkhall.
There had been suggestions, apparently from locals and certainly from one local newspaper, that the store would present a unique blue frontage, but this was denied by a spokeswoman, who said: "We use this across Scotland and the UK, and feel it is popular and well recognised."
But that has not gone down well. Because the new store, should it be built, would bring a rare flash of green to the town. Wander down the streets, home to the town's 15,000 residents, and only one front door is green. Traffic lights, with their green bulbs, are another victim. Between 2004 and 2007, 205 sets of traffic lights were smashed, costing the council nearly £17,000 to repair. There have even been claims that drunken youths have attempted to set fire to grass.
In 2002, the branches of Moss Pharmacy in the town changed their colours from green and white to red, white and blue. There have also been reports that Telewest phone boxes – originally green – were vandalised and reappeared blue. And while a local chain of Indian restaurants has a green and white livery elsewhere, in Larkhall it is blue and white.
Another example is the railings of the local park. In the 1990s, the council painted them municipal green, an act which proved unpopular. In 2001, a resident painted a stretch red, white and blue, and, with the support of Karen Gillon, the local Labour MSP, the Queen's colours were retained.
But perhaps the most high-profile example of the town's hue-hatred came in 2006 when Graeme Dott, one of Larkhall's most famous sons, won snooker's world championship.
The tournament is sponsored by 888.com, whose colours are green and white. Dott refused to show the trophy at Ibrox Park, home of Rangers, unless the ribbons were swapped for blue.
Jackie Burns, a local councillor, says the town, which has 2,000 Catholic residents, is being portrayed unfairly. "Larkhall is an integrated, mixed community," he said. "It is similar to many towns in the west of Scotland and I am certainly not aware that it is in any way different."
Join our commenting forum
Join thought-provoking conversations, follow other Independent readers and see their replies