The 30 best Easter events for all the family
The school hols are upon us – but what to do with the kids? Travel editor Ben Ross recalls his favourite Easter breaks, while Sarah Baxter provides a day-by-day schedule of what's going on in every region so the little ones won't get bored for even a second
Ben Ross
,
Sarah Baxter
Saturday 05 April 2014 14:25 Comments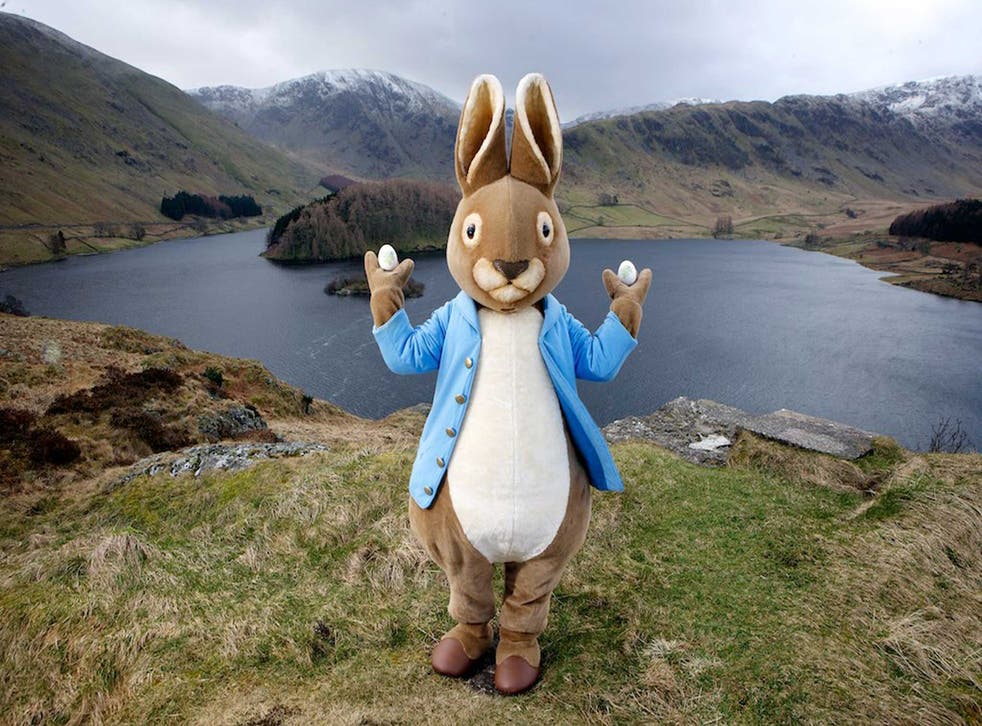 I've long held the belief that my family's Easter holidays would work best if we just lived inside Cornwall's Eden Project. Wouldn't that be great? We'd be there before everyone else arrived and could spend our time pottering round the nice, warm biomes while enjoying a Groundhog Day of enticing activities – including munching through this year's Chocolate Unwrapped festival. As stress-free trips go, it would be hard to beat.
The fantasy has its foundation in a wonderful spring day we once spent there, part of a trilogy of Cornish garden-themed trips which also included the Lost Gardens of Heligan and Trebah. Concentrating on the fresh shoots and green leaves of Britain felt seasonally appropriate. What's more, each option appealed to adults and children alike, with Easter-themed treasure hunts and craft workshops competing with grown-up strolls through spectacular horticulture. The Eden Project scored bonus points, though, as a result of its deluge-defying outside-inside architecture.
It's the weather that adds a layer of complexity when choosing what to do during a British Easter, with days out as likely to be swept aside by rain or wind as to be bathed in sunshine. The skies above (and the BBC weather app) will be scrutinised for clues, and spur-of-the-moment decisions made, based largely on the immediate availability of sun cream and/or cagoules.
However, there's something wonderful about how families come out of hibernation round about now, with day-trips and short breaks offering more of a chance for focused parenting than the "proper" summer holidays, when many of us yearn for nothing more interactive than a patch of hot sand.
In the absence of guaranteed sunshine, then, Easter is often about activities that can be attempted locally, in bite-sized chunks. Maybe the advent of spring demands that you introduce your children to a new-born lamb at the South of England Rare Breeds Centre near Ashford in Kent. Or perhaps you'd prefer the Easter Adventure Quest at Brodsworth Hall in south Yorkshire. Every year, in fact, my inbox is deluged with press releases from British tourist attractions full of "eggsellent" activities, "Easterical fun" and other, ahem, egg-regious puns, all promoting exciting mini-holidays from a snatched day here and there.
Now I come to think of it, the really, truly, greatest Easter day out my family ever had was also in Cornwall. At the village of St Agnes on the north coast, we came across the annual dog race, which takes place on Easter Sunday. During the course of the event, a sweaty bloke dressed up as a bunny was pursued repeatedly over the wet sand by a rogue's gallery of dogs, all desperate to take a chunk out of this strange man-rabbit before he made it to safety. Amid this exuberance, bets were taken on which pooch would prevail (the proceeds went to charity), while our children took it in turns to chase the lazier dogs round the beach.
Peculiar? Perhaps, but it's also an eggsample – sorry, I couldn't help it – of the huge range of Easter options out there, one of which is sure to be perfect for your own family. (And if you do happen to end up in St Agnes this year, please give my regards to that hot cross bunny.)
Ben Ross is travel editor of 'The Independent on Sunday'
The best Easter 2014 days out

Show all 22
Easter Days Out
By Sarah Baxter
Today
Lego Lost World Zoo, Milestones Museum, Basingstoke
See extinct critters created from Lego: brick-built dodos, dragonflies and a 2.5m-high mammoth have taken over the Hampshire museum. Plus, at Lego Fun sessions, the children can make brick bugs.
When: 6-21 April, 11am-4.45pm (fun sessions: noon [4-6yrs], 1.30pm, 3pm [7-12yrs]).
Cost: adult £8.95, child £5.25, under-5s free; fun sessions £7.
7 April
Pesky Bunnies of Bewilderwood, Hoveton, Norfolk
There's a new story being read at the Curious Treehouse Adventure: kids will hear the Pesky Bunnies tale, then make rabbit costumes, hit the egg trail and meet Cedric the Easter Bunny himself.
When: 7-22 April, 10am-5.30pm.
Cost: adult £14.50, child £12.50, under 92cm free.
Royal Children's Easter, Osborne House, Isle of Wight
Put blue blood into your brood: the newly opened Swiss Cottage – built by Prince Albert for his children – is the centrepiece of Osborne's regal Easter. Kids can follow trails to find chocolate prizes and try Victorian games.
When: 7-21 April, 10am-6pm.
Cost: adult £13.90, child £8.30, family £36.10.
english-heritage.org.uk/daysout/properties/osborne
8 April
Squire School, Lincoln Castle
William the Conqueror began building Lincoln Castle in 1068; it's now undergoing a refurb, but little soldiers can still learn jousting techniques and medieval etiquette inside its ramparts.
When: 8, 10, 15 & 17 April, 10am-5pm.
Cost: adult £2, child £1, family £5, under-5s free.
lincolnshire.gov.uk/visiting/historic-buildings/lincoln-castle
9 April
Easter Baking, Seafood School, Padstow
Bond over baking on Rick Stein's new Parent & Child Easter-themed course in Cornwall. You'll learn how to make raspberry truffles, pipe and roll chocolate, and decorate your own Easter eggs. Sticky fingers guaranteed.
When: 9 April, noon-3pm.
Cost: £148 for parent and child (eight to 16).
10 April
Easter Art Camp, Holburne Museum
Let your kids be inspired by the paintings, porcelain and paraphernalia at this grand Bath museum. The Holburne's experienced artists will lead a range of activities aimed at masters-in-the-making.
When: 7-10 & 14-17 April, 9am-4pm.
Cost: £35 a day, £120 for four days.
11 April
Rubbish, Southbank Centre, London
Stage magic, with a message – Rubbish is a wildly original puppet show that teaches kids about the potential of recycling.
When: 11-21 April, noon & 3pm.
Cost: adult £12, child £6 (suitable for kids 5+).
Sausages & Surveys, Lound Lakes Reserve, Great Yarmouth
Young Wardens (10- to 15-year-olds) will cook their own breakfast before setting off to survey the birds at this important Suffolk patchwork of fen meadow, woods and waterways – home to 140 species.
When: 11 April, 8.30am-noon.
Cost: £6 (includes breakfast).
wildlifetrusts.org/reserves/lound-lakes
12 April
Subterranean Climb the Mine, Honister Slate Mine, Lake District
Set deep within Fleetwith Pike, this new experience will see brave bairns traverse an underground lake, scale rung-pocked rock-faces, cross Burma bridges and climb to the mine roof itself.
When: from 12 April, 10.30am, 12.30pm, 3pm.
Cost: adult £19.95, child £14.95.
13 April
Brighton Chicken Run, Hove Park
Work off Easter's worst at Brighton's family-friendly 5k fun run – buggies are welcomed, and there's a 500m dash for littler legs. Everyone gets a chicken costume and a chocolate egg at the finish.
When: 13 April, 10am.
Cost: adult £16, child £7.75.
brightonandhovechick.wix.com/brightonchickenrun
National Botanic Garden of Wales, Carmarthenshire
It's all going on at the gardens: watch magicians and musicians, take a spring-lamb tractor safari, try willow-weaving and enjoy the Easter Bonnet Parade. The meerkats come out to play from 13 to 14 April.
When: 12-27 April, 10am-6pm.
Cost: adult £8.50, child £7, under-5s free, family £21.
14 April
Easter Ski Camp, Chiswick, Basingstoke & Reading
Spring's here but kids can cling to winter at Skiplex's three indoor ski slopes. Camps include race training, synchronised skiing, video analysis and junior après ski: ping pong, golf and games.
When: 14-18 April, 9am-12.30pm/ 3pm/5pm.
Cost: £25 half-day, £50 full day.
skiplex.co.uk/whats-on/holiday-kids-clubs.aspx
15 April
Young Cooks Bodnant Academy: Easter Chocolate, Conwy
Don't let the kids just scoff eggs this Easter – see them create their own. Award-winning chef Stephen Hewitt teaches mini-masterchefs (aged 10+) how to make their own eggs and fill them with hand-made chocolates.
When: 15 April, 10am-1pm.
Cost: £45.
16 April
Peter Rabbit Egg Hunt, Lake District
Potter around the Lakes, looking for eggs – and raising money for WaterAid. Pay a donation to access online clues and try to be the first to track down the 50 hand-crafted ceramic eggs.
When: 16 April, from 10am.
Cost: Minimum donation £2.
17 April
The Science of D-Day, IWM Duxford
Easter is dedicated to D-Day at the Imperial War Museum's Cambridgeshire outpost. Kids can don uniforms, fire a petard, build a Bailey bridge and drive a tank, on a quest to understand the famous invasion.
When: 5-21 April, 10.30am-2.30pm.
Cost: adult, £17.50, under-15s free.
Chocolate Unwrapped, Eden Project, St Austell
Explore beyond the Easter egg amid the rainforest biome. Learn the history of chocolate, see the cacao it comes from, learn how it's made – then, naturally, have a taste.
When: 5-21 April, 9.30am-6pm.
Cost: adult £23.50, child £13.50, under-5s free, family £68.
Good Friday
Cadbury Eggsplorers Easter Egg Trail, countrywide
The National Trust has teamed up with the purveyors of purple-wrapped loveliness to create 300-plus trails across the country. Eggsplorers are encouraged to navigate NT lands – from coastlines to historic houses – and are rewarded with chocolatey treats.
When: 18-21 April.
Cost: various.
Easter Saturday
Chester Food Festival
This fine foodie fest's free Kids Cooking Workshops, run by the Academy of Culinary Arts, aim to get young chefs excited about food; classes range from how to cook a biriyani to making pizza from scratch.
When: 19-21 April, 10am-5pm.
Cost: adult £6, under-12s free.
Easter Sunday
Siege!, Framlingham Castle, Suffolk
Feel part of the battle, as this 12th-century stronghold hosts a replica siege: watch the enemy prepare, listen to the surgeon's gruesome tales, hear the generals' rallying cries and see the catapults fire.
When: 20-21 April, 10am-5pm.
Cost: Adult £7.70, child £4.60, family £20.
www.english-heritage.org.uk/framlingham
Easter Monday
Charlie's Chocolate Adventure, Kew Gardens, London
In celebration of Charlie and the Chocolate Factory's 50th anniversary year, Kew is going choc-crazy: kids can concoct Wonka-inspired bars and everlasting gobstoppers, or join the head Oompa-Loompa for songs and stories.
When: 5-21 April, Chocolate Room: 11am, 12pm, 1pm, 2pm, 3pm.
Cost: adults £12.50, under-16s free.
kew.org/visit-kew-gardens/whats-on/easter
Get Me Out Of Here, Royal Marines Museum, Portsmouth
Put the family through its paces with a spot of Commando Survival Training. Learn how to prepare for missions, pack your kit, make a compass and tackle the assault course.
When: 5-21 April, 10am-5pm.
Cost: adult £9, child £4.
22 April
Penguin Trail, The Deep, Hull
Forget chicks, this Easter is all about penguins. The gentoos have just arrived, and kids can follow the aquarium's new Penguin Trail and get their faces painted in the Explorers Den.
When: 5-27 April, 10am-6pm.
Cost: adult from £10.35, child from £8.55, under-3s free, family from £33.84.
Horrible Histories, Warwick Castle
Inject Easter with sordid sagas, foul facts and dirty details as the Horrible Histories show takes residence at the 1,100-year-old castle. Don't miss the re-enacted battle between the Smashing Saxons and the Vicious Vikings.
When: from 5 April, 10am-6pm.
Cost: adult £18.24, child £14.88.
23 April
Easter Holiday Fun, National Wetlands Centre, Llanelli
Dip a net into the ponds, build a willow den, dabble in some duckling-themed crafts and watch flamingos perform their courtship displays. Wild fun.
When: 12-27 April, 11am- 5pm.
Cost: adult £8.95, child £4.95, under-4s free, family £25.
wwt.org.uk/wetland-centres/llanelli/
24 April
Mountain Bike Rides, Brechfa Forest
One for thrill-seeking teens: MudTrek Mountain Bikes is offering 20 per cent off full-suspension bike hire and guided mountain bike rides through the trail-scored Carmarthenshire countryside.
When: 12-27 April.
Cost: from £60 for half a day (over-14s only).
25 April
Spring into Easter, Shugborough Estate, Staffordshire
Meet the newborns at Georgian Park Farm – coo at bunnies, bottle-feed lambs and watch goats being milked. Also, find giant eggs in the formal gardens and daffodils along the river.
When: to 27 April, 11am-5pm.
Cost: adult £12.50, child £7.50, under-5s free, family from £15.50.
26 April
The Big Tree Climbing Weekend, Claremont Landscape Garden, Esher
Let your little monkeys swing about the Surrey tree tops (under expert supervision) on a series of zip wires and rope swings.
When: 26-27 April, 10am-4.30pm
Cost: Entry to Claremont: Adult £7, child £3.50, family £17.50. Tree climbing activity is an additional £15 per person
nationaltrustorg.uk/claremont-landscape-garden
Porthleven Food Festival, Helston
As well as street performers, big bands and barbecued fish, this Cornish culinary celebration has a young folks' arm, featuring treasure hunts, Taiko drumming, cake decorating, a funfair, face-painting, food stalls and more.
When: 26 April, 10am-11pm.
Cost: Free.
27 April
Medieval Archery, Corfe Castle, Dorset
Pick up some shooting tips from the Wolfshead Bowmen and the Companie of the Silver Arrow, who host have-a-go bow sessions amid the ruins of the Dorset keep.
When: 5-21 & 26-27 April, 10am-5pm.
Cost: Entry to the castle: Adult £8, child £4, family from £12. Archery is an additional £2 per person.
nationaltrust.org.uk/corfe-castle/things-to-see-and-do/events
28 April
Lamb feeding, Carreg Cennen Castle Farm, Carmarthenshire
Play young farmer on this working estate: help bottle-feed the lambs and look out for ewes that might be about to give birth.
When: to 30 April.
Cost: Free.
Register for free to continue reading
Registration is a free and easy way to support our truly independent journalism
By registering, you will also enjoy limited access to Premium articles, exclusive newsletters, commenting, and virtual events with our leading journalists
Already have an account? sign in
Join our new commenting forum
Join thought-provoking conversations, follow other Independent readers and see their replies