The A to Z of Scrabble
As one US player failed to stick to the, er, letter of the law last week and got himself thrown out of a tournament for hiding blank tiles, Matthew Bell sets out the much-loved word game's lighter side
Matthew Bell
Saturday 18 August 2012 20:30 Comments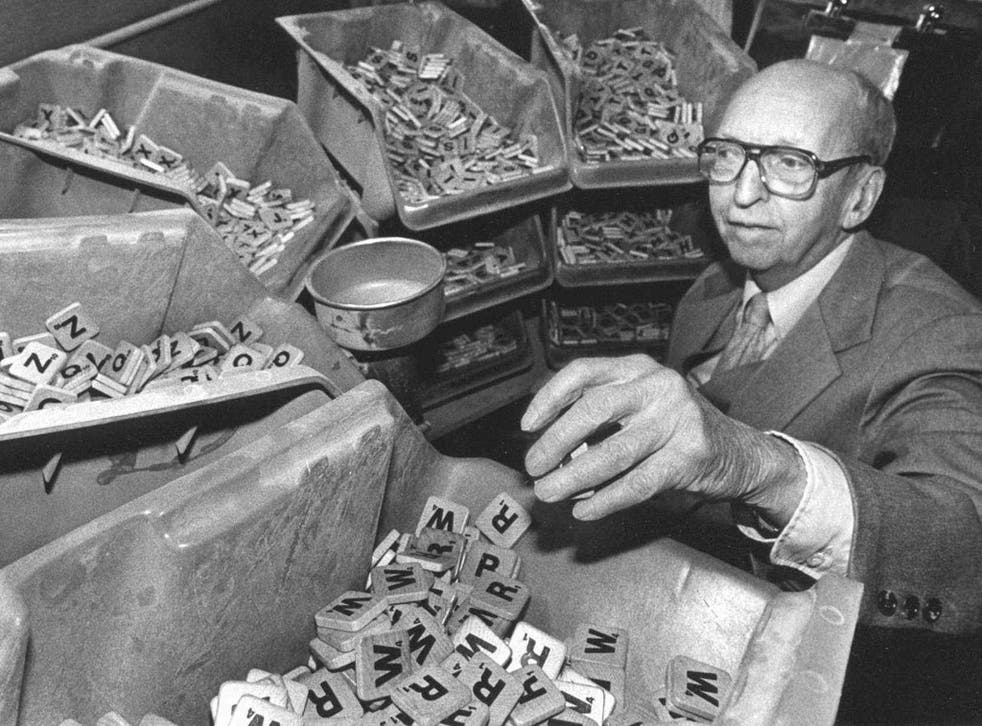 A is for Alfred Butts, the American architect who invented the game. It was the Thirties, he was unemployed, so he spent a lot of time doing crosswords, before deciding to invent a game. "If there hadn't been any Depression in the Thirties, there wouldn't be any Scrabble," he later said. He worked out that all board games essentially fall into three types: number games, move games, and word games, and set about creating a combination of all three. He presented it to all the major games manufacturers; needless to say, they all rejected it.
B is for James Brunot, who rescued Butts's idea in 1948. He was a lawyer and entrepreneur who loved board games, and after buying one of Butts's trial sets, instantly saw the appeal. He simplified the rules and made some changes to the design, moving the premium squares to their current positions. He bought the rights off Butts, and set about manufacturing it on a large scale.
C is for Criss-Crosswords, what Scrabble was before Brunot bought it up. Actually, its very first name, in 1931, was Lexico, of which Butts made 200 sets. After meeting with no success, he changed the name several times, first to IT, then Criss-Cross, and then, in 1938, to Criss-Crosswords, but none caught on. It was Brunot who came up with the name Scrabble, which had the advantage of being less po-faced, and suggesting manic fun. The internet has given the game millions of new fans: remember Scrabulous? That was the Facebook version, which we all got hooked on in 2007. Until Hasbro, Scrabble's present owner, sued for copyright infringement and won. Ah, the days before Facebook ruled the world…
D is for Dodgingtown, a suburb of Newtown in Connecticut, where the first proper Scrabble sets were made. Brunot and his wife bought an old schoolhouse, which they converted into a factory that made Scrabble sets. In 1949, they manufactured 2,400 sets, at a rate of 12 sets an hour, but failed to make a profit.
E is for Ed Martin, the England player accused of doing unspeakable things to the letter G. The scandal erupted at last year's World Scrabble Championship in Warsaw, after a Thai player accused Martin of secreting a G tile somewhere on his person after it went missing during their game. He demanded Martin be taken to the loos and strip-searched. But officials decided against it and spared him the indignity. It made no difference, as the prize was won by Nigel Richards, from New Zealand.
F is for Lord Frederick Windsor, son of Prince Michael of Kent and a cousin of the Queen, who proposed to his wife, Sophie Winkleman, using Scrabble. She recalls how the couple, nicknamed Windy and Winky, went on a picnic and took Scrabble "as they were very into it at the time". "When I unfolded the board, I saw he had spelt out a marriage proposal," she recalls. Who could say no?
G is for Gyles Brandreth, a lifelong fan, who founded the National Scrabble Championships in 1971. During a visit to Bristol prison he noticed the inmates playing, at about the same time that the Royal Family were seen playing it on a TV documentary. So he put an ad in The Times inviting anyone interested to take part, and it's been going every year since. His favourite word is "yex", a hiccup, and he deplores the use of proper nouns, introduced in 2010, though "brandreth" has always been allowed, as it means a wooden fence around a well.
H is for Curtis Hanson, who plans to make Scrabble: The Movie. Well, sort of. The man behind thrillers such as L.A. Confidential and The Hand That Rocks the Cradle bought the options to Stefan Fatsis's book Word Freak, all about the highs and lows of competitive Scrabble. Separately, Miramax is said to have splurged $300,000 on a script called "Your Word Against Mine", a rom-com in which two tournament players fall in love. Presumably the rating will be U, for one point, not triple X, for 24.
I is for Eddie Izzard, who does a Scrabble routine. "Scrabble was invented by Nazis to annoy children who have dyslexia," he says. "In fact, the word 'dyslexia' was invented by Nazis to annoy children with dyslexia." Mind you, dyslexia scores 230 if you get it on two triple-word squares. It's also an anagram for "daily sex".
J is for Jack Straus, who made Scrabble a global phenomenon. Chairman of Macy's department store in New York, he happened to play the game one day while on holiday. On his return, he was appalled to find Macy's didn't stock it, so he placed a huge order, and within a year, it was New York's must-have accessory. Demand grew so fast that, by 1952, Brunot was unable to meet demand, and sold the manufacturing rights to Selchow and Righter, one of the companies that rejected it years before.
K is for Karl Khoshnaw, a Kurdish-Iraqi academic who scored the highest word ever recorded. He got 392 for putting "caziques" on a double triple during a contest in Manchester in 1982. Caziques are West Indian tribal chiefs. Until his sudden death in 2006, aged 57, Khoshnaw was a minor legend of British Scrabble. His other claim to fame was as the only person known to have appeared on Countdown twice. He entered once in the very first series, in 1982, under his real name, Saladin Kal Khoshnaw. In 1987, he asked if he could have another go, which is usually forbidden, but he was allowed back because they were desperate for contestants from ethnic minorities. He entered under the name Karl Kurdistan, but was knocked out after his first game.
L is for Lionel Letizi, the ex-France goalkeeper who used to play for Rangers. The 39-year-old goes down in the annals of football for having one of the most embarrassing injuries of all time: he once strained his back during a game of Scrabble by reaching down to pick a tile up off the floor. History doesn't record which letter it was.
M is for Mosher, Alfred Butts's middle name. Though he sold the rights to Scrabble, he kept a royalty equivalent to about 3 cents a set. "One-third went to taxes," he later said, "I gave one-third away, and the other third enabled me to have an enjoyable life." As an architect, he enjoyed some success; his buildings include the Charles W Berry housing project on Staten Island and the Stanford Free Library in upstate New York. He was also an amateur artist and six of his drawings hang in the Metropolitan Museum of Art. His first Scrabble opponent was his wife, Nina, who turned out to be the better player. "She beat me at my own game, literally," he would complain. She once scored 234 for "quixotic". In 1985, he invented another game, called Alfred's Other Game, but it never took off. He died in 1997, aged 93.
N is for The New York Times. Butts studied the front page to calculate the frequency of letters, and, based on that, decided how many of each should be included in the game. The difficulty was the letter "s": he decided to include only four, even though it is one of the most popular letters of the alphabet. This was to avoid making the game too easy through having too many plurals.
O is for oxyphenbutazone, theoretically the highest possible scoring word. The chances of getting it out are slightly less than winning the Lottery, but geeks have worked out a board where you could go all out with seven letters to join eight already played tiles. Played across three triple-word-score squares, it would net you 1,780. Oxyphenbutazone is an anti-inflammatory drug, which you'd probably need if you actually did get it out.
P is for Peter Finan, who with Neil Smith played Scrabble continuously for 153 hours, or six and a half days. Their record, created in August 1984 at St Anselm's College in Birkenhead, Merseyside, was accepted by The Guinness Book of Records, though they stopped accepting them after that, deciding it was unwise to encourage such foolishness. The following year, two soldiers played Scrabble continuously for five days, but not by choice: Lt Cdr Waghorn and Lance Corporal Gill were trapped in a crevasse in Antarctica.
Q is for "quartzy", the word that generates highest possible opening score, worth 126, along with "squeezy". It's not known if anyone has played them, though three people have had "Bezique", the card game, which scores 124. Then again, it all depends on which dictionary you use: OSW, the Official Scrabble Words, says "muzjiks", a kind of Russian peasant, is acceptable, and scores 128.
R is for rain. Truth be told, that's the reason most of us play Scrabble: when you're trapped in a holiday cottage, with nothing else to do. And it's a useful Scrabble word: there are more than 150 words that have rain in them.
S is for Scrabble, Virginia. Yup, it's even a town. Well, more of a hamlet, lying 13 miles west of Culpeper, just off Route 522, in Rappahannock County. Nothing much happens in Scrabble, which doesn't even have a post office.
T is for Raymond Tate, 55, who proved how dangerous Scrabble can be. The Paisley man collapsed after playing for 15 hours in April. He was at an event organised by his local Rotary Club, and trying to beat the world record for the highest total score obtained in 24 hours, which stands at 162,171. Organisers thought he was on course to beat the record when he collapsed of dehydration. Mrs Tate, also a player, told reporters what happened. "I heard a loud crash and thought one of the cameras had fallen over. I then turned round and Raymond was on the floor." Happily, Mr Tate made a swift recovery, and is keen to give it another go.
U is for universal appeal. Scrabble is produced in 29 different languages, and 150 million sets have been sold in 121 countries. In Britain, 53 per cent of homes are thought to own a Scrabble set.
V is for Vladimir Nabokov, one of Scrabble's most highbrow addicts. The Lolita author was so clever that he could play in several languages, and the game features prominently in his 1969 novel Ada – she's an exceptionally talented player. In Margaret Attwood's Booker-shortlisted novel, The Handmaid's Tale, our heroine, Offred, is the slave of a man who uses her for sex and Scrabble. Seamus Heaney even wrote a poem called "Scrabble", in memory of an archaeologist, Tom Delaney, with whom he used to play. Scrabble, digging – geddit?
W is for Chuck Woolery, the all-American matinee idol who hosted Scrabble, the game show! Yes, there was even a TV show, which ran from 1984 to 1990, and again in 1993. The format was more like a crossword, in that contestants had to solve a clue to guess the pre-assigned word, then drag their tiles into place on a giant board. The tagline promised "The Crossword Game You've Played All Your Life, But Never Quite Like This!" But in the end, people found they were quite happy doing crosswords by themselves at home, and it was dropped.
X is for, um, xylophone. Yes, "x" is the nightmare letter of the alphabet – it's the only reason the xylophone still exists as an instrument, kept alive by authors of children's alphabet books. Thankfully there's only one "x" in Scrabble, and it scores 8.
Y is for Mamadou Youck, the young Senegalese player who caused a hoo-ha at the 2008 Francophone Scrabble World Championships for lying about his age. Scrabble is considered a sport in Senegal, and is given the same status as football. Despite having a literacy rate of just 40 per cent, Senegal holds nine world titles in Scrabble. Youck had been crowned winner of the "blitz" category for 14- to 15-year-olds, when organisers discovered he was actually 16. In the "blitz" round, players are limited to one minute per move, which sounds like a very good idea that should be adopted worldwide.
Z is for Zyzzyva, a computer program used by Scrabble nerds for learning words. Named after a rare snouted weevil, the program calls itself "the last word in word study". It's also the last word you're ever likely to play, given that it would require the only "z", both "y"s, and both blanks. Still, it would get you 149 if played on the triple.
Register for free to continue reading
Registration is a free and easy way to support our truly independent journalism
By registering, you will also enjoy limited access to Premium articles, exclusive newsletters, commenting, and virtual events with our leading journalists
Already have an account? sign in
Join our new commenting forum
Join thought-provoking conversations, follow other Independent readers and see their replies