The Big Question: Why does the Queen host garden parties, and who gets invited?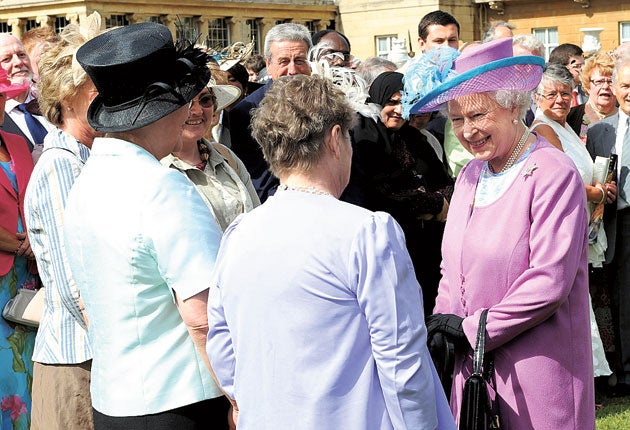 Why are we asking this now?
Because the far-right British National Party claims that its leader Nick Griffin will be attending one of the upcoming garden parties at Buckingham Palace this summer. For palace officials the claim is a major source of embarrassment because, if Mr Griffin does attend, the BNP will be able to portray itself as a mainstream political group that has been accepted by the monarchy rather than the quasi-fascist fringe group that anti-racism campaigners label it as. It will also significantly boost the party's positive coverage in the run-up to the European elections in which the BNP hopes to get Griffin elected as the party's first MEP.
How did Mr Griffin get invited?
Well technically he hasn't been invited. Richard Barnbrook, a BNP member of the London Assembly, says he will take Mr Griffin to the garden party on July 21 as a guest. Every year tickets are handed out by the Lord Chamberlain's office to members of the London Assembly and priority is given to those who have yet to attend a garden party. Mr Barnbrook hasn't been to a garden party yet and claims he will be given a "double ticket" which allows holders to bring a guest. It is up to those with a ticket to decide who to take along.
Will the Palace let Mr Griffin in?
They probably won't have much of a choice. Mr Barnbrook is a democratically elected City Hall official and he is entitled to invite whoever he wants. But the growing outrage from the public and anti-racism campaigners may force Palace officials to take some sort of action. The whole affair puts the monarchy in something of a quandary. If they ban Mr Barnbrook and Mr Griffin from attending, the BNP will be able to portray themselves as victims of the Establishment. But if they let them attend, the Palace will look like it is giving tacit approval to a party which critics claim is overtly racist and has often been critical of the monarchy.
How has the Palace responded so far?
Initially with a deafening silence. But over the past 24 hours officials have tried to stress that the Queen is not personally involved in extending the invitations for her garden parties – that responsibility lies with the Lord Chamberlain's office. Palace officials also say the invites have yet to go out so they may be looking for a way to sideline Mr Barnbrook. Scotland Yard would also be able to ban anyone they thought might be a security threat to the Queen.
So what exactly is a garden party?
The Royal Garden Parties are held three times a year at Buckingham Palace and once at the Palace of Holyroodhouse in Edinburgh during the summer months. For the Palace, the parties are an opportunity for the royal family to meet and greet a cross-section of British society and thank them for various good deeds they have done. The emphasis is on rewarding the unsung heroes and heroines of British society rather than greeting the usual crowd of toffs and diplomats who regularly hob-nob with the Establishment.
How many people attend and is there a dress code?
Approximately 8,000 people are invited to each party and in order to ensure a cross-section of people attend quotas are reserved for public organisations such as the Civil Service, the Armed Forces, as well as charities and societies. During the Queen's reign, more than 1.1 million people have attended garden parties.
There is a dress code, and you'd stick out like a sore thumb if you decided not to abide by it. Gentlemen are encouraged to wear morning dress or lounge suits while women wear afternoon dress, usually with hats or fascinators. National dress and uniform is also allowed. Smart restraint tends to be the overriding theme. You're unlikely to find the sort of risqué dresses that have begun appearing at Ascot in recent years.
What happens at each party?
Guests are allowed into the grounds at 3pm after a lengthy security search. The tea party takes place in "the garden", which is in fact 40 acres of meticulously sculpted parkland that was first laid out by James I in 1609. The Royal Family enter the garden at 4pm accompanied by a military brass band playing the national anthem. They then circulate through specially formed "lanes" to make sure as many people as possible get to speak to at least one member of the monarchy. After a mammoth bout of "how do you dos" and "how lovelys" the Queen then heads to a royal tent to meet and greet top-tier guests. After that everyone sits down for a nice cup of tea and a sandwich or two.
The catering bill must be rather impressive?
Absolutely. For the three parties at Buckingham Palace alone 400 staff will serve up 81,000 cups of tea, 60,000 sandwiches, 60,000 slices of cake and 30,000 iced coffees. The food is a jamboree of British patriotism; cucumber sandwiches with the crusts cut off, Victoria sponge cake and strawberries and cream. There's no alcohol though, Royal Garden Parties are strictly dry events.
How long has the tradition been going on?
The first Royal Garden Parties were held in the 1860s when Queen Victoria began hosting "breakfasts", despite the fact that they were held in the afternoon. Fuelled by imports of tea from its colonies, British high society had taken afternoon tea breaks to their heart and the monarchy wrapped this into royal tradition by hosting two garden parties a year. In the 1950s a third garden party was added at Buckingham Palace to replace the traditional presentation parties for debutantes which had fallen out of fashion.
Are there any other occasions when parties are hosted?
Yes, every year there is also a garden party for the Not Forgotten Association, a charity for war veterans. But from time to time the Royal Family will host one-off garden parties to commemorate certain events or institutions.
Garden parties have been held to celebrate the Territorial Army's 100th anniversary, the centenary of the British Red Cross's Royal Charter, and the Lambeth Conference, where the world's Anglican bishops meet in Canterbury once every 10 years. In 1997 The Queen and The Duke of Edinburgh also put on a garden party for couples who were sharing their golden wedding anniversary with them. A separate party was also held on 2002 on the 6 February to mark the Queen's Golden Jubilee.
If Mr Griffin is invited, what will he talk to the Queen about?
Speaking to The Times, Mr Griffin said he would tell the Queen: "I am a human being and I do not have horns". But he admitted: "I imagine that they [palace organisers] will try and herd Richard and me into some corner and make us talk to the corgies."
Should the Palace ban Nick Griffin?
Yes...
* Griffin has a criminal record and is the leader of a discredited fringe party.
* The BNP is only attending the garden party as a publicity stunt.
* A political party should not be allowed to hijack an apolitical event that is meant to reward unsung heroes of British society.
No...
* Nick Griffin is a British subject and should be allowed to meet his monarch.
* If Buckingham Palace is truly apolitical it will let him attend. Guests' beliefs are irrelevant.
* The damage is already done. Banning the BNP would only make them more popular.
Join our commenting forum
Join thought-provoking conversations, follow other Independent readers and see their replies