Twiggy: This year's model. Again
She has been a British institution since electrifying the modelling world 40 years ago. Now, she is being credited with reviving Marks & Spencer's fortunes. Terry Kirby reports
Wednesday 12 October 2005 00:00 Comments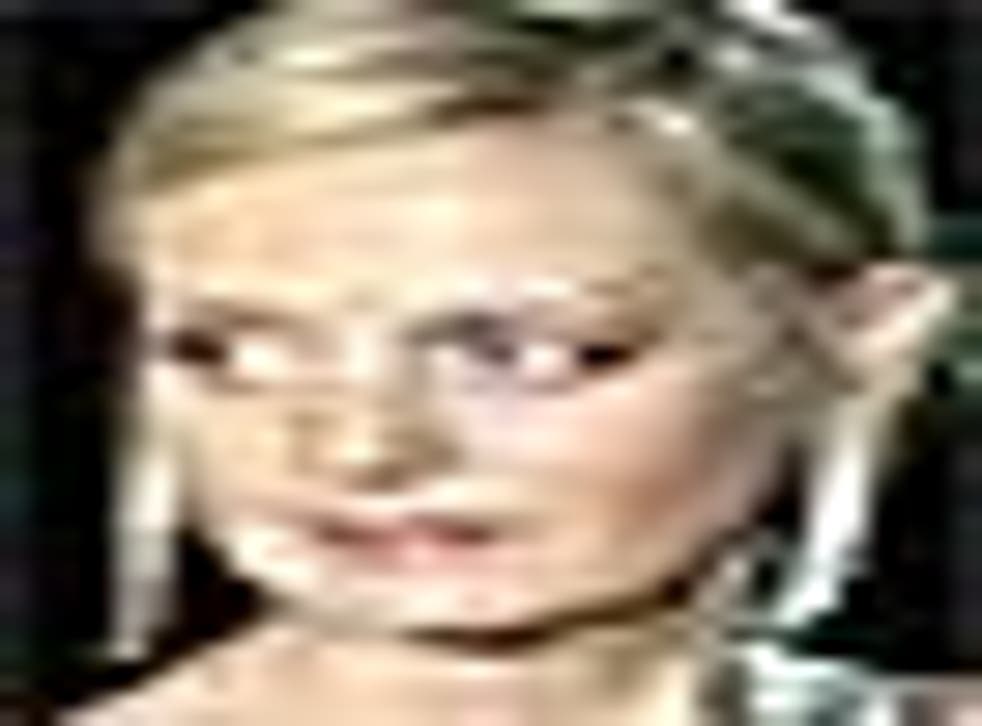 Let us fast forward about 20 years. The scene is a viewing theatre in central London and the launch of the autumn/winter season for Marks and Spencer, remarkably still middle England's favourite clothes store.
There's an expectant hush among the media throng as they await the unveiling of the latest online advertisement in which a clutch of models will parade the new season's look
As the film begins to run, there are gasps of astonishment as the apparently ageless but still gorgeous features appear of one Leslie Hornby, aka Twiggy, now in her mid-seventies, swirling around with a group of girls more than 50 years younger, her blonde hair flecked attractively with grey, her figure lithe, her skin glowing.
Despite announcing her retirement at the age of 70, she has been persuaded back for one last hurrah for the label she helped rescue back in the Noughties. One of the younger fashionistas whispers to a colleague: "So the rumours were true then, doesn't she look wonderful?" "Well it was hardly likely to be Kate Moss was it?" says the older women. The first one replies: "Kate who?"
Of course, it is entirely possible that a cleaned-up, reformed, mature and fiftysomething Moss might be fronting a major advertising campaign 20 years from now, but, at the moment, out of the two short and skinny working-class girls from unglamorous London suburbs who found fame as models and became global icons, it's the somewhat extraordinary figure of Twiggy who seems more likely still to be going strong in 2025.
This is a woman who, after four brief years of giddy fame in the late 1960s announced her retirement from modelling and seemed destined to follow many of her leggy peers of the era into sensible semi-obscurity.
But somehow, with a lengthy and varied post-modelling career that has touched a number of bases, without ever reaching great success again, Twiggy, 56, has begun to move towards that warm and cuddly place in the collective consciousness occupied by national treasures.
The M&S campaign cleverly refrains from overstating her presence, while appealing to the aspirational instincts of their middle-class customers. "It's pitched perfectly at the kind of glamorous older women that she is. Women of her age who can relate to Twiggy. And she doesn't have any baggage," says Claire Beale, editor of Campaign.
It is the same audience that the modern-day Twiggy has spent the past three decades assiduously courting. There's hardly a daytime television couch that's not been graced by her presence to talk about her latest album, film or stage show. In recent years she's hosted her own chat show, launched a range of skincare products and been a spokeswomen for Age Concern.
And this autumn there's no escaping Twiggy again. As well as the M&S campaign, she's a judge in the Pop Idol-style America's Top Model being screened in the United States, has a part in the prestigious new BBC version of The Taming of the Shrew and will be appearing in Jack and the Beanstalk in Brighton over Christmas. As her own website says: "She acts, she sings, she hosts chat shows ... Twiggy sure seems to know how to bend in the wind without snapping."
It may not be very cutting edge for someone who once seemed to define Sixties cool, but as an object lesson in playing to your strengths and knowing your market, it takes some beating.
Peter York, the style commentator, is a confirmed fan: "I think she transcends being cool or uncool, she's moved on from that. She's definitely moving into national treasure status."
York adds: "The great thing is she's survived in public life, doing a bit of acting, a bit of singing, without doing anything bad or silly or embarrassing. She's like Jane Asher [former girlfriend of Paul McCartney, wife of the cartoonist Gerald Scarfe] who's been there and seen it all, but still keeps her own counsel and won't tell."
Born Leslie Hornby in working-class Neasden, north-west London, in 1949, her thin figure earned her the school nickname 'sticks' which became 'twigs' and then just 'Twiggy'. At 15 she took her first job as a Saturday assistant in the hairdressing salon where her sister worked.
It was at the hairdressers that she met Justin de Villeneuve, 10 years her senior, wide boy and entrepreneur, born Nigel Davies in the East End. Despite the unease of her parents, the couple formed a relationship. De Villeneuve saw something in this skinny kid and took her to the Mayfair hairdresser Leonard's, where he gave her a radical crop, and then to the salon's photographer, Barry Lategan, to shoot a portfolio, which he hawked around Swinging London of 1966.
Within weeks, the Daily Express was hailing The Face of '66 and Vogue and Elle were knocking on her door. Her gamine looks and working-class background seemed entirely in tune with the changing times, a challenge to the older, established models, with their middle-class backgrounds and finishing school manners.
She fitted perfectly with the ethos of the new wave of Sixties designers, such as Ossie Clark and Barbara Hulanicki of Biba, who were designing clothes for the new, free-spending teenagers and needed very young models. She was too short for the catwalk and became instead a mainstay of fashion magazines. At 16, she recorded her first single, "Beautiful Dreams", which topped the charts in Japan.
But controversy followed fame: "Forget Oxfam, Feed Twiggy" and "The body of a starvation victim and the face of an angel" were typical comments in the press. There were murmurings of anorexia.
Twiggy herself, who always claimed to have been both naturally thin and a normal eater, admitted recently: "I was 15 remember, I hated the way I looked, and when suddenly people wanted to photograph me, I thought the world had gone mad."
Then there was the Svengali-like approach of De Villeneuve. Not only was there the age gap - she was only just over the age of consent - but also the fact that he took 50 per cent of her earnings. "Her creator and manager, older, shrewd, a symbol in his way of the rise of the working class," said the New York Review of Books on their trip to New York in 1968. He became increasingly extravagant - a new Italian car every few weeks, Tommy Nutter suits ordered 10 at a time - and none of her considerable earnings were invested.
Twiggy remained curiously untouched by the Sixties madness. She went home early and always took her make-up off before bed and was never seen as a party girl. "She was very smart and carefully protected - she was not naïve, she knew what she was doing," said Tessa Traeger, widow of Ronald Traeger, a photographer who shot Twiggy in 1967, who was recently quoted as saying: "You could put her anywhere and she would always be happy."
By the end of the 1970s, De Villeneuve had decided it was time to move his protegée on to the stage. She caught the attention of the director Ken Russell, who offered her a part in his musical fantasy The Boyfriend. Although her acting and singing was praised - she won a Golden Globe for the most promising actress - the film led to the final split with De Villeneuve after his attempt to be credited as assistant producer was rebuffed by Russell.
An increasingly assertive Twiggy now became more in control of her destiny. On the set of The Boyfriend, she met the dancer and choreographer Tommy Tune, who would eventually work with her on Broadway in the musical My One and Only, which won a Tony Award.
And its been pretty much like that ever since really. There have been sundry records, pantomimes and musicals and some serious acting: Blithe Spirit in Chichester in 1997 and New York - "Twiggy is magnificent" said The New York Times - followed by a British tour in Mrs Warren's Profession. On television, in addition to the endless chatshow appearances, she's played Eliza Doolittle in Pygmalion, appeared as herself in Absolutely Fabulous and had an ill-fated stab at replacing Richard and Judy when they vacated the This Morning slot. And throughout, there's been this sunny, always youthful presence about which, a rarity in the showbiz world, very few people have had anything bad to say. "Her laugh's a bit of a foghorn," is about the worst.
Only one blemish has sullied this somewhat charmed and inoffensive existence. Michael Whitney, her first husband, was a much older American actor she met during her second film. The father of her daughter, Carly, he became an alcoholic and died from a heart attack in 1983. In 1988, she married the English actor Leigh Lawson and moved back to London. The couple have worked together a great deal.
Laura Bailey, one of the models who worked with her on the M&Scampaign, was effusive: "She was incredibly warm and protective to the younger models on the set who all gravitated towards her for chats and cups of tea. Twiggy's also a serious professional, who does her own eye make-up because she 'does it best', knows her lighting and makes sure she gets what she wants on set, albeit with charm and humour. I learnt a lot from her ... hints on how to manage the modelling/motherhood mix ... and an old-fashioned dance or two."
An interview in the London Evening Standard also spotted the hint of steel underneath the giggles: "This tough edge isn't something many people see, she masks it very well by doing a lot of shrugging of shoulders and 'ain't life a laugh' stuff - her Neasden accent is still there."
But it would be pretty surprising if four decades of survival in such a world had not given her an instinct for getting what she wants, while staying a decent human being in the process. Kate Moss should take note.
Register for free to continue reading
Registration is a free and easy way to support our truly independent journalism
By registering, you will also enjoy limited access to Premium articles, exclusive newsletters, commenting, and virtual events with our leading journalists
Already have an account? sign in
Join our new commenting forum
Join thought-provoking conversations, follow other Independent readers and see their replies