Tory MP David Davis on 24-hour hunger strike over last British Guantanamo Bay detainee
Shaker Aamer has been held in the notorious detention centre for more than 13 years without charge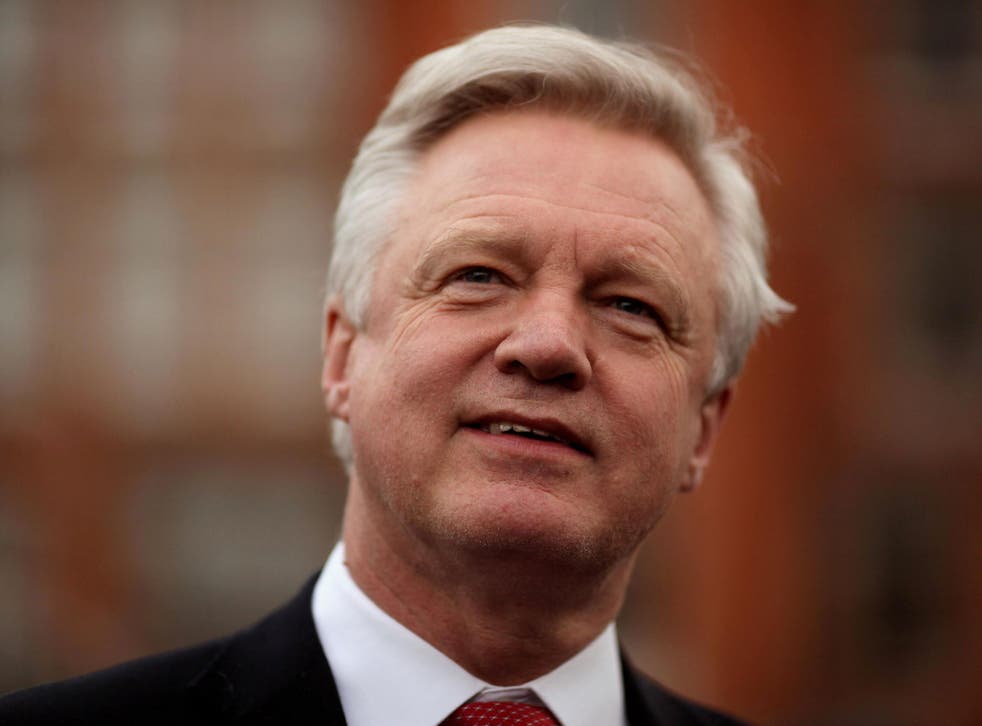 Conservative MP David Davis is one of numerous politicians and celebrities taking part in a 24-hour hunger strike in support of Shaker Aamer, the last British prisoner held at Guantanamo Bay.
Mr Davis was set to begin his fast on Sunday after being persuaded to join the initiative, Fast for Shaker, upon learning that Mr Aamer is himself on a hunger strike, protesting his alleged continued mistreatment at the US-run detention centre in Cuba.
"Now that we are probably only two weeks away from his release I was very worried that he would harm himself just shy of coming home," Mr Davis told Middle East Eye.
"The single most important thing in my mind is that we get Shaker back to his family in the UK and out of this hideous detention."
Campaigners supporting Mr Aamer have raised concerns he may not survive until the 25 October, the date of his planned release back to the UK.
Shaker Aamer has been held in the notorious detention centre for more than 13 years without charge after being imprisoned in Afghanistan on suspicion of working with al-Qaeda.
In a report released by Reprieve earlier this year, he described horrific torture at the hands of US interrogators who allegedly told him they would rape his five-year-old daughter.
Mr Aamer denies involvement in terrorism and has also claimed to have witnessed the torture of other prisoners held at the Bagram detention centre in Afghanistan and Guantanamo.
His claims have been backed up by Clive Stafford Smith, Reprieve's Director and Mr Aamer's lawyer, who said: "I have just returned from a visit and the brutal nature of the Forcible Cell Extraction – to which Shaker is subjected probably more than any other prisoner – is only getting worse."
Earlier this year Mr Davis, MP for Haltemprice and Howden and former chair of the Conservative Party, went to Washington as part of a delegation of British MPs lobbying for Mr Aamer's release.
He told Middle East Eye Mr Aamer's continued imprisonment, despite continued protesting from the UK, has shown the unbalanced relationship between the UK and the US.
"The comparative rewards out of the so-called special relationship are more to America than they are to us. [My visit] reinforced all my views about this asymmetry," he said.
"I don't believe [Mr Aamer] is a threat and neither, I think, do the British authorities.
"But in America this is a more sensitive issue and no senator wants to be in the position of having advocated for his release only to find him turn up in a conflict zone."
Fasting in support of Mr Aamer began on Thursday and, according to Fast for Shaker's website, 260 have been pledged, carrying on into November.
In addition to Mr Davis, actress Maxine Peak, actor David Morrissey, comedian Sara Pascoe and actor and director Mark Rylance will also be fasting.
Register for free to continue reading
Registration is a free and easy way to support our truly independent journalism
By registering, you will also enjoy limited access to Premium articles, exclusive newsletters, commenting, and virtual events with our leading journalists
Already have an account? sign in
Register for free to continue reading
Registration is a free and easy way to support our truly independent journalism
By registering, you will also enjoy limited access to Premium articles, exclusive newsletters, commenting, and virtual events with our leading journalists
Already have an account? sign in
Join our new commenting forum
Join thought-provoking conversations, follow other Independent readers and see their replies