UCL students strike over 'soaring' accommodation costs and withhold £250,000 from university management
'It's not affordable and it's cutting people off from access to education at UCL' said one of the protestors
Ashley Cowburn
Monday 25 January 2016 13:08 Comments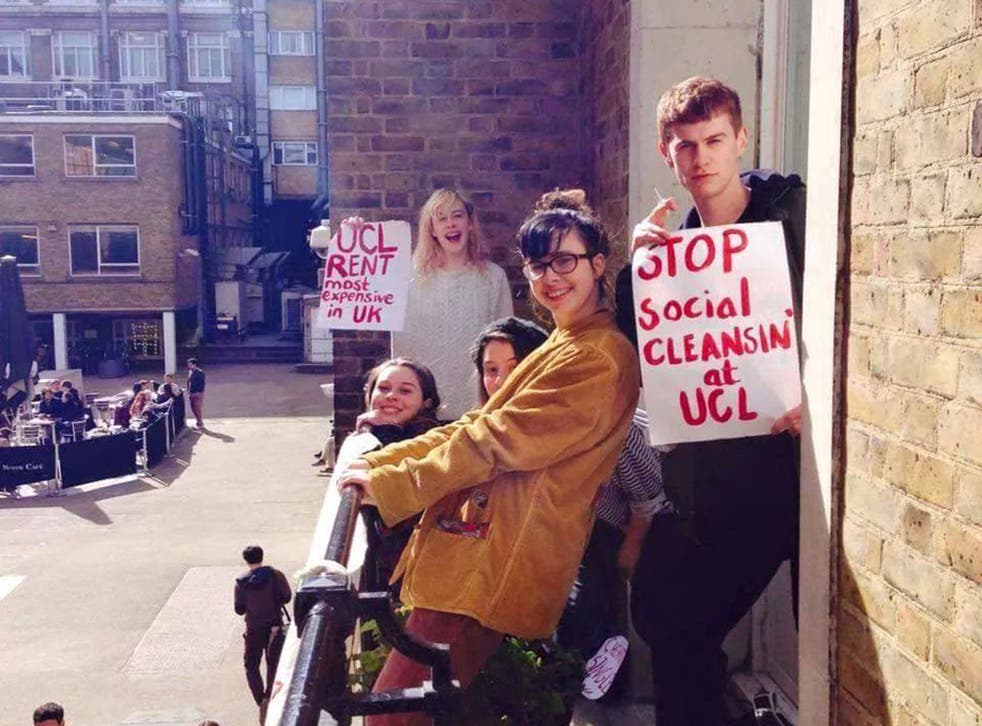 More than 150 students at a top London university have gone on strike over "soaring" accommodation bills, threatening to withhold more than a quarter of a million pounds in unpaid rent.
The action has been organised by UCL's Cut the Rent campaign who have claimed that collectively the strikers would be withholding over £250,000 until their demands of a 40 per cent rent cut are met.
UCL has responded to previous rent protests with threats of academic sanctions and expulsion if arrears were not paid.
Ramsay Hall, one of the institution's halls of residence with 473 rooms, costs £209.79 per week according to the university's website.
Angus O'Brien, a 20-year-old student and UCL union halls accommodation representative, said to the Independent the strike was emblematic of the wider housing crisis across London and other parts of the UK. He said: "It's a direct protest against soaring accommodation fees at UCL and profiteering by management… We are striking to take control and fight against this."
He added: "It's not affordable and it's cutting people off from access to education at UCL".
The strike follows a successful protest by students at the same university last year who won £100,000 in compensation from UCL after enduring noisy, rat-infested halls of accommodation. UCL's complaints panel awarded 87 former residents of the student accommodation at Campbell House West, near Euston, around £1,300 each, equivalent to a term's rent.
"Many people I know are put off moving to London because they can't afford to study here" said 19-year-old Nyima Murry. "I'm striking so that future students have the opportunity to study at UCL on academic merit not financial background. The housing situation in London has to be made affordable: Landlords have refused to cut the rent, so we have no option but to do it ourselves. Hopefully, we can inspire others to do the same."
A UCL spokesman said to the Independent: "UCL Estates is actively seeking dialogue with the Cut the Rent campaign so that we can discuss the issues and set out how the finances of UCL accommodation work."
They added: "While we understand the concerns around the cost of accommodation in London, it is inaccurate to suggest that UCL is making a profit for the university. All of the money that UCL receives in rent is ploughed back into residences. While the proportions may vary year to year, we invariably spend more on residences than we receive in rental income.
"We make every effort at UCL to keep rents as low as possible, which is a difficult challenge considering our central London location. Our rents are competitive in comparison with equivalent London institutions, and far less than rates for comparable accommodation in the private sector."
Register for free to continue reading
Registration is a free and easy way to support our truly independent journalism
By registering, you will also enjoy limited access to Premium articles, exclusive newsletters, commenting, and virtual events with our leading journalists
Already have an account? sign in
Join our new commenting forum
Join thought-provoking conversations, follow other Independent readers and see their replies