UK flooding: Budget cuts 'intensified impacts of floods'
Labour MEP Julie Ward is urging David Cameron to apply for EU aid
Andy McSmith
,
Dean Kirby
Monday 28 December 2015 21:12 Comments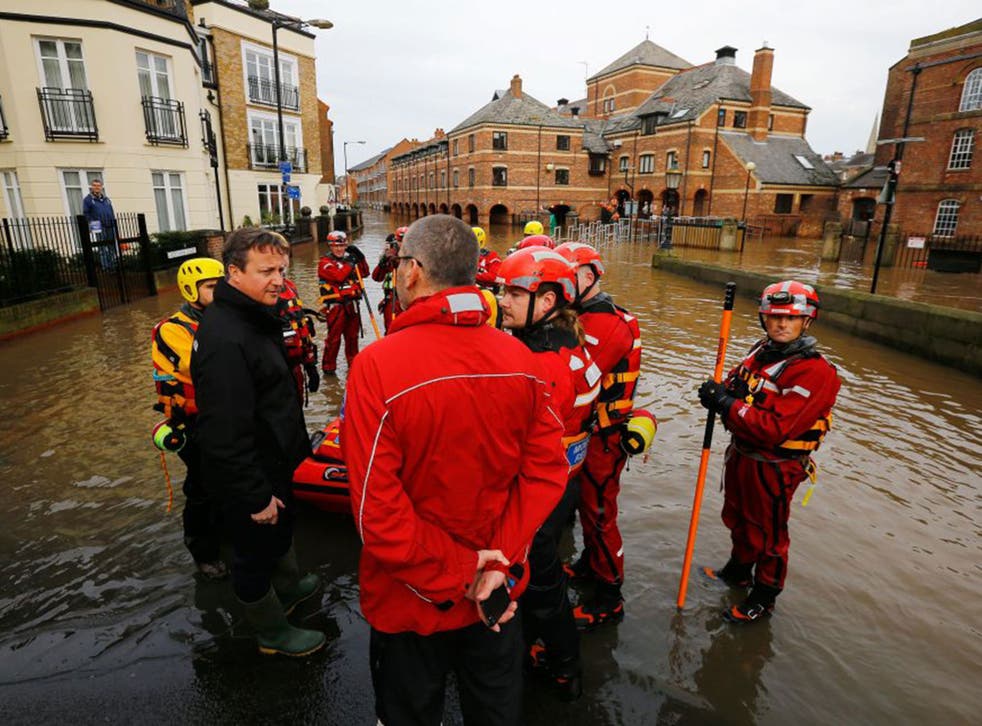 The Government was accused of leaving swathes of the North of England at risk of flooding – as it emerged that a senior official warned only two months ago that budget cuts would lead to the scrapping of defences in Yorkshire.
After meeting emergency workers in York, the Prime Minister denied that the devastation caused by floods came about because of a "North-South" divide, with flood protection concentrated in the Conservatives' southern heartland. The damage has been estimate at up to £5bn.
David Cameron insisted that the amount spent on flood defences in the North is greater than in the South, and promised there would be improved flood protection for Yorkshire, Lancashire and Cumbria.
But the Labour Party countered by reproducing a two-month old warning from Professor Colin Mellors, the man the Government appointed earlier this year to take charge of Yorkshire's flood defences.
He told a meeting in October that because of "ever-tighter budgets", the Yorkshire region flood committee would probably "be asked in the new year to consider sites where maintenance might be formally discontinued".
The shadow Communities Secretary, Jon Trickett, said that the comments were proof of "the devastating impact the Tory Government's cuts are having on the region."
In Leeds – where 2,000 homes and 400 business have been damaged – the council leader, Judith Blake, said that a flood prevention scheme for the city was scrapped by the Government in 2011, and that she was "beginning to feel very strongly" that this was linked to the North-South divide. "At that time there were other flooding events in the North that didn't get anywhere near the support that we saw going into Somerset," she added.
The deputy chairman of the Environment Agency, David Rooke, said there would have to be a "complete rethink" during what he forecast would be a period of "unknown extremes" of weather, which would involve not just flood defences, but designing homes with features like solid floors, waterproof plaster, and electrical connections high up the walls to minimise damage if they are flooded.
As Mr Cameron flew by helicopter into York he met emergency workers in the city who have between them evacuated 114 evacuated homes, but was heckled by a woman who shouted "no more cuts to public services". On Sunday the Environment Agency took the controversial decision to open a flood barrier – deluging a new area of the city – to prevent damage being done to an adjoining pumping station.
Mr Cameron admitted that the "abysmal" impact of the floods was "like stepping back 100 years" but denied that spending on flood defences had been cut. "We spent more in the last parliament than the previous parliament and we are going to spend even more in this parliament. So it is a rising budget – £2.3bn on capital schemes that will make a real difference up and down the country," he told Sky News.
He added: "We spend more per head of the population on flood defences in the North than we do in the South."
In Pictures: Floods hit the UK

Show all 17
The Prime Minister promised that the Government will operate a "bell-wind" scheme, which will mean that local councils will be reimbursed for all they spend on dealing with flood damage, above a threshold.
But the Labour MEP Julie Ward said she feared that any money going to the flooded areas would simply be cut from other services. She is urging David Cameron to apply for EU aid.
She said: "There is the EU Solidarity Fund, which is for areas hit by natural disasters. Since it was set up, 24 of the 28 EU member states have drawn from it. The fund is for this kind of unplanned emergency."
Insurance companies will also have to cope with huge costs from flood damage, which the accountancy firm KPMG calculated that the total flood damage could be as high as £5bn, including insurance claims of up to £1.5bn. There are fears that as a knock-on effect, small businesses will be unable to insure themselves against flooding, because premiums will be too high or insurance companies will refuse to accept the risks.
Lord Deben, head of the Government's advisory committee on climate change, accused ministers of not practising what they preached about the effects of climate change, after the climate change summit in Paris this month.
Lord Deben told the Today programme: "We should do at home what we insist happens right around the world."
Register for free to continue reading
Registration is a free and easy way to support our truly independent journalism
By registering, you will also enjoy limited access to Premium articles, exclusive newsletters, commenting, and virtual events with our leading journalists
Already have an account? sign in
Join our new commenting forum
Join thought-provoking conversations, follow other Independent readers and see their replies