UK Pegida leader Tim Scott struggles to explain why radical Islam is a threat
'What I've seen in Iraq and stuff like that… If we were to get to that stage, that's my main concern'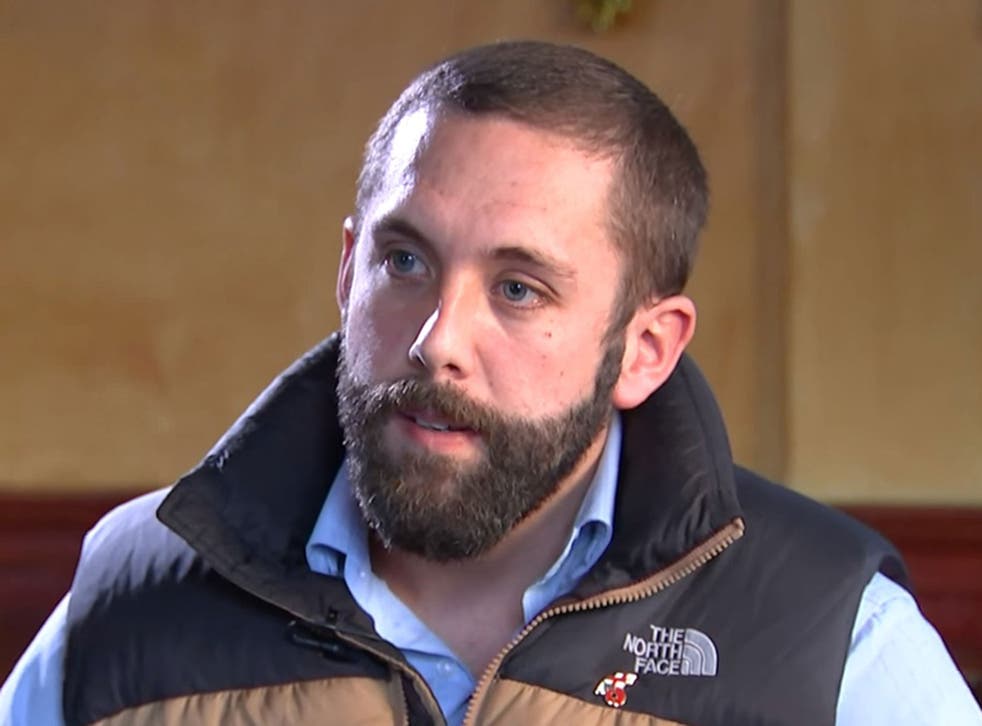 An ex-soldier who wants to lead a new anti-Islamic movement has appeared on TV struggling to explain exactly what threats radical Islam poses to the UK.
Tim Scott, a former soldier deployed in Afghanistan and a fighter against Isis with Kurdish forces, was interviewed by journalist Alex Thomson, following the announcement that he plans to lead a UK wing of the right-wing German movement Pegida.
UK Pegida – the 'Patriotic Europeans Against the Islamisation of the Occident' – is to hold its first rally on 6 February, with former English Defence League leader Tommy Robinson helping to launch and providing "advice" to the group.
But speaking in the interview screened last night on Channel 4, Mr Scott appeared to find it difficult to elaborate on what he branded the "big truth" with regards to radical Islam in the UK.
He said: "It's very important that the truth gets out there."
Video: Channel 4 News/YouTube
When asked what this "truth" was, he added: "The big truth of what's going on around the country. With girls getting groomed, these are facts."
"What else?", the journalist pressed.
"The youth getting radicalised within Islam," replied Mr Scott. "There are so many things, you know."
"Well that's two," replied Mr Thomson.
Mr Scott then continued by stating that he fears the UK could, in some way, become like Iraq.
He said: "What I've seen in Iraq and stuff like that… If we were to get to that stage, that's my main concern."
When his interviewer said that was a "preposterous" claim, Mr Scott replied: "This is exactly it. The thought processes of people, that people think 'oh yeah that's just how it is'.
"Do we wait until it gets that bad? No, it's best to prevent what's going on."
In pictures: Anti-Pegida protesters

Show all 10
Mr Robinson has said UK Pegida will campaign to ban all Muslim immigration into the UK for five years, stop new mosques being built, and ban the funding of mosques abroad.
He has said the group will be "moderate" and that "opposing Islam is not far-right, it doesn't make you an extremist and it doesn't make you a bigot".
Following the interview, Mr Thomson wrote that his exchange with Mr Scott was a "car crash" and that he was "plainly unaccustomed to any scrutiny as to what the threat of radical Islam might be".
Mr Thomson added: "I endeavoured to point out that Iraq was run by a notorious blood-Baathist built on industrial torture and slaughter up to and including chemical warfare – but that cuts no ice with Tim.
"He feels – and Robinson like him – that the UK could somehow become another Iraq because of radical Islam. And this is genuinely felt."
Register for free to continue reading
Registration is a free and easy way to support our truly independent journalism
By registering, you will also enjoy limited access to Premium articles, exclusive newsletters, commenting, and virtual events with our leading journalists
Already have an account? sign in
Register for free to continue reading
Registration is a free and easy way to support our truly independent journalism
By registering, you will also enjoy limited access to Premium articles, exclusive newsletters, commenting, and virtual events with our leading journalists
Already have an account? sign in
Join our new commenting forum
Join thought-provoking conversations, follow other Independent readers and see their replies