Ukip's Nigel Farage 'refuses to go on London Live without professional make up-artist'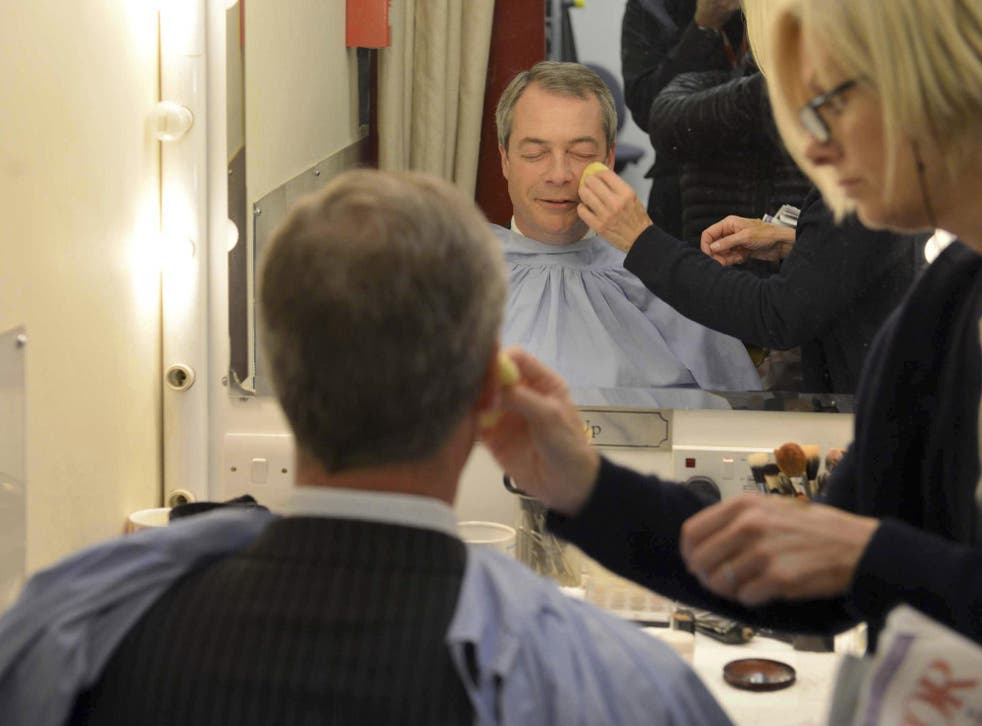 Nigel Farage presents himself as man of the people, a breath of fresh air compared with the career politicians of Westminster. Yet even the Ukip leader balks at the thought of having to appear on TV without make-up.
Ukip's press team called London Live on Thursday to say Mr Farage would love to appear on the show in connection with the local elections, but asked if the interviewer would "go easy" on Nigel.
The producer said they would do their job as journalists and went on to explain logistics, agreeing what time and location might fit Farage's busy schedule. Yet as it emerged that no make up artist would be available prior to filming, his press team quickly backtracked.
The London Live producer who took the call explained to The Independent: " I got a call yesterday morning from a Ukip press officer saying that Nigel could come on for 6am to refute recent claims in the media.
"I said fine if he wants to come in. He replied will you go easy on him. I said that we were journalists so we would ask questions about the papers and local elections. The press person then said 'do you have makeup?' I said no, but that could Nigel use a presenter's make-up. He said that Mr Farage can't come on unless we have a professional make-up artist and declined, so I said fine. I'm guessing other leaders would expect make-up."
A Ukip spokesperson told The Independent that: "No one in the Press Office has had any conversations on this and it is categorically untrue."
Considering Mr Farage often paints himself as the "common sense" man of politics, the leader of a people's army, who refuses to put political correctness ahead of truth, his refusal to speak without professional make up may surprise some. It may not. He is an extremely popular leader and his supporters back him with the ferocity of soldiers following a general into a battle, make up or not. Perhaps he's worth it.
Join our new commenting forum
Join thought-provoking conversations, follow other Independent readers and see their replies