'We're all being fired! Exciting!': HMV staff take to official Twitter account to liveblog their own 'mass execution'
HMV moved to delete the posts from the @HMVtweets account, which broadcast news of a 'mass execution of loyal employees' to 61,500 followers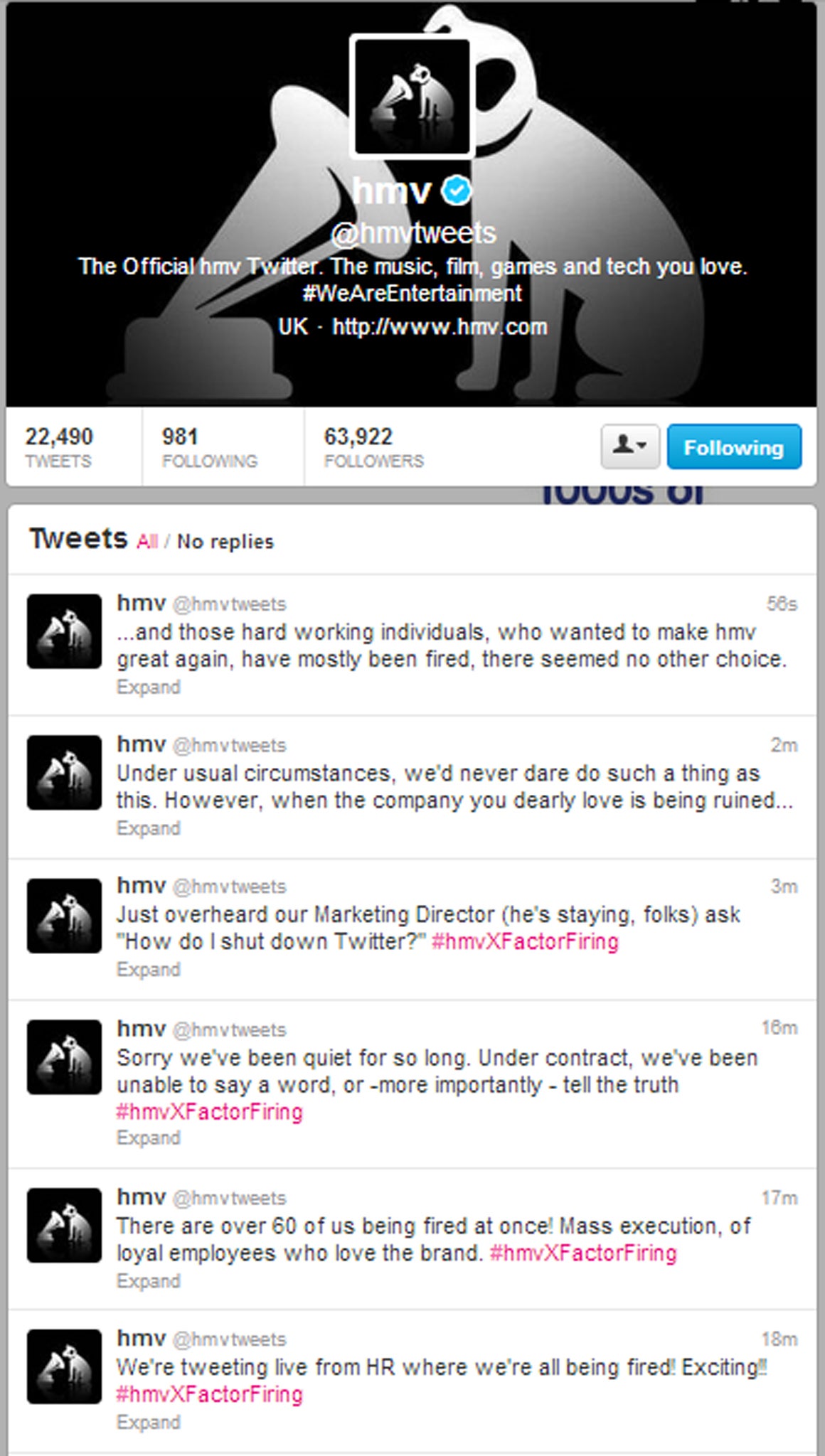 HMV faced a mutiny as disgruntled staff took over the struggling retailer's Twitter account to express their anger at being fired.
Workers at the entertainment store "live blogged" their own sacking on the micro-blogging site as the administrators who took over the business confirmed news of 190 firings.
HMV moved to delete the posts from the @hmvtweets account, which broadcast news of a "mass execution of loyal employees" to 61,500 followers.
However the tweets had already been copied on screen grabs and widely distributed.
The rogue tweeter began: "We're tweeting live from HR where we're all being fired! Exciting!!" Another tweet, apparently from an iPhone, reported "60 of us being fired at once".
A subsequent posting read: "Just overheard our Marketing Director (he's staying, folks) ask 'How do I shut down Twitter?'"
The insurrection lasted 20 minutes before the company removed the tweets, which began trending with the hashtag, #HMVXFactorFiring.
Later on, more tweets appeared, apparently from a different member of HMV personnel, referring to the earlier comments.
The first read: "Our @hmvtweets picked up a lot of attention today, it's clearly been a tough day for us all at hmv, please stick with us #hmvxfactorfiring.
"There have been job losses today, but not in our stores. We are still open for business, thx for your continued support #savehmv"
In direct reference to the disgruntled Tweeter, the latest post read:
"One of our departing colleagues was understandably upset. We're still here thou, thx for supporting hmv thro these challenging times"
Deloitte, appointed to run HMV following the firm's collapse into administration, confirmed that about 190 jobs had been cut across the company's head office and distribution network.
The cuts were concentrated mostly in HMV's office on Eastcastle Street, London, where 78 jobs have gone. Others were lost at Canning Town, Marlow, and two sites in Birmingham.
However no redundancies have been made at the shops and all the outlets continue to trade.
The administrators have been in talks with restructuring specialist Hilco about taking over the business. Hilco bought HMV's debt, a move that could pave the way to it taking control.
Nick Edwards, joint administrator, said: "Since our appointment as Administrators over two weeks ago, we have been assessing the financial position of HMV. Following this review, a number of redundancies at the head office and distribution centres have been made.
"Although such decisions are always difficult, it is a necessary step in restructuring the business to enhance the prospects of securing its future as a going concern."
The collapse of the 92-year-old retail group earlier this month, placed 4,120 jobs and 223 stores at risk. Hilco, which helped turn round HMV Canada, is understood to have paid around £40 million for £120 million of HMV's debt, giving it effective control of the business.
Join our commenting forum
Join thought-provoking conversations, follow other Independent readers and see their replies