UN votes for global nuclear weapons ban negotiations in 2017
Thirty eight countries voted against the resolution including five of the world's nine nuclear powers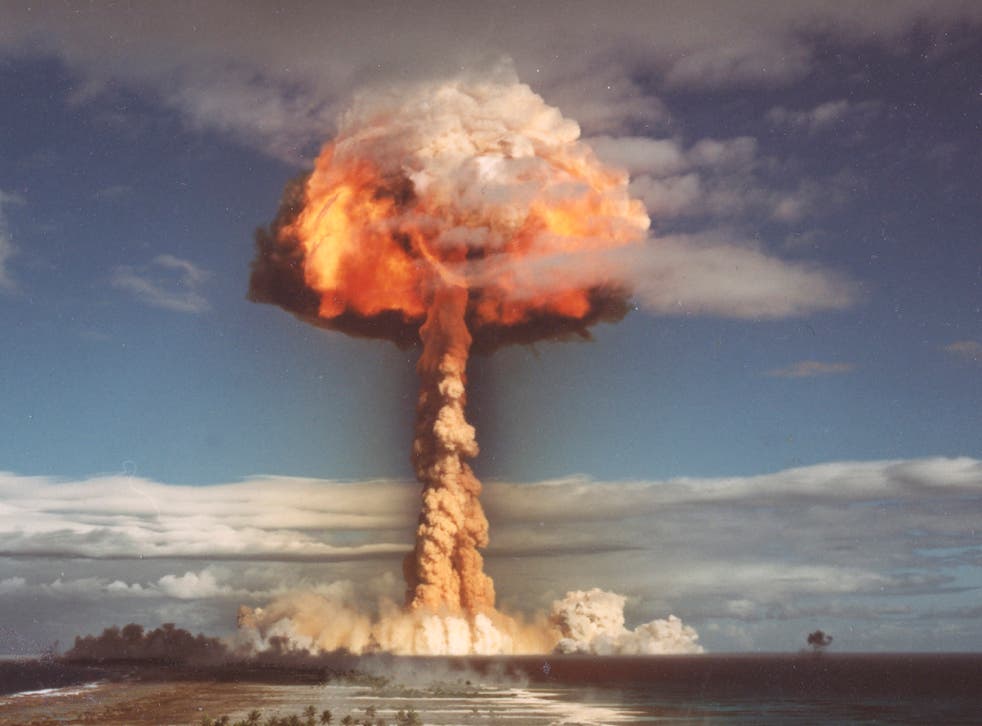 The United Nations General Assembly has voted to begin negotiations on a unilateral nuclear weapons ban next year.
In its 71st session, the Assembly voted 123 in favour of negotiations with 38 countries voting against and 16 abstaining.
The passed resolution proposes "to convene in 2017 a United Nations conference to negotiate a legally binding instrument to prohibit nuclear weapons, leading towards their total elimination".
The number of nuclear weapons currently in existence is estimated between 10,000 and 15,000. There are nine countries currently in possesion of nuclear weapons: the UK, Russia, United States, China, India, Israel, France, North Korea and Pakistan
Campaigners for disarmament have praised the passing of the vote - describing it as the next logical step after banning land mines, cluster bombs, chemical and biological weapons.
Kate Hudson, the Chair of the Campaign for Nuclear Disarmament (CND) said: "It's very encouraging to see so many countries say loud and clear it's time for the world to move on from nuclear weapons.
"We have united before to ban biological and chemical weapons, land mines and cluster bombs, and now the international community is taking decisive steps to ban nuclear weapons.
Despite decades of signing treaties towards nuclear disarmament, the leading nuclear powers - UK, US, France and Russia all voted against the resolution.
Israel, an officially undeclared nuclear power, also voted against the motion.
Which countries have nuclear weapons?

Show all 14
The Foreign Office said in a statement the government voted against the resolution in favour of "gradual multilateral disarmament".
A spokesman said: "The UK voted against the resolution at the UN General Assembly First Committee as we do not believe that the negotiations it mandates will lead to progress on global nuclear disarmament.
"We firmly believe that the best way to achieve a world without nuclear weapons is through gradual multilateral disarmament negotiated using a step-by-step approach and within existing international frameworks."
Out of the 38 countires that voted against the resolution, 27 were members of the North Atlantic Treaty Organisation (Nato).
Barack Obama calls for 'world without nuclear weapons' during historic visit to Hiroshima
Of the 16 countries abstaining from the vote, the Netherlands was the only Nato member. Three nuclear powers also abstained: India, Pakistan and China.
The most vocal supporters of the treaty including Austria, Brazil, Ireland, Mexico and South Africa. North Korea was the only nuclear power to vote in favour of the resolution.
Here is the full list of the countries that voted against the resolution and those that abstained:
Against (38):
Albania (Nato member)
Andorra
Australia
Belgium (Nato member)
Bosnia & Herzegovina
Bulgaria (Nato member)
Canada (Nato member)
Croatia (Nato member)
Czech Republic (Nato member)
Denmark (Nato member)
Estonia (Nato member)
France (nuclear power) (Nato member)
Germany (Nato member)
Greece (Nato member)
Hungary (Nato member)
Iceland (Nato member)
Israel (undeclared nuclear power)
Italy (Nato member)
Japan
Latvia (Nato member)
Lithuania (Nato member)
Luxembourg
Micronesia
Monaco
Montenegro
Norway (Nato member)
Poland (Nato member)
Portugal (Nato member)
Romania (Nato member)
Russia (nuclear power)
South Korea
Serbia
Slovakia (Nato member)
Slovenia (Nato member)
Spain (Nato member)
Turkey (Nato member)
United Kingdom (nuclear power) (Nato member)
United States (nuclear power) (Nato member)
Abstain (16):
Armenia
Belarus (former nuclear power)
China (nuclear power)
Finland
Guyana
India (nuclear power)
Kyrgyzstan
Mali
Morocco
Netherlands (Nato member)
Nicaragua
Pakistan (nuclear power)
Sudan
Switzerland
Uzbekistan
Vanuatu
Join our new commenting forum
Join thought-provoking conversations, follow other Independent readers and see their replies