US Navy aircraft carrier visits Vietnam for the first time since the war in a warning to China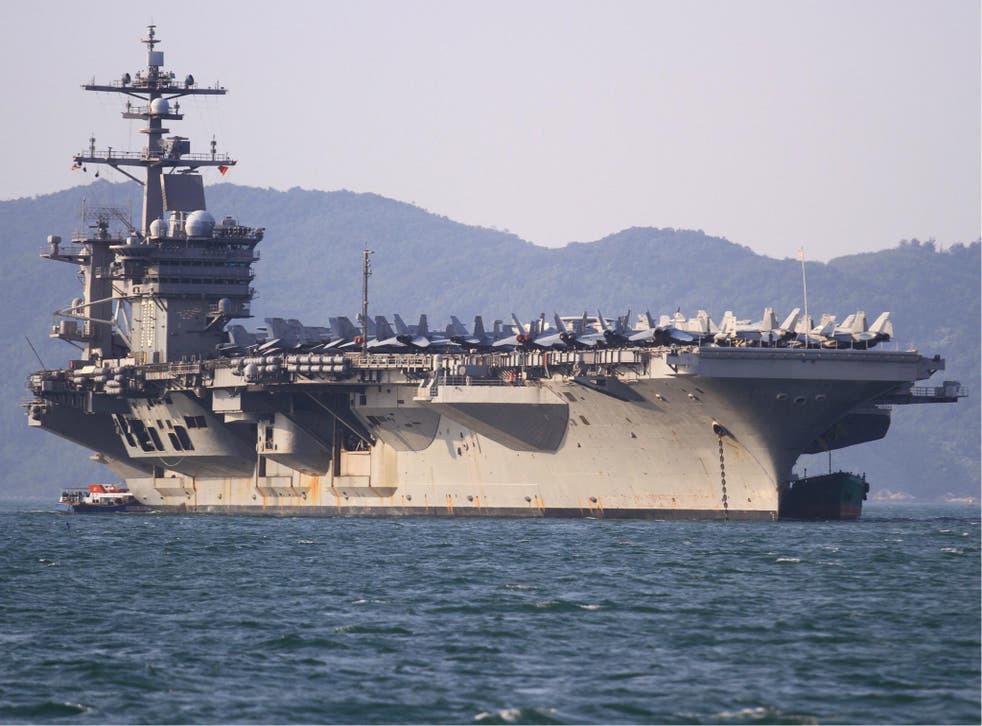 For the first time since the Vietnam War, the US has sent an aircraft carrier to the southeast Asian country as a warning sign to China and a sign of a burgeoning friendship between the former foes.
The USS Vinson, its 5,000 crew members, and two accompanying ships began a 5-day visit to Danang, Vietnam, marking the largest US presence since 1975.
The move comes as Hanoi is alarmed by China's continuous expansion of claims in the South China Sea, a body of water that sees $3 trillion of maritime world trade cross it each year.
US Ambassador to Vietnam Daniel Kritenbrink, one of President Donald Trump's limited number of ambassadorial appointments, said in a statement that the visit "marks an enormously significant milestone in our bilateral relations and demonstrates US support for a strong, prosperous, and independent Vietnam".
CNBC reported that Vietnamese diplomats have "spent months to ease the concerns of their giant Chinese neighbour over the visit" and what the larger cooperative security arrangement the USS Vinson's presence might represent.
At the same time, the country is concerned about China's rapid construction since 2016 on the disputed Spratly islands, which lie between the Philippines and Vietnam, group and the US has seen several of its fleets shadowed by Chinese vessels of late while on routes through the sea.
Rex Tillerson calls China's actions in the South China Sea 'illegal'
Joshua Kurlantzick, a Senior Fellow for Southeast Asia at the Council for Foreign Relations, told The Independent previously that while the US and other southeast Asian nations want to "preserve freedom of navigation" in the hugely important body of water that accounts for nearly one-third of maritime global trade, China is looking to increase its control over several small islands, some of them man-made.
China has been developing on the reefs and atolls despite a ruling by the Permanent Court of Arbitration in The Hague, which had said there was no legal basis for China's maritime claims that extended approximately 1,000 miles beyond its shore to waters abutting Taiwan, the Philippines, Malaysia, Brunei, and Vietnam.
World news in pictures

Show all 50
Vietnam has stood up publicly to China in the dispute, particularly after the Philippines' President Rodrigo Duterte appeared to take a softer stance on the matter.
Some experts have felt the US response to sail into the South China Sea and fly close to Chinese-controlled islands needs to be much stronger and involve more than just a cursory military presence as Chinese development continues and the Association of Southeast Asian Nations' (Asean) response is quiet over fears of economic retribution.
However, some view the US position as confusing despite Mr Trump's continued relationship with Hanoi through his visit on his Asia tour in 2017 and Secretary James Mattis' visit earlier this year.
First, he withdrew the US from negotiations over the Trans-Pacific Partnership (TPP) trade agreement of which Vietnam was a critical part. More recently many were concerned over his comments about Chinese leader Xi Jinping's consolidation of power for extending his tenure - "He's now president for life....he's great...I think it's great. Maybe we'll have to give that a shot some day."
Though this is the first visit by a US aircraft carrier, US vessels have made other visits since relations normalised in 1995 and the arms embargo was lifted in 2016.
That year submarine tender USS Frank Cable and guided-missile destroyer USS John S McCain went to Cam Ranh Bay, an important logistics hub during the Vietnam War.
Register for free to continue reading
Registration is a free and easy way to support our truly independent journalism
By registering, you will also enjoy limited access to Premium articles, exclusive newsletters, commenting, and virtual events with our leading journalists
Already have an account? sign in
Register for free to continue reading
Registration is a free and easy way to support our truly independent journalism
By registering, you will also enjoy limited access to Premium articles, exclusive newsletters, commenting, and virtual events with our leading journalists
Already have an account? sign in
Join our new commenting forum
Join thought-provoking conversations, follow other Independent readers and see their replies